I went to New York for 24 hours.
For a donut.
Actually, two donuts.  There's a limit per customer.  I could not leave one behind.
No biggy.
Except that I live in Toronto.
Besides, it wasn't just any old donut.
It was a cronut.
Operation cronut.  Get in.  Get out.  Go home. 
You know – the donut-croissant hybrid.  It's a mash-up of sorts.
You have not heard of it?
Have you been living under a rock?
Until the Paula Dean fiasco it was all the internets could talk about.  Hopefully something else exciting will come along soon so we can stop hearing about all that.  It hurts my brain thinking about how dumb she is.
As a product developer who specializes in bakery developments – I had to go see this thing – right?  It was work.  Grueling.  Work.  Sort of.
Can we talk about how fun and edgy going to NYC for a donut is and not how strange ridiculous it is?
The cronut was born way back in May, 2013 and instantly was a hit.  What's not to like?  All butter flakey croissant dough, deep fried, rolled in sugar, injected with cream and lightly iced with an angelic halo of glaze.  Hello!!!  Dominique Ansel could win, like, the Nobel Peace Prize for inventing this thing.  The French born former pastry chef for Daniel Boulud probably had no idea what kind of frenzy he was unleashing when the first cronut went in his exquisite pastry case.  I mean, after all, the French don't line up for anything, except maybe to complain.  (Don't believe me?  Try lining up at a ski lift in France.)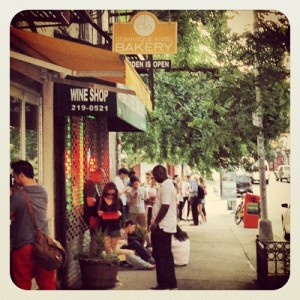 We lucked out with a gorgeous sunny morning for our cronut hunting, and were in line by 6:20.  I mean, we flew in for this – we weren't going to miss out on our cronuts in order to catch a few more z's.  Fifty people were probably ahead of us, and by the time the bakery opened at 8:00 there were at least another 100 behind us – the line snaking around the corner.  People sat on the sidewalk and read.  Some played trivia games.  Several had breakfast delivered to them in line.  (Pre-breakfast breakfast – you got admire the chutzpah of that.)  The girl behind us was from Sydney – on vacation.  A group of 20-something boys ahead of us called out time checks in the last hour before opening "30 minutes!!!!!!"  If there were scalpers there, they were incognito, at least to us.  (But what do we know?  We were cronut virgins.)
I hate lines.  I avoid them at all costs.  The last time I waited in a long line was 1986 for tickets to see Madonna in Montreal.  Slept out on the sidewalk over night and everything. But this was actually fun.  It was convivial – no pushing or shoving.  Pretty zen all around.
When the doors opened, Dominique came out and ushered in small groups, greeting every early riser, then locking the door once again until it was time for the next group to enter cronut-dom.  Once inside, the staff were friendly (not beaten down and jaded by yet another horde of hungry cronut seekers).  We each ordered our ration (let's face it – whatever limit he sets for cronuts per person – that's what he'll sell to each and every one), and several other treats – canelés, kouigaman, made to order madeleines…..and retired to the patio at the back to bask in the sunshine, devour and photograph our Lemon Maple cronuts.  (These must be the all-time most photographed donuts around – I hope they don't get an ego)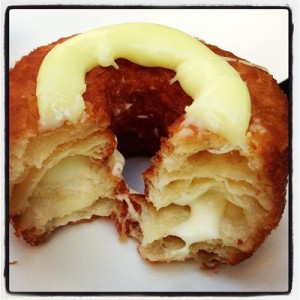 I have to say the long awaited cronut was just as amazing as everyone says.
The pastry is so buttery, so flakey, but not at all greasy.  It's the perfect combo of crispy on the outside and soft on the inside.  The cream on the inside was perfect.  Light, lemony, and soft enough to make eating the cronut a full-contact-multi-napkin event. 
But it's not just the cronuts.  The canelés were divine.  The kouigaman one of the best I have had – and all his desserts looked outstanding.  Without a doubt, Dominique Ansel is no one hit wonder.  He's probably dreaming up new hybrids at this very moment:  The canuffin (canelé-muffin), the briogel (brioche-bagel) and the tatookie (tarte-tatin-cookie).  (M. Ansel – you can thank me for these suggestions with a small gift of cronuts for life – I will send you my address later – Merci!)
Bellies full of French pastries, and each bearing a single gold box ensconced cronut we headed back to the hotel to check out the rooftop swimming pool.  After all – we were victorious -we had a little celebrating to do.  These 24 hours in New York weren't all business – it was pleasure too – a hybrid – a 'pleasness' trip, if you will.
Here is a link to cronut HQ – Dominique Ansel.  If the craze continues – get in line before 6:30 – or maybe the internets will have created some other line worthy treat by the time you read this. http://dominiqueansel.com/
Other stops on this trip included: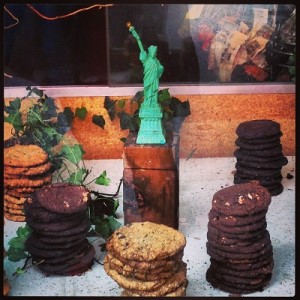 Roberta's in Brooklyn – the pizza joint/gourmet dining/radio station/garden/hipster paradise.  It was amazing.  Really amazing food and the nicest hipsters ever.  http://robertaspizza.com/
Juicepress in SoHo – awesome juice, hilarious marketing, AND they deliver….maybe you could order a pre-cronut detox smoothie delivered to you in the cronut line.  Hell yeah.  Wish we had done that.  http://juicepress.com/
Chobani SoHo – Boutique.Yogurt.  That's what Greek yogurt has come to.  Just go with it.  http://chobanisoho.com/
Birdbath SoHo – sister to one of my all-time fav's City Bakery.  Check out the cookies.  We were full of cronuts, but if these cookies taste half as good as they look you are in for a good time.  Plus they sell the pretzel croissant here.  http://www.thecitybakery.com/birdbath
The Dutch – another brainchild of Andrew Carmelini.  We had an excellent seafood platter and salad lunch here, with the world's crispiest/freshest frites, but I suggest passing on the desserts.  Instead head 'straight' to Big Gay Ice Cream.  Let's just agree to never go to NYC without going to Big Gay for a Salty Pimp – ok?  http://thedutchnyc.com/
Sub No 7 – Brooklyn – Oh yeah….My 'friends' would not let me stop on the way to LaGuardia in case we missed our flight – good thing too – as our flight was DELAYED FOR 4 HOURS!!!!!  Someday though, someday….  http://no7sub.com/greenpoint-menu.html  If you make it there before me – please tell me all about it.