**SPOILER ALERT**
*NOT SUITABLE FOR VEGETARIANS, CHILDREN,
PEOPLE WHO LOVE PABY PIGS*
Wait a minute….doesn't everyone love baby pigs?
Hmm…..maybe nobody is reading now….
The last post was all about the miracle of life, blah, blah, blah….bouncing baby reggianos being born and all that.  This one is not really like that…..it involves a lot of, umm….dead pigs.  But it has a happy ending….well…..for me anyway, as I end up at a vineyard in the Italian countryside near Parma, sitting in the sunshine, drinking loads of chilled Lambrusco, and feasting on the most incredible salumi tasting, including paper thin slices of Parma Ham, culatello, pancetta….all kinds of….
Yeah.
OK.
Let's get on with it.
Stop number two on my delicious day in Parma was, as my lovely guide Elena called it – a 'hamery'.  (not sure how many 'm's' are in 'hamery'…I am going with one) A salumificio, a 'factory' where Parma Hams are made.  We were in the municipality of Langhirano – the prosciutto capital of the area.  As we pull up to the 'factory', a lady tending her vegetable garden bids us a fond welcome.  'Ciao!Ciao!Ciao!' she calls.  (Note 'ciao' is never singular…there are always many 'ciao's' in a row.  In fact, the more 'ciao's', said together quickly, the better)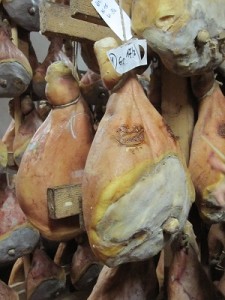 It's Saturday, and the 'plant' is closed, so all is quiet.  The chief of this particular salumificio is in his office with his trusty assistant, Numa, catching up on paperwork.  Numa jumps off her chair to greet us as soon as she sees Elena – I think they are good pals.  She lies down on the ground and allows us to scratch her belly. 
Oh.
Sorry.
I forgot to mention that Numa is a dog.  I guess that's obvious now.  It's not every day you meet a boxer at a hamery.  I am sure she wears a hairnet when she goes into the plant.  Certain.
This is an artisan producer.  Third generation Proscuitto di Parma maker.  This salumificio lovingly crafts 15,000 legs of ham per year – compared to 250,000 at a typical large scale hamery.  This place is old school, the real deal, and they've got the garden out front, the dog in the office, and the amazing hams to prove it.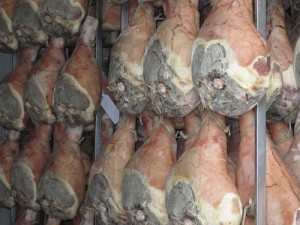 If you think Parma Ham is just, well, fancy ham…you're probably right.  However, there is an 83 page dossier (I'd love a dossier on something…sounds so high brow…dossier….) on all the rules and restrictions on making Parma Ham.  Every single aspect is clearly laid out and documented:  feed, age, size of pigs…..the list goes on and on.  Like Pamigiano Reggiano there is tremendous effort around preserving the 2000 year old art of making Parma Ham and keeping it true to its roots.
Slaughter occurs when the piglets are only 9 months old, but weigh in at a whopping 144kg.  For Parma Ham, the pigs must come from the region and are fed a highly regulated diet, including the rich and flavourful whey from the reggiano production, from dairies like the one I have just come from.  Only the hind legs are used – the rest of the animal going for other delicacies including pancetta, lardo di colonnata, salami di falino…..and a myriad of other fantastic pork treats.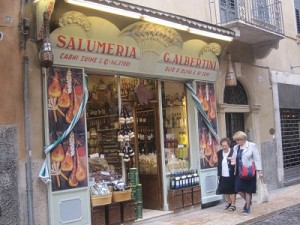 When the legs arrive at the salumificio, they are salted by master salters and hung to drain for a week.  The hams are then washed and salted again, and hung to dry for another 2-3 weeks.  Really, the only ingredients for Parma Ham are pork legs, salt, air and time.  It's really all about the drying of these legs.  In fact, Elena tells me that in a local Italian dialect 'par sut' means 'it seems dry'.  All this drying not only preserves the proscuitto, but concentrates and develops the rich, sweet/salty flavour.
The legs are then taken to the aging room – the cantina – a hall of hams so to speak….to spend the rest of their days aging.  The exposed meat on each leg is rubbed with 'sugna' – lard and pepper to preserve the flesh while waiting at least 12 months for the ham inspector to come along.  The ham whisperer – cousin to the cheese whisperer – sniffs the hams carefully and uses a horse bone needle to prod the meat and ensure their dryness.  Should the hams comply to all of his many exacting standards, they are literally crowned with the Ducal Parma logo and are deemed royal enough to be called Parma Ham or Prosciutto di Parma.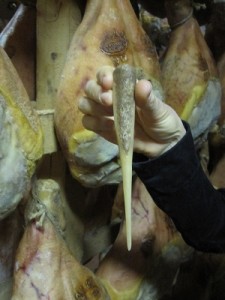 Italians take their ham very seriously.  OK, they take all their food seriously.  Don't ever argue with an Italian about food.  One night during a heated debate after a meal, I heard a local chef tell an American visitor – "It took Italy 2000 years to perfect pasta – in 200 years you Americans barely know anything."  So there.  Apparently the best part of the Parma Ham comes from the meat closest to the bone and many will specifically request this when ordering in the local shops.  It is not uncommon for Italians to order an entire side of the ham leg and slice it themselves at home….I really like that idea – I have always wanted one of those slicers….
We wander the aging room, the smell is intoxicating and the hams are a thing of beauty.  I have long forgotten about the barely 9 month old piglets going to slaughter.  Each piece is more perfect than the next.  It's surreal – walking around in the company of 15,000 stunning legs of ham!  I told Elena about visiting a Salumeria in Verona and asking my host if all of the over three dozen hams hanging from the ceiling were real. Because, well….honestly, they look sorta fake they are so incredibly beautiful.  And that's the kind of thing a store in North America would do, hang plastic hams from the ceiling for 'ambience'….I mean here we'd never dream of having ham exist without refrigeration!  Gasp!  Elena did not get it….'plastic hams?????  I don't understand…' …she was confused….I think she thought I was some sort of crazy Canadian.  Which…..I guess…I am.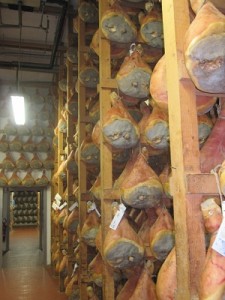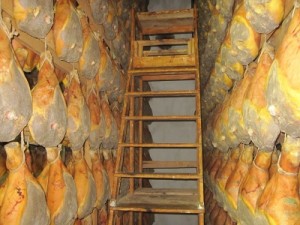 Famished, we bid adieu to the proprietor, his mom and of course the adorable Numa – who is not visiting the plant this day, and head off to aforementioned vineyard in search of lunch and a glass or two of chilled Lambrusco.  All this learning about Italian food icons and I am ready to eat an entire leg of Parma Ham myself, and besides, I am pretty parched.
See….I told you this post had a happy ending!