A new year tends to make you reflect.  I am incredibly lucky.  I have so much to be grateful for.  Two amazing children.  A wonderful husband who supports me in all I do.  The opportunity to do what I love for a living.  Truly the best friends anyone could ask for.  2011 was a pretty crazy delicious year all around.  'Tis the Season of lists – I know I am a little late – but here are my top 10 favourite tastes from 2011.  I wish you all a wonderful, healthy and tasty 2012…..Thanks for reading…..
10. Everything at Purple Pig
In the heart of Chicago, on the famed Magnificent Mile, Purple Pig was named one of Bon Appetit's best new restaurants of 2010.  A strict no reservations policy does not deter the crowds.  The hostess runs a tight ship, and will seat you as soon as possible, but be prepared to indulge in a cocktail or two while waiting.  Every single dish we had (and we had a lot of them) was outstanding.  Don't miss the marrow bones, in fact, order two portions, they are decadently divine.  The now omnipresent herb salad with crispy pig's ear – was a duet of fresh and healthy greens meeting up with crispy greasy porky goodness.  Deep fried turkey leg was a Fred Flintstone sized portion of tender meat – great for sharing.  The cinnamon toast soft serve ice cream, and the Panino Con Nutella – a dessert Panini with nutella, marshmallow and roasted banana were pretty over the top, so be sure to save room for dessert.   http://thepurplepigchicago.com/
9. Martin Picard's Foie gras Poutine
In March, during a week-long blizzard, I spent a few delicious days doing some serious Montreal food research with Paula.  Bagels, Smoked meat sandwiches, Tire ice cream from Bilboquet…..and a visit to Martin Picard's Au Pied du Cochon.   Martin's famous version of the classic Quebec poutine cannot be missed.  Perfectly crisp, house cut, skin on fries, are topped with ultra-fresh squeaky curds.  Perching on top is a gorgeous medallion of pan seared foie gras.  You'd think this was the best part, but let me tell you about the gravy – it's made from demi glaze, foie gras and an egg emulsion.  Paula (normally elegant) had gravy up to her elbows, she kept dragging her finger across the bowl to get every drop of sauce.  I can't blame her; we could not allow even a microgram of this deliciousness to go back to the kitchen without us.  http://www.restaurantaupieddecochon.ca/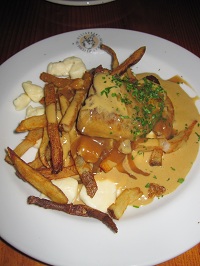 8.  Plum – Smoked Egg Bowl
Imagine:  An oversized rustic pottery bowl, filled with fresh favas, wild mushrooms, wild leeks, kale, faro….and topped with a smoked egg.  Yup, a smoked egg.  You crack into the large, orangey yolk and toss the whole sweet smoky mess together.  I was in luck.  My dining companion had zero interest in even a taste.  I ate it all. Problem is – you don't bump into fresh favas with smoked eggs very often, so when you do you've got to slurp up every last bite. http://www.plumoakland.com/
7. Steak Frites Relais Entrecote
Le Relais Entrecote in Paris has been doing one thing with excellence since 1959.  There are no menus.  No chalkboards.  No daily specials.  The waitress asks but one question.  Well, it's really not a question.  It's half statement, part clairvoyance with a smidge of question.  She sizes you up, draws on her likely multi-decade tenure at this establishment and says:  "Saignant….?"  (Bloody?)  Or maybe "A point?" (medium?)  She scribbles on the paper table cloth how you'd like your steak, pauses to ask about wine and is off.  The steak – entrecote of course, is nicely charred on the outside, cooked to perfection on the inside.  The frites, are thin, crisp, golden, slightly salty and maybe cooked in peanut oil.  The 'green' sauce (which appears to be non-optional) is mysterious as to its contents, but divine.  You are served half of your portion at a time – thus ensuring your steak stays warm and your frites are fresh.  I think this could be my perfect meal. http://www.relaisentrecote.fr/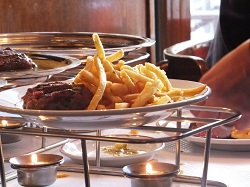 6. Bacon Butty – Borough Market
Overnight flight to London.  First stop – Borough Market.  First purchase – Bacon Butty from Roast.  Awesome.  http://www.boroughmarket.org.uk/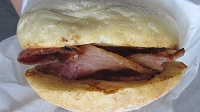 5.  The Walrus and The Carpenter – Oysters
I had the great opportunity to visit Seattle for something like 12 hours this past September.  Although I have two dear friends there, I don't get to Seattle very often.  We headed to The Walrus and The Carpenter in Ballard for a visit.  We devoured a selection of Washington oysters, including Olympias, Blue Pools and Sister Points.  Without a doubt, these were the best oysters I have ever had in my life – impeccably fresh.  The lovely room, the great service, amazing food including the tomato salad with vanilla vinaigrette, out of this world country bread, and the company of Jodi and Kirsten were pretty hard to beat.  http://thewalrusbar.com/
4. Ultra-fresh Buffalo Mozzarella
One night at La Sacrestia in Verona (my absolute most favourite place to eat there) we were presented with an enormous one KG fresh Buffalo Mozzarella for our first course.  Buffalo Mozzarella – 'family style'.  Bianca sat at the head of our 12 person table and carefully, literally, 'carved' it for us.  As she lovingly portioned up our gorgeous mozzarella, I realized it was actually American Thanksgiving – what an excellent substitute for turkey with all the trimmings!  It was room temperature, creamy, perfect…..and only the first course…..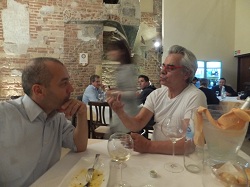 3. Poco Dolce Bittersweet Chocolate Tiles with Grey Sea Salt
Seriously.  These are the best.  I stumbled upon them at the Fancy Food Show in San Francisco in January.  Among the possibly hundreds of chocolates there – these stood out head and shoulders above anything else.  Whenever I go back to San Fran I stock up – even if it means running to the gate to catch my flight – as long as I have my chocolate tiles – all is good.  I am always torn……share the love with friends?  Or stash away in case of emergencies? http://www.pocodolce.com/
2. Burgers Priest Burger 
I was just in New York and had the chance to eat at Minetta Tavern.  New York Magazine calls Minetta one of the five most influential restaurants in New York in the last six years.  That's a big deal.  They serve what is widely regarded as the BEST burger in New York City.  At 26$ bucks – it's made with only dry aged cuts of the finest beef.  We had a wonderful evening and a great meal – Cam had a crazy New York steak on the bone, we enjoyed pork belly, Read tried foie gras….but after  11 year old Paisley finished her Minetta Black Label Burger, she leaned in very close to me and declared (so nobody could over hear her) "It's not even in my top 5…..it's nothing like Burger's Priest."  Out of the mouths of babes.  There's nothing else to say.  Burgers Priest is the best burger EVER.  Stamped it. http://theburgerspriest.com/
Truffle risotto
OK.  I made it myself, and Paisley and Read each took turns stirring.  But it was risotto.  With an entire smuggled white truffle in it.  Who cares if it was a teeny tiny bit mouldy?  It was a scrumptious meal shared at home and a heart palpitating adventure all rolled into one.  What could be better than that?