Tuesday, Thursday and Saturday, San Francisco's incredible Ferry Marketplace gets even better with the addition of the
Farmer's Market.  The produce is spectacular; and if you buy too much you can have the "Veggie Valet" look after your bags for you.  How civilised.  Almost as good as the "Veggie Butcher" at Eataly in New York City – who will wash and prep your veggies for you while you shop.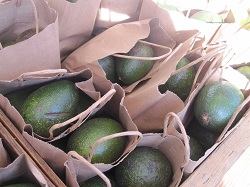 The day I was at the market, there were loads of citrus fruits, in incredible varieties – from juicy Meyer Lemons, to Blood Oranges to Indio Mandarinquats.  Seriously, believe me.  These little beauties are SOUR beyond belief with a strong orange oil finish.  Perfectly ripe avocados were being sold in bags of eight (guacamole party anyone?), kales and greens in unusual varieties…and dry farming seemed to be the buzz.  Dry farming avoids costly, high carbon footprint irrigation, and favours hardy varieties of species.  Less water on the crops means less water in the produce – yielding products that are smaller yet with more intense flavours.  Smart, considering California's battle with water.
Beyond the magnificent produce are the food carts – each one more tantalizing than the next.  One just did seafood sandwiches – grilled salmon, fried oysters or crab cake on a perfectly grilled baguette with aioli and greens.  Roli Roti had a half hour line-up for Porchetta Sandwich – served with onion marmalade and arugula – the smell was intoxicating – the pork and it's crackling divine.  Mexican cart drew crowds with tamales, enchiladas and entomatadas – topped with super fresh salsa and hunks of perfectly ripe avocado.  Burgers.  Sausages.  Breakfast.  And then, the NAMU cart.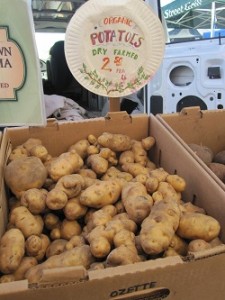 Namu is a restaurant at 6th and Balboa, but they have a cart at the Ferry Marketplace during the Farmer's Market – featuring a "new California twist" on Asian Street food.  Namu has received accolades from Gourmet Magazine, New York Times, and the James Beard Foundation.  Chef Dennis Lee was trained by his Korean mother, and now interprets classics in his own inimitable way.  Namu is known for their Korean Beef Short Rib Tacos  – using toasted nori instead of a taco shell and kimchee instead of salsa.  On our visit they were already sold out of these by mid-morning, BUT the Gamja Fries were calling our name.  Let me just break this down for you:
French Fries:  Were they fries?  Or were they batonnettes of deep fried mashed potatoes they were so creamy and fluffy?  What variety does he use?  (Bet they were dry farmed)
Chopped Short Ribs:  Korean beef ribs, tender and rich in flavour, diced into miniscule cubes – perfect for fry coverage.
Kimchee Relish:  This is not his grandma's Kimchee – this was Kimchee for the people – all the great deep flavours of the classic – chopped up into a flavour rich relish.
Are you keeping up?  There's more.  Hang on.
Gochujang:  OK, I confess.  I had to Google this one.  Korean Red Chile Paste – with fermented soybeans.
Kewpie Mayo:  Japanese Mayo named for the Kewpie-Doll shaped bottle it comes in.  I always think it tastes slightly rancid – but then a lot of the world likes it's mayo with a little rancidity.
Teriyaki:  You know this one.  Sweet.  Soy.  Mirin.  Ginger for kicks.
Green Onions:  No explanation required.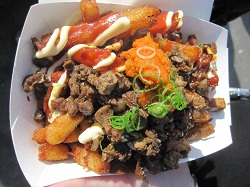 Basically you've got:  fries topped with umami ribs, and 4 (count 'em), 4 types of umami laden sauces.
Seriously, possibly the strangest thing I have ever eaten.  Totally unique.  Delicious, with a question(?) mark.
Farmer's Market at the Ferry Building – it's a culinary adventure – plan your entire trip to San Francisco around it.