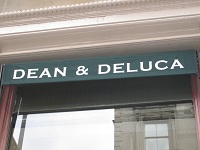 You just gotta love New York City.  It's insane – all around.  It goes without saying that the food scene is incredible.  I was fortunate enough to spend 3 days there last week touring around food stores and eating well.  It's the baked goods that never cease to amaze me there.  People figure Paris is the place for bakeries – and it is – no doubt – perfectly crisp baguettes on every corner, impossibly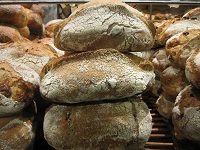 flaky MOF worthy croissants at every turn, macarons in a myriad of flavours.  For the classics, do not pass to go – go directly to Paris.  NYC has it's share of amazing classics, true: Sullivan Street Bakery's Italian specialties, especially the ciabatta and pizza.  Balthazar's Paris worthy croissants.  Thomas Keller's Bouchon has perfect patisseries….I could go on and on……BUT if you also want to see innovation – New York is your place.  Herewith I make my case.  (I've always wanted to use "herewith")
Exhibit A:  Roasted Chestnut Doughnut
First morning I head out early to Dean and Deluca for a coffee and a snack, and some WiFi as for some strange reason at my hotel smack dab in the heart of Times Square – there is no internet.   As I wait in line, along with many employees from the adjacent New York Times offices, I can see them…icing a shining…the Doughnut Plant Donuts.  I may have heard angels sing.  For the last five years – the Doughnut Plant Donuts are always in my top five most yummiest things I taste in NYC.  I always make sure anyone I am with saves room for a Coconut Cream Doughnut Plant Donut.    
Mark Isreal, founder of Doughnut Plant, is a third generation baker.  His grandfather worked in bakeries in the mid-west and in France – and created a recipe for yeasted doughnuts that Mark used when he opened his place in 1994.  These gems are made the old fashioned way – and they even make their own jelly for their signature Jelly Filled Square Donut.  They combine old world technique, with a commitment to quality, and add a large dash of innovation – Pomegranate, Lavender, Marzipan, Tres Leches…are only a few of their flavours.
I get to the counter, dreaming of my favourite coconut cream concoction…but what's this?  A new flavour?  Roasted Chestnut?  I must be dreaming….heaven….a yeast doughnut with tender roasted chestnuts throughout, and topped with roasted chestnut glaze.  I eat every last crumb.  Perfect (if not healthy) way to start the day.
Exhibit B: Cheddar Pretzel
I confess.  I don't really "get" pretzels.  Except for one time I was on a bread making course at the CIA in the Napa Valley and we made our own pretzel buns (caustic bath and all), and filled them fresh from the oven with Dijon butter and Serrano ham…THEN… I "got" pretzels. 
In NYC, Sigmund Pretzels promises real old fashioned pretzels, and deliver 100% chewy authenticity, but it's their flavours that really capture the imagination.  Lina Kulchinsky (a former lawyer) dreams up amazing flavours – the Cheddar is not to be missed….but others include raisin cinnamon, salted dipped in caramel, parsley and garlic (topped with fresh flat leaf parsley)…take that Munich!  Lina has mastered a classic and then makes them even better.
Exhibit C & D: Crack Pie and Compost Cookie
There's a whole lot of craziness going on about Momofuku's Crack Pie and Compost Cookie – ok – there's a whole lot of craziness
going on about Momofuku in general…so I had to check this out.
Crack Pie is like a butter tart meeting an oatmeal cookie, with a little saltiness thrown in for good measure.  It's chewy, fudgy – yet not overly sweet.  You can't stop eating it…guess that's the allusion to crack?  I don't think this thing has any "authentic roots" except maybe it was born from a bake sale induced dream.  It's original and delicious. 
Compost Cookie sounds like what a five year old would make if you asked them what to put in a cookie.  It contains (no joke) pretzels, potato chips, coffee, oats, butterscotch and chocolate chips.  All held together in a buttery cookie base.  Maybe a long lost cousin to the Toll-House cookie – but pure innovation.
People are writing about these two treats from NYC to LA….every blogger is trying to replicate the recipe.  Christina Tosi has caught the bakery world by storm with her innovative ideas…..blue cheese and kimchi croissants anyone?  With her track record on Compost Cookie and Crack Pie, I'd try anything she dreams up…and need to go back to try her Cereal Milk flavoured soft serve ice cream.
And so I rest my case.  NYC is home to some of the most innovative bakeries on earth.  But don't trust me…go check it out for yourself…but don't wear tight clothing…all that bakery research is a killer on the waistline.