This New Orleans trip was one of the most researched in. history.  We approached preparing for 4 days of eating and and drinking with the diligence Sarah Keonig applied to Adnan Sayed's case on SERIAL.  Only fewer cell phone records and much more powdered sugar.
And yet, despite all that research, we somehow failed to realize we were going to New Orleans during Mardi Gras.
I probably shouldn't even admit that.
Walking home from dinner one night in NOLA we came upon a clean up crew bringing up the tail of a parade.  This was a serious brigade, the path ahead filled with the detritus of bead-tossing floats, behind them pristine streets – ready for the next parade.  We followed the crowds and eventually caught up with the Krewe of Cleopatra and caught our very first Mardi Gras beads.  Opening night, and we just happened to stumble upon it.  Awesome.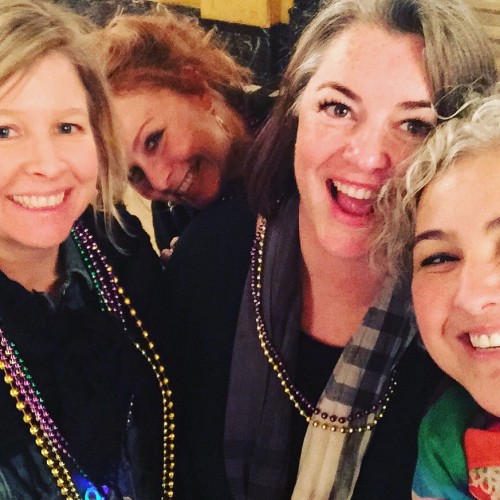 The other thing we weren't really prepared for was the unbelievable friendliness of the people of New Orleans.
As soon as we landed, sun shining and the pang of hunger in our bellies (likely the last time on the trip we felt that sensation) we went direct to legendary Willie Mae's Scotch House for what some say is America's best fried chicken.
After an awesome meal of ultra crisp, super juicy chicken and butter beans, an elderly gentleman called to us from his pick up truck as we waited for our cab.
"Hey ladies!  You enjoy your lunch?"
A little uncertain, we smiled, told him we had indeed, and resumed our conversation.  Unsatisfied, he got out of his truck and approached us.
"I'm the proprietor of this here establishment – did you enjoy your lunch?"
Charles Sr. wanted to chat; wanted to know where we were from and what we thought of the chicken.
He told us about opening this place in 1957 with his momma, Willie Mae.  His spot in Treme used to be a bar, who's signature drink was Scotch and milk.  There was also a beauty salon up front.  In the 1970's, when Willie Mae stopped offering her beautician services, she started serving fried chicken from a tiny kitchen in the back.
"And people started lining up!  Lining up down the street!  For chicken!"
Willie Mae even earned a prestigious James Beard Award right before their restaurant was all but demolished by Hurricane Katrina in 2005.  Friends, strangers and fans came together to re-build the beloved restaurant so that fried chicken could be restored for all.  Willie Mae passed away recently at the ripe old age of 99 – and in Charles Sr.'s words his "heart is broken".  But no, he would not share the how-to secrets of fried chicken nirvana.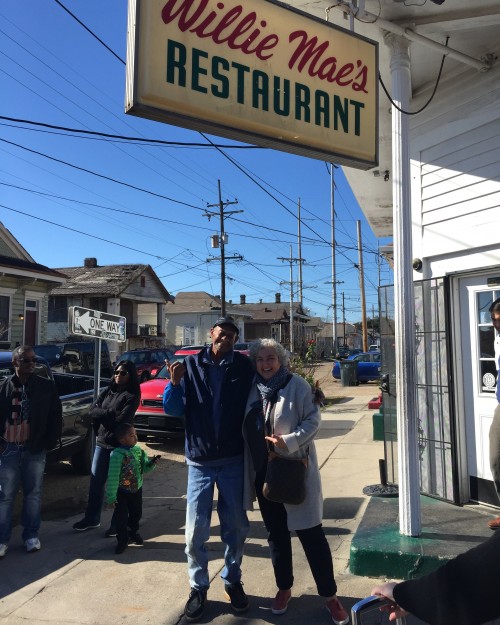 But it wasn't just Charles Sr. who wanted to chat and share stories.
The taxi driver who's dad spent nine days on the roof of their house during Katrina, eating cat food to stay alive.
The waitress at Café Du Monde who's continuous giggle made you certain powdered sugar coursed through her veins.
The server at Elizabeth's who taught us how to say Boudin – "It's like y'all are trying to scare a guy named Dan.  Boo! Dan."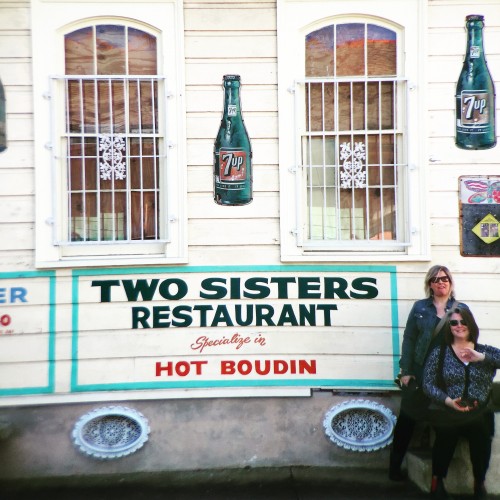 Vernon, who fixed the broken light, the messed up air conditioning, the missing hot water, and the overflowing toilet in one of our hotel rooms. (spoiler alert – no hotel reccos to see here)
The bartender at Peche who as a teenager, with the help of some buddies, smashed a gator on the head with a huge rock, then carried it to his pick up truck.  Giddy at the prospect of a gator cook-up, they went back to class and came only to find the gator gone ("We'd carried a LIVE gator, and, let me tell you – that pick up truck was pretty f&*%ed up.")
The oyster shuckers at Peche who got out a laminated map of the Gulf to show us where the best oysters come from.
The waiters at Peche….ok……everyone at Peche.
Giselle, our adorable guide to the Bayou and plantations, who told us that as Katrina approached, she had to pack up her kids and evacuate a city she had only lived in for a few weeks.
The UBER driver who in the space of a 20 minute ride schooled us in the cultural practices of the tribes of New Orleans AND told us where to get this awesome Po Boy.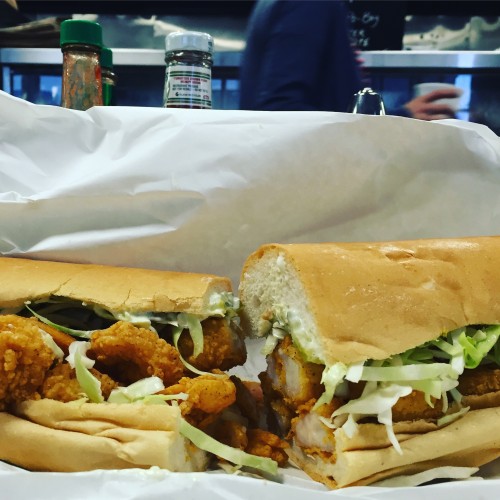 The server at Antoine's who sweatily and painstakingly explained the origins of Oysters Rockefeller and the merits of Oysters Bienville.
The manager at Willa Jean who packed us up a bag of cookies and frozen Irish coffees for our trip home.
Yes. New Orleans has a phenomenal food culture and our research served us well.  Of course the music…on the street, in the bars – everywhere – is outstanding and uplifting.  But, it's the people of New Orleans who really make the magic.  Go eat fried chicken and po boys and oysters and beignets and listen to amazing jazz.  But be sure to stop and speak with some locals, they are awesome.
Here's the list.  Follow it and you will be happy:
Willie Mae's Scotch House – if you see Charles Sr. tell him we say "Hi!".  And order the butter beans.  And no, 3 pieces of fried chicken is not too much for one person. 2401 St Ann Street
Café Du Monde – you don't have to go for breakfast, we went at 4pm, but you do have to go and have beignets and chicory coffee, just because….you have to.  Wear white – that powdered sugar ends up everywhere.  800 Decatur Street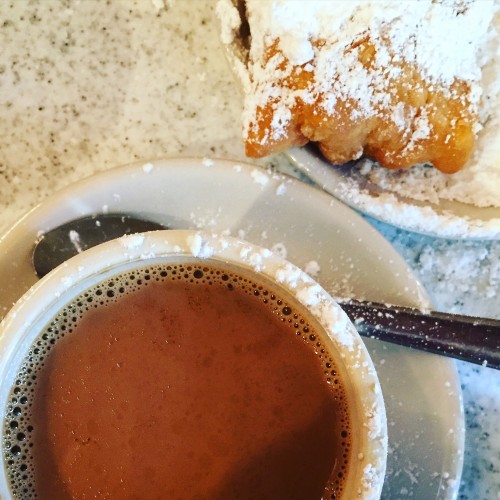 Surrey's Café and Juice Bar – the line up outside goes quickly – especially if you're sipping a coffee from Mojo.  Once inside, you can't go wrong with any of the choices as long as biscuits with sausage gravy is one of them.  From here explore all the cool shops on Magazine Street (including District Donuts, below), and you're close to the amazing homes of the Garden District and the Lafayette Cemetery.  1418 Magazine Street
District Donuts – delicious donuts and Croquenuts (Hello!?!) – griddled donut sandwiches.  We clearly did not spend enough time at this place.  Don't make our mistake. 2209 Magazine Street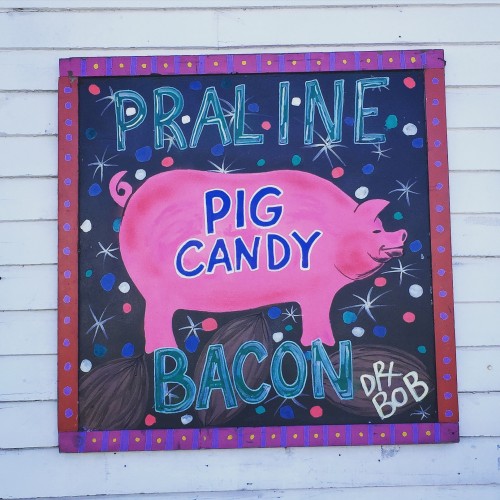 Elizabeth's – grab a cab out to Bywater and eat pralined bacon.  It's just as delicious as it sounds – but so are all of their breakfast's.  Michelle had a crazy benedict type thing that involved fried oysters.  From here walk through the adorably quirky neighborhoods that lead to the fabulous St Roch Market.  We were on the lookout for Joy the Baker and could not find her – but we're pretty sure we saw Tron-Cat. 601 Gallier Street
Willa Jean – it's a good thing we realized that the newest John Besh restaurant was so close to our hotel on our way out of town because we might have just eaten every meal there.  This is what you need to know:  Pimento Cheese served with shaved country ham and deep fried saltines.  Corn bread and butter drizzled with Poirier Cane Syrup.  I don't think I need to go into any more detail.  611 O'Keefe Avenue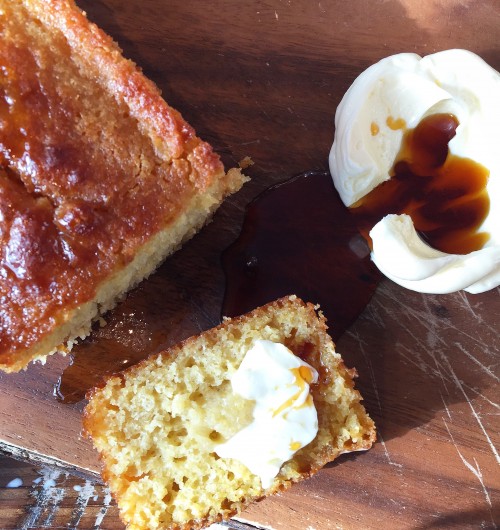 Mother's Restaurant – World's Best Baked Ham – The famed Domilise Po Boy was a must on our list, but Mardi Gras parades got in our way….our Uber driver swore by Mother's – so we gave a shrimp po boy a try and it was delish.  You'll have to try the World's Best Baked Ham for yourself. 401 Poydras
Cochon – New Orlean's restaurateur Donald Link has created a meat lover's paradise, and Cochon Butcher is right around the corner.  The ribs with watermelon pickle were outstanding.  920 Tchoupitoulas Street
Peche – We ended up at Peche on our first night – we were only supposed to be having a drink, before our actual dinner reservations at Cochon.  But they sat us at the raw bar, which was right by the expeditor and every dish looked so damn delicious we appetizer'ed in a fairly aggressive fashion.  That steak tartare with the oyster aioli (they use the oyster liquor in the emulsion) was bonkers good. In fact, it was all so amazing we went back the next night, and practically had one of everything on the menu.  800 Magazine Street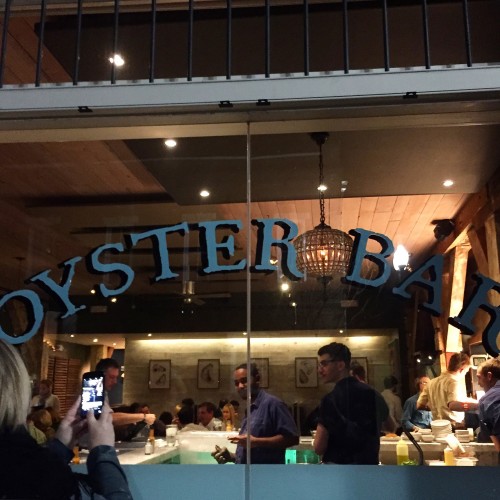 Napoleon House – stop into this gorgeous historic bar for a Pimm's Cup.  It's far enough off Bourbon Street that there's a nice mix of locals and tourists. 500 Chartres Street
Sazerac Bar – Home of the famous Sazerac cocktail made with  Peychaud's Bitters, this bar is old school and completely awesome.  130 Roosevelt Way
Preservation Hall – The Preservation Hall Jazz Band performs shows nightly at 8, 9 and 10pm – you can order tickets online in advance or queue up before the show you'd like to see.  It's an intimate setting and a fabulous show in this historical 1950's building.  Don't think there's been many renovations since opening day.  Buy drinks next door and bring them in.  726 St Peter Street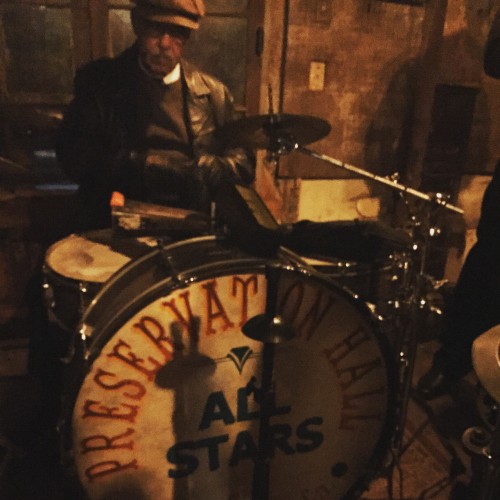 Three muses – Another small setting over on Frenchmen Street with great live music and creative cocktails.  536 Frenchmen Street
Bespoke Tours  – the folks at Bespoke Experiences created a great half day tour that included a stop in 9th ward to see the amazing things Make It Right is doing to re-build homes destroyed by Katrina, on through the Bayous (where we saw several bald eagles and decided that swamp kayaking was a must for our next visit) and viewed a couple of plantations.  Giselle our guide even stopped at Drive-Thru Daquiris for us. https://www.bespokeprivatetours.com/NewOrleans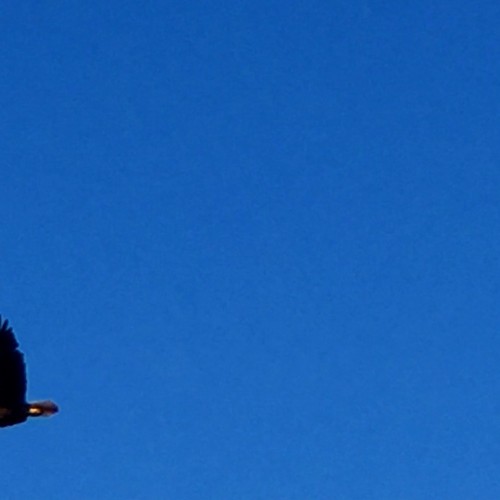 Two last things….
If you have a shipping address in the US you can now order the most divine real cane syrup – shown in picture above from Willa Jean's – from Poirier Cane Syrup – made the good old fashioned way.  Its amazing stuff.
For lots of interesting stuff on oysters and about oysters coming from the Gulf of Mexico post Katrina and BP oil spill, try to watch Shuckers – an awesome little documentary.