So you're going to San Francisco.
I hope you're hungry.
Can we just agree on one thing right at the get-go?
You're going to eat at Swan Oyster Depot – right?
You're not going to complain about the line-up – right?
You're going to wait patiently outside, and when it's your turn to sit at the counter you're going to cue the aggressive ordering and devour a crab salad with half vinaigrette, half Louie dressing, and oysters, and chowder, and sourdough bread with butter pats, and lots of white wine.
I am glad we agreed on that.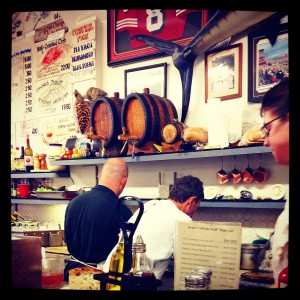 And another thing.
You're probably going to hang out in the Mission. Actually. For sure you are.
Get UBER to drop you at the corner of Guerrero and 18th.
From here you've got:
Bi-Rite Creamery (Always stop here for ice cream. Always. Last time I was there the daily soft serve was fresh strawberry and crème fraiche twist. 'Nuff said.)
Then walk down 18th to Valencia to catch:
Mission Cheese (please buy me the bag that says "Ground control to major tomme")
Dandelion Chocolate for some Almond Crack (which you can conveniently put in the aforementioned bag) and a torched to order Smore's Pastry – you can also watch them making chocolate chocolate from bean to bar.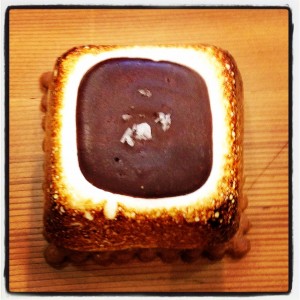 Also within walking distance are:
Flour + Water and Central Kitchen – owned by the same folks and both equally as brilliant. (I particularly love Central Kitchen for brunch)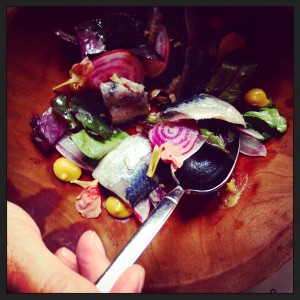 If it's Saturday, head to the Ferry Terminal when you get the added bonus of the Farmer's Market and food truck fiesta ouside. Inside there are lots of great shops…Cowgirl Creamery, Boccalone (for a to-go cone of dry cured "Tasty salted pig parts"), the adorable Miette Bakery, an outpost of Humphry Slocombe Ice Cream, the best heirloom beans from Rancho Gordo…and.so.much.more. This is also home to The Slanted Door – outstanding funky Vietnamese fare – Cellophane Noodles with Fresh Dungeness Crab? Shaking Beef? Hello!
Don't miss a visit to North Beach.
For dinner check out April Bloomfield's Tosca. (Crispy pig tails anyone?)
There are loads of great cocktail bars along Columbus– try Comstock Saloon for a friendly hipster experience (you know, with the single massive artisan crafted ice cube in your drink, handlebar-moustacheo-d-suspender-d-bar-keep and snacks made with bone marrow), or the super-dodgy-Anthony-Bourdain-blessed Mr. Bing's…..
(If you're feeling like the ultimate kitch experience is what you really need…the Tonga Room and Hurricane Bar complete with live band, lazy river, drinks in pineapples and lots of paper umbrellas is only about a 5-minute cab ride away.)
During the day North Beach will not allow you to go hungry either.
Caffe Trieste for coffee with the locals
Molinari's for the best sandwiches of your life.  (Special thanks to "Eyelashes" – you know who you are – at Swan Oyster Depot for this and the other great sammich tips.  Anicka will covet this list and keep it safe.  You have her word.)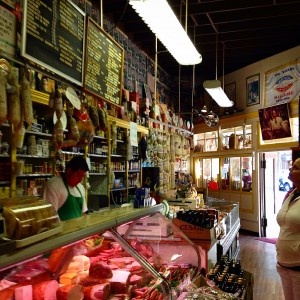 Liguria Bakery – making only focaccia for over 100 years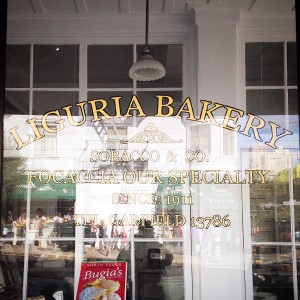 Here are a few other random fav's:
A16 in Cow Hollow – fabulous Italian
SPQR, owned by the A16 people – they have the most incredible Tuesday night pasta tasting menu
Foreign Cinema –a SF classic – home to the best courtyard patio, including big screen.  Love.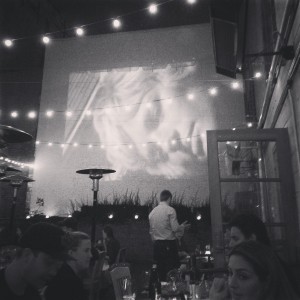 Contigo – in funky Noe Valley – neighborhood tapas – everything is delicious – especially anything prepared in their wood-burning oven
Of course, the famous Zuni Café for best roasted chicken of your life.
La Boulange – locations across the city – for many treats but especially the chocolate hazelnut croissant and jars of hazelnut jam – I think there's still room for a few of those in that bag you picked up for me back in the Mission.
Last – but not least – rent a bike and ride across the Golden Gate Bridge to Sausalito – it's a hoot.  Face it – even if you only eat at half of these places you could probably use a little calorie burning. Plus, after you stop in at The Barrel House  for beer and truffle fries you get to take the ferry back to the city!
I am sure there are other non-food things to do in SF – but I don't know what they are – you're gonna have to ask someone else about that.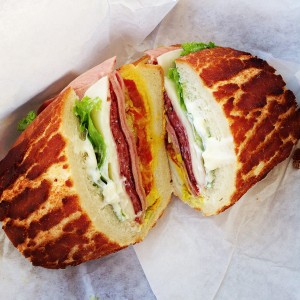 And because you're such a good friend, here's the "Eyelashes" list.  Treat it with the respect it is due.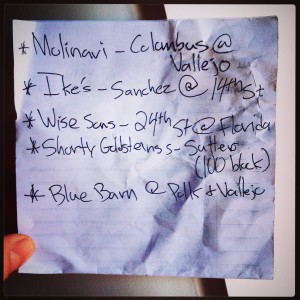 Have an awesome time.  Let me know when my bag of treats is ready for pick up.