I am listless.  And list-less.
It's not my usual state.  I love me a list.  On old fashioned paper, written with my favorite pen.  The crossing off is the best part.  So satisfying.  Love getting stuff done.
But I don't have a list….you know – a 2013 list.  The best restaurants.  The most awesome tastes.  Blah. Blah. Blah.  At this time of year there are just so many lists swirling about the internets.  I love them all.  I study them….been there…need to try that….I make lists from the lists.  Is there a 12 step program for that?
I catch myself thinking about my would-be list all the time.  When I should be working.  When I am layering on warm clothes to protect myself from the Polar Vortex (which used to be called January in the olden days).  When I am drinking my delicious kale breakfast smoothie.  If you have kale for breakfast, you are a good and virtuous person.  It's true.
Paisley's chocolate macarons with peppermint buttercream would definitely be on my list.  Not only were they gorgeous to look at, but she seriously made them by herself and we were both giddy with the surprising results.  Such a proud moment.  My girl makes homemade macarons.  She's basically a gastronomic prodigy.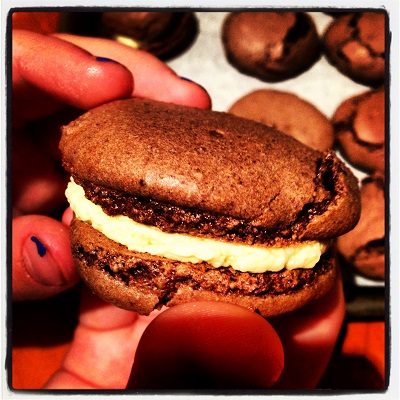 Where on the potential list could I fit in the brunch at Central Kitchen in San Francisco that I nearly missed due to an alarm clock fail, or a scrumptious dinner at Pastaga in Montreal with one of my oldest friends and one of my newest?
Chicken tagine with preserved lemon deep in the markets of Fes would most definitely be on the list.  Our guide chose the restaurant – a place I never would have gone into – it was full of….gasp…..tourists.  It was shaping up to be a 'waste' of a meal.  I was a little grumpy due to the fact I had just 'accidentally' bought a carpet for three times the price I thought I was paying.  Then I got my tagine.  Tender delicious chicken, preserved lemon – amazeballs.  I was like "What carpet?"  "I am in Morocco eating tagine!"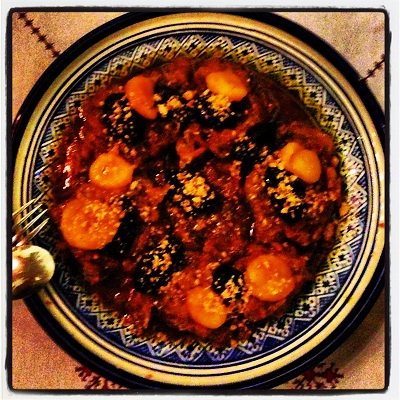 I could make a list comprised solely of my favourite lobster moments of 2013.
There would be the lobster dinner a la Joey's Deep Sea Fishingin PEI.  It's pretty hard to beat being out on the sea, pulling in the traps (I thought for certain I was going overboard), steaming our lobsters in ocean water, eating fresh oysters while they cooked, chucking the shells overboard, gleaning lobster facts from Joey (a third generation fisherman) ….it wasn't just a meal – it was a dream come true.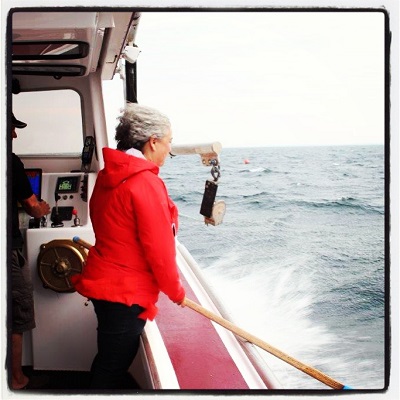 Under the lobster category, there were countless Friday nights at The Emerson – but Scott truly outdid himself on my birthday with surf and turf complete with jumbo lobster ravioli.  Truth be told, my day had been monumentally brutal, involving a trip to emergency and moving….but the lobster ravioli with my peeps at the Emerson was a game changer.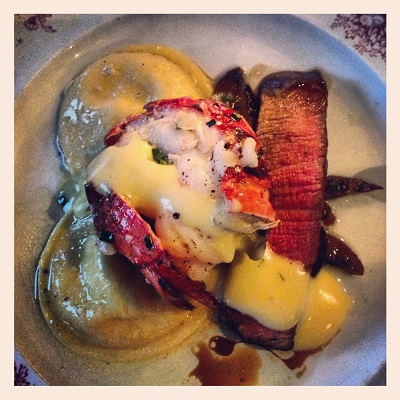 Of course, the lobster roll in Maine on girls weekend would make the list – as well as lobster night at the cottage.  Although we (Jamie more than the rest of us) learned a lesson that night – don't ever cook a dead lobster.  Ever.  We played dead lobster roulette and he won, er, umm…lost…..like 10lbs.  But it was an incredible night nonetheless, for me, and it's my un-list – not Jamie's.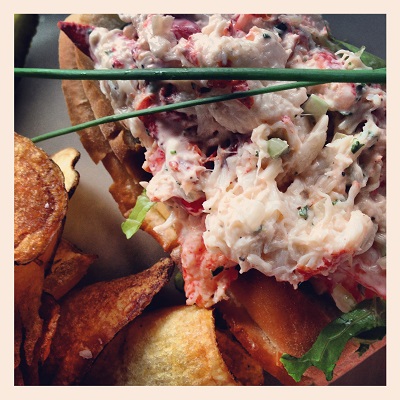 Hmmm…..that makes me think….I could do a list of my 2013 fails….so many to choose from….there was the whole jam debacle….and then the chicken liver mousse 'situation' (but in my defense isn't it a very fine line between a silky mousse and a creamy soup? Ya. No. Gross…)
There were post- snorkeling hot dogs in Reykjavik– feeling fairly invincible for having braved the frigid waters of Iceland, despite the late hour and pouring rain.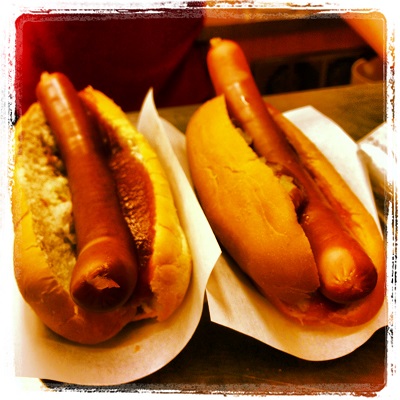 I often dream about lunch at Parm in NYC.  Read (my son of perpetual hunger) ate 3 sandwiches.  I, being much wiser, saved room for chocolate zeppole.  Always save room for donuts.  Always.  A rule to live by.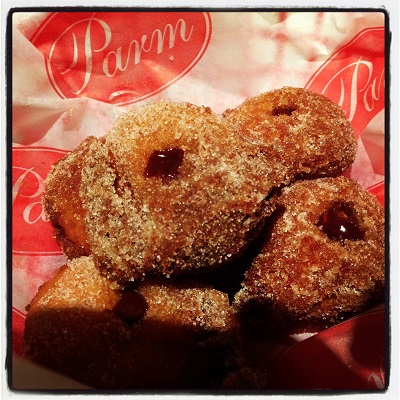 Ooh….tartiflette after a morning skiing in Chamonix– chased inside by the fog.  I must admit I love cheese more than skiing – shocking, I know.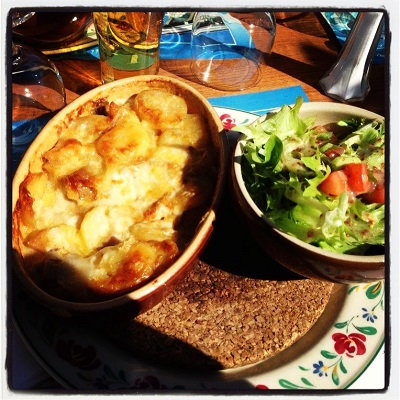 I would have to get Alinea on the list somehow, not because it was a favourite taste experience, but because I could share this picture of Blair eating a green apple helium balloon.  (It's always best to be the picture taker in these circumstances)  Thinking about Chicago, I would need to include Fat Rice, Big Star, Avec….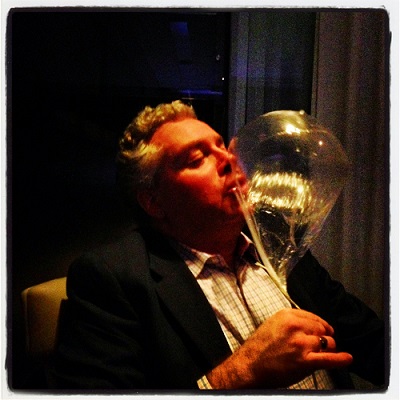 Cam and I shared the most outstanding anniversary celebration meal in Paris at Chateaubriand.  The reservation stars aligned and we were called at 7pm asking if we'd like a last-minute spot at the bar.  The young tattooed sommelier/bartender was highly entertaining – not only for her vast wine knowledge/generous pours but for her utter disdain for table seekers not following the rules.  Despite her explanations to return at 9pm when she would grant a few tables for a second seating, they hovered outside forming a line.  She continuously shooed them away and declared – eyes a rolling –  "If I invite you for dinner at 8, you don't wait outside my house at 6! Bah!….LES BLOGUERS AMERICAINS!!!!!!!"  Cam and I nodded.  Blogeurs.  Horrible people.  We enjoyed every course – but most especially this cured egg yolk with meringue and salted caramel.  I took the picture when she wasn't looking.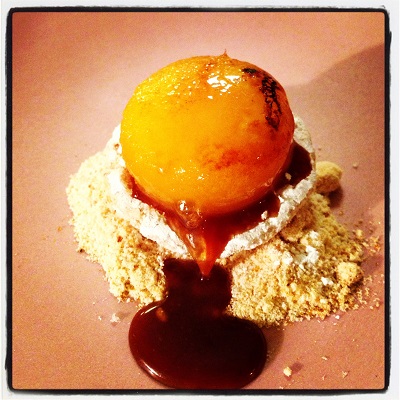 I would need to include Toronto favs Bar Isabel, Odd Seoul, Porchetta, Pizzeria Libretto, Playa Cabana, La Cubana, JaBistro, Kinton Ramen, Edulis, many a tasty sandwich at Caplansky's, brunch at Daniel Boulud's at the Four Seasons………so much amazing stuff is happening with food in Toronto.
A list is stupid.  I can't do this.  I can't sum up a whole scrumptious year in a list.  Deciding what goes on is like having to choose between a Cronut and Crème Brulee Ravioli.
I shall remain list-less.  But not listless.
I will just start work on a list of where and what I'd like to eat in 2014….
The Emerson has no website (rebels) – so here's where to find them – Friday night is lobsta night…
1279 Bloor Street West, Toronto  416 532 1717