We are just back from a ski cheese vacation.  Now I need a vacation from cheese.  I don't really want one, but it's probably recommended.
You know the Michelin man?  OK….well….convention has it that he's made of tires.  Sadly mistaken folks.  I think those are wheels of cheese he's made of.  I should know.  It's exactly what I look like after an 8 day cheese marathon in the French Alps.  If you don't like melted cheese – don't even go to this region in France.  Actually, if you don't like melted cheese I suggest you go to the closest hospital – there's something very, very wrong with you.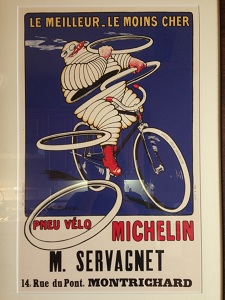 According to my intensive research, there are three key ingredients to the cuisine of the Haute-Savoie region of France – that magical place nestled in among the borders of Switzerland and Italy.
·

        

Melted Cheese

·

        

Potatoes

·

        

Assorted cured pork: ham, lardons….
Genius – huh?  I mean really, cheese AND skiing, what's not to like?
One afternoon at the top of Flegere, we were chased inside by insane fog, but found solace in fondue at 6,500ft.  What could be better than a bubbly pot of melted cheese, fresh baguette, an ice cold beer and looking out over where the mountains supposebly were after a morning of skiingpre-cheese eating preparation?  I'll tell you.  Nothing.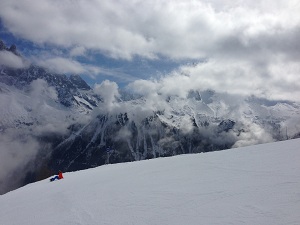 After another full day on the slopes, we indulged in Raclette at La Caleche in the heart of the village of Chamonix – half a wheel of cheese, rolled to our table side, and a nifty gadget to broil it until bubbly before quickly scraping onto potatoes and assorted pork products.  Throw in some cornichons and voila! – melty cheese perfection.
We discovered tartiflette – and I fell hard in love with it, ordering wherever we went.  The Savoie trinity of potatoes, lardons and Reblochon cheese baked into unctuous harmony.  They even throw the rind in and it gets brown and crispy and is completely un-sharable.  Tartiflette was my downfall; I think I ate it every day, including a version with porcini mushrooms at the restaurant on the top of the Brevant gondola.  Yup this is the kind of food you get at the restaurants on the mountain – deeee-lish.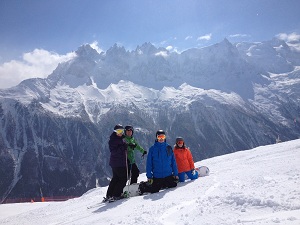 It was a magical week – a veritable skiing/cheese eating extravaganza.  Our friend Didi joined us for a few days.  She's a Canadian transplant who lives an hour away in La Plagne with her mountain guide husband.  There's nothing she has not done – heli skiing, parapenting, you name it – she's done it.  She tried to convince me that I could ski the Vallee Blanche with Cam and Read.  It was less the off-piste 25km descent that I was worried about and more the arête you must climb down to get to the starting point – check out this video – I am the one just behind the videographer:
http://www.youtube.com/watch?v=4FFVs1m216g
I am not there!!!!!
Have you met me?????  Have you seen that thing????
There is no !@#$ way I would EVER climb down that – no matter how good the tartiflette is at the restaurant on the glacier half way down.  Didi told me I should think about descending the arête like walking down a corridor.  "How many times have you fallen walking down a corridor?"  Didi asked.  (She wouldn't want to know.  Really.  She wouldn't.)  What I wanted to know was how many corridors are 12,000 ft up in the air and covered with snow and ice?
None.  The answer is none.  Zero, Didi, zero.
So while Cam and Read skied the famous Vallee Blanche (and enjoyed a spectacular melted cheese lunch on the glacier at a spot that helicopters in its staff and fondue supplies each day.  Duh.)  Paisley and I were safe in the village sampling pastries…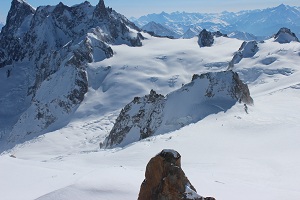 Back home in Toronto, separated from warm cheese, I am already scheming about replicating some of the tastes of our adventure.
Here's what Didi suggests for making fondue at home – it involves no corridors so I think we can trust her on this: 
Allow for 250 g of cheese per person, 1/3 Beaufort, Comté, Emmenthal.

Rub a clove of garlic around the inside of the fondue pan.

Pour 100ml dry white wine per person into the pot, add all the shredded cheese and a clove of minced garlic.

Heat and stir.  (It starts off quite thickly, then separates, and then becomes homogeneous.)

Add 1/2 teaspoon of cornstarch diluted in a small glass of kirsch.

Season with pepper and/or nutmeg to taste.

After regaling yourselves with the fondue, when the cheese is almost finished, drop an egg into the pan and stir. Finish the meal with a delicious cheesy scrambled egg.
 And now for the tartiflette:
Chop an onion and fry up with lardons.

Add enough cubed potatoes to fill a small gratin dish and cook until almost done.

Pour into gratin dish.

Take the wheel of Reblochon slice it gently in half.

Place the two Reblochon halves rind side up in the dish.

Bake in oven until completely bubbly, cheese is melted and rind is crispy!!
If you ever find yourself on a ski cheese vacation in Chamonix – here are a couple of places definitely worth eating melted cheese at:
La Caleche:  Traditional, cozy, oldy worldy with excellent service and wonderful Savoie specialities.  You must make a reservation; this place is packed every night.   http://www.restaurant-caleche.com/en
Cousin Albert:  This appeared to be a local hang out – not easy to find in such a tourist filled town.  It is small and quaint, and even has non melted cheese options like Steak Tartare made table side, and decent steak frites.   http://www.cousinalbert.fr/
La Bergerie:  At the top of the Brevant gondola – when you get up there in the morning – pop in to reserve your table on the patio at lunch if it's a bluebird day.  http://www.bergerie-restaurant.com/
L'Adret:  Wonderful fondue, braised beef cheek stew  and amazing desserts – you'll never think about slope side dining the same way again.  http://www.flegere-restaurant.com/adret/index.php#
La Roulotte:  This wood-burning pizza truck was parked right across the street from our apartment on rue Vallot– and made pretty delicious pizza…..my favourite flavor?  Tartiflette of course!
Poco Loco:  This is the tiniest restaurant I have ever been in…..second floor, narrow beyond belief – I think it used to be a crawl space – but man can they whip up scrumptious sandwiches – almost all, of course, with lots of gooey melted local cheese. 46 Rue du Dr Paccard
Au Petits Gourmands:  No melted cheese here – but divine pastries and chocolates – especially the truffles shaped like mini Mont Blancs! 168 Rue du Dr Paccard
For skiing info – this is a great site: http://www.chamonix.com/welcome,0,en.html  Be sure to visit the Mountain Guide House next to the church in the heart of the village if you are considering tackling that arête and the Vallee Blanche beyond – just be sure your corridor walking skills are up to snuff first.  http://www.chamonix-seminaires.com/