When trying to plan a family trip to NYC, I discovered that an amazing thing happens if you plan on dining with more than, say, 3 other friends.  You are more often than not deemed heathen tourists of the grossest variety.
First, Open Table snubbed me with some kind of error message:  "Are you kidding me?  9 people?  Everyone knows cool people don't eat out in parties larger than 4!!"
So, I called many (way too many) places.  On a telephone.  Like its 1999.
At first the hosts were super friendly – until I revealed my party size.  The temperature then typically turned ice cold and I was advised that for parties that size you must speak with a……MANAGER.  Long pause.
I think this is supposed to frighten you into hanging up and taking your tribe elsewhere.
"Ooh!  Not the manager!!!!"
I persisted.  (Don't act surprised.)
If you are able to get a manager to come to the phone (they are very busy with real customers) they let you know that parties "OF THAT SIZE" must go with a group menu.
With limited choices.
And a fixed price.
Payable in advance.
Not cancelable with less than 72 hours notice – and a note from your parents.
And you have to eat at the most undesirable hour – say 5pm.
And they will only hold the table for 15 minutes past your reservation time. (apparently if you're late they give your table to all the other people wanting to eat at 5pm…)
Accommodating – huh?  Oh, and the legal contract.  Don't forget that.  Sign in triplicate and have the original notarized.  Seriously.  I was emailed a 3 page contract by one restaurant.  I called back.  I cancelled.  I have limits.  This was dinner, not a wedding.
I got a little desperate to find good places for our modest travelling circus to eat.  Tricky trickster that I am, I asked the hostess at Locanda Verde to book one table of 4 and one of 5 after I was told they do not ever (never. ever.) seat parties larger than 8.
"You can't to do that!!!" she chastised me.  "That is against our policy!"
Determined to finally make it to this revered restaurant, I booked one table and got my friend to call and book the second.  We pinky swore that we would pretend not to know each other – lest we get caught by the reservation police.  Turned out to be a little awkward when we got to the restaurant for our 8am pre-flight breakfast reservation……and we were the only people in the place!!!
I knew I had found the best places when there was no long tortuous silence after revealing my party size, and when we did not have to eat dinner at 3pm.  In fact – we had some pretty amazing meals at places that I would definitely go back to no matter how many friends I was dining with.
Ssam Bar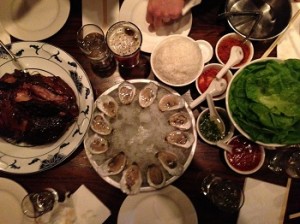 You can reserve online for the Bo Ssam or Rotisserie Duck meals.  It's a simple no-fuss process with zero attitude.  We had the Bo Ssam  – slow cooked pork shoulder that literally melts apart into tender porky goodness.  Its served family style with rice, all the delectable Momofuku sauces and a dozen raw oysters.  You roll all this deliciousness up into lettuce leaves and enjoy.  Perfect for a group to graze, consume a few beverages and relax.  The Bo Ssam is $200.00 – and 10 of us could not crush the entire thing – try as we might.  (OK, we did order a few extras)  The food is outstanding and the service is impeccable – there's a reason David Chang is considered one of the most influential people in food right now.  http://momofuku.com/new-york/ssam-bar/bo-ssam/
Jean-Georges Nougatine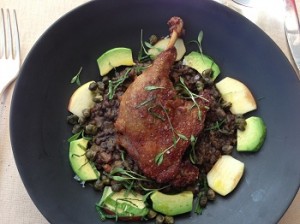 Yep.  Jean-Georges.  Did not bat a perfectly coiffed eyelash at lunch for 8, including a lobster loving 7 year old.  I had heard this was the best lunch deal in town – and I had heard correctly.  $32.00 Prix fixe gets you 3 courses served in a gorgeous sun filled dining room overlooking Central Park.  We feasted on duck confit, tuna tartar, roasted snapper and (woot woot!) lobster burgers.  The crowning glory was dessert.  Pecan pie ice cream sundae was wonderful – but I had to try the warm chocolate cake – Jean Georges is credited with its invention.  Let's just say there was no crumb left behind.  http://www.jean-georgesrestaurant.com/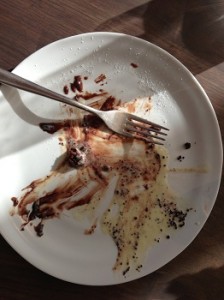 Balthazar
You can always count on Balthazar.  It's an institution.  Nothing phases them.  Party of 8 – no problem.  Walk-in breakfast for 10 hungry heathens – they split us up into (gasp!) two tables – but we were allowed to talk to each other.  These guys are busy.  Always busy.  As Andrew Knowlton recently wrote in an article about the most influential restaurants of 2013 – on December 22 last year Balthazar served over 1500 hundred people with 180 seats.  The space is gorgeous.  The service is top notch.  And the food rocks – consistently.  Oysters.  Steak Frites.  Sour cream hazelnut waffles.  Eggs benny.  Breakfast, lunch or dinner – this is the place – you can't go wrong.  Don't miss it.  http://balthazarny.com/index.php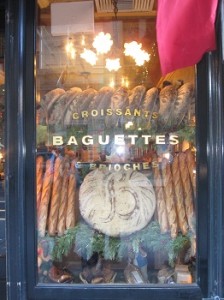 Tertulia
Tertulia takes reservations for parties 6 or more for their $55.00 Chefs Menu.  (can I tell you how smug our large party was traipsing past the groups of 2 or 3 waiting longingly for a table??) The night we were there we were supremely spoiled with 8 plus courses – most prepared in the wood burning oven – marinated anchovies, pan con tomate, brandada de bacalao, crispy patatas, roasted brussel sprouts with pork belly, a wonderful winter paella with roast chicken and root vegetables….I am sure I am forgetting something….all topped off with salted chocolate tart and Torrija Caramelizada – the most incredible "burnt sugar" toast direct from the wood oven served with hazelnut ice cream.  We did not feel punished or snubbed – we felt like Spanish royalty!  http://tertulianyc.com/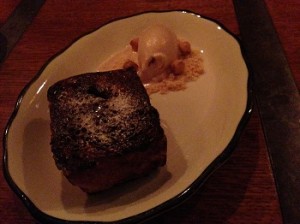 Mission accomplished.  Our tribe ate well.  Take that reservation police.
Check out Andrew Knowlton's article here.  How many of the most important restaurants in America have you been to?  I have only been to 6 – I've got some work to do!