When in New York, I usually plan for a dessert stop after dinner – a late night adventure, to you know, maximize restaurant coverage.  It's like post-dessert dessert.  Stop being so judgy.  Jeez.  This is my work, my vocation, my (literally) bread and butter.  I must know where all the best desserts are to be had.  I simply must.
Trolling the internet, I came across BIG GAY ICE CREAM.
Big Gay started out as a food truck in 2009, and opened their East Village shop in 2011.  In 2012 they opened a second shop and have signed a book deal with Clarkson Potter.  I had to go.  How can you not want to go to a place called BIG GAY ICE CREAM?  Their logo is a rainbow ice cream cone, with overtones of unicorns.  Rainbows, unicorns and SOFT SERVE ICE CREAM?????  Soft serve ice cream is practically one of the seven wonders of the world.  Well….in my opinion anyway.
It was really hard to find someone in our group to go with me – NOT.  After we crushed the Bo Ssam Pork Shoulder meal at Momofuku's Ssam Bar, we waddled walked the few blocks to BIG GAY ICE CREAM.  I was almost hungry when we got there.  (It's a good plan to go to New York after the holidays – Christmas is kind of like training camp for 4 days of eating your way across NYC).
As we turned onto East 7th Street, there was a crowd on the sidewalk – all hovering around Luke's Lobster.  This closet sized restaurant serves fresh Maine lobster rolls, Maine microbrews and even lobster grilled cheese.  It was hard to walk on by, but we had to stay focused.  Big. Gay. Ice. Cream.
The next temptation was Butter Lane cupcakes.  Keep walking, ignore the adorable sign and the twinkling buttercream frosting in a palette of pastels.  Big. Gay. Ice. Cream.  Stay on task.
Finally we arrived.  The place was so jammed we had to wait outside on the sidewalk.  Maybe lots of New Yorkers had the same new year's resolution – "In 2013 I am gonna do my best to eat more Big Gay Ice Cream.  Preferably late at night, right before I go to bed."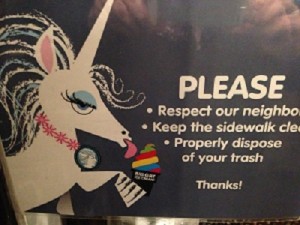 Once inside, it was cosy and warm – all sunshine, rainbows, unicorns and very, very happy folks making incredible soft serve creations.  I think the super friendly guy who served us also has a part time job doing voice-overs – I am sure he narrated this lovely video about the honey badger.  He was kind of bad-ass, but in an awesome way.
I opted for the Salty Pimp – vanilla soft serve, dulce de leche, sea salt all dipped in chocolate! Hello Pimp-meister!  Check out the fancy cone holder that catches the drips – these guys are genius!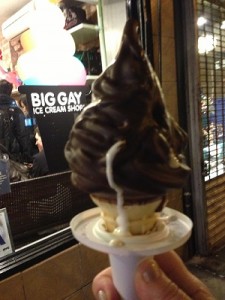 We tried the Bea Arthur – with crushed nilla wafers (was Bea Arthur a nilla wafer fan?) and the Mermaid with vanilla soft serve, lime curd, graham crumbs and whipped cream (lime curd and soft serve – what took someone so long to come up with that?)
But the biggest, gayest of them all was the Monday Sundae – Nutella lined waffle cone (stroke of pure genius) chocolate/vanilla twist soft serve, dulce de leche, sea salt and whipped cream.  Sorry, I think I just drooled on my keyboard.
Big Gay Ice Cream….check it out…now also open in the West Village, and their truck is on the road during ice cream season.  I know that I am going to resolve to eat more Big Gay Ice Cream in 2013…..isn't it the year of the soft serve?
http://biggayicecream.com/about/