If La Mere Brazier was, say, a 13/10 on the fancy scale.  Our next stop was, umm, a generous 3.  A solid 3.  A delicious 3.  Personally, I am a fan of 3's.  They are comfortable, unpretentious, more my style.
We were hungry.  I know, I know, we'd just come off the crazy eight courses at La Mere Brazier, but to be fair we had spent the afternoon walking around the old city, and even trekked up to Notre Dame de Fourviere to catch an amazing view of the city.  Lyon is gorgeous, like a mini Paris – with wonderful architecture, a fabulous subway system and a bakery on every corner.  Besides, there was not a chance we'd skip a meal in France's gastronomic capital. We sought out a Bouchon for dinner – a typical Lyonnais establishment that serves rustic traditional fare.  Bouchons are where the silk workers would eat, a place where you could let your hair down, have a few drinks and now worry about crashing into a homemade marshmallow cart.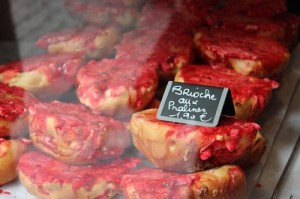 We found Bouchon nirvana at Café des Federations – which as the sign outside says, has been around a long, long time.  The place was packed, no brigade of waiters, but rather two waitresses run off their feet.  Moderately friendly, yet super-efficient.  Nary a menu in sight, the food just started coming as soon as we sat down.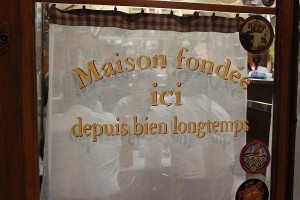 Oeufs en Meurette – poached eggs in red wine sauce were literally plunked down in front of us.  OK, I don't think it was a red wine sauce.  I think it was a melange of all leftover broths in the restaurant.  Not in a bad way, in a leftovers are awesome sorta way.  Really.  Rich beef broth, red wine, lardons, tiny pieces of beef – and a perfectly poached egg.  Surprisingly slurpacious.  I never would have ordered this, given the choice (choice – bah!)…..
We were enjoying our poached eggs, when Didi got up to her old tricks.  She asked the whizzing by waitress for some bread.  "Du pain s'il vous plait?"
Apparently, no,  it did not 'plait' the waitress.  She screeched to a halt, turned on her heel, pointed her finger, waved it at us, and declared – for all to hear – lest there be other customers who thought they could call the shots:
"Jamais!  Jamais du pain avec les oeufs en meurette!"
(Never!  Never bread with poached eggs in leftover sauce!  (The 'you dumbass' is silent, but oh so apparent.)
OK…..clearly this waitress should never apply for a job at La Mere Brazier, where one only speaks slightly above a whisper, finger waving is not allowed, and you must, at all times be nice to the stupid customers.
There's no big honking leather bound wine list.  No sir – for 9 euros a bottle(and by bottle I mean they fill a vessel from a tap) you have your choice of 2 reds, 2 whites or a rosee.  Much to the pure delight of our waitress friend, we hummed and hawed, and settled on the Cotes du Rhone.  It was red, it was wet, and there was no way we were going to send it back for fear we would be evicted.
Next up, Caviar de la Croix Rousse (known as poor man's caviar – lentils with cream and lardons), frisee salad with boiled egg, lardons, bleu cheese and super mustardy vinaigrette (I love vinaigrette in France – why can't we have vinaigrette like this in North America?), rosette de lyon (pork sausage) with cornichons, and, yes DU PAIN!!!  Super waitress then deposited what looked like a large over-cooked meatball on the table – with a knife stabbing it through the middle.  Maybe it was a warning to Didi lest she try any more shenanigans like ordering bread at the wrong time.  It was, actually terrine de sanglier (wild boar).  Now we were feasting on all these treats, the getting more and more delightful wine was going down well, there was not a single bebette in sight, and bread was being eaten with abandon.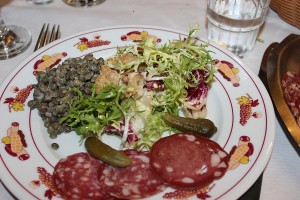 Super waitress arrived – it was time to order our dinner.   There were about 6 choices that night, which she rhymed off to us.  I only caught about every fourth word she said, but as a team, we strategized quickly while she stood there impatiently waiting for us to choose.
Here's how we made out:
Quenelles with Nantua sauce – quenelles are everywhere in Lyon – made with creamed pike and breadcrumbs, they are kind of like a dumpling – which are steamed and then topped with sauce and baked until golden brown.  Nantua sauce is a creamy langoustine concoction –yum.
Boudin aux Pommes – blood sausage with roasted apples – this was fantastic.  Ugly as hell, but delicious.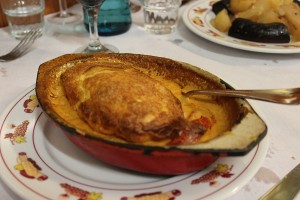 Civet de Joue de Porc – braised pork cheeks in red wine – fall apart tender and amazing.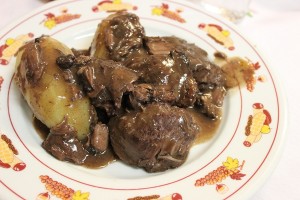 Gateau de foie de vollailles – minced liver shaped in a round with a vinegared sauce and mini quenelles.
Nothing looked like a Monet painting.  There were no foams.  No smoked salt.  It was awesome hearty fare.  Not pretty – just good food.
Maybe it's against the law to discard cheese in France, because the cheese course looked like my deli drawer at home when I get back from being at the cottage for the summer. I think the problem is the French don`t make macaroni and cheese – the ultimate destination for all bits and bobs of cheese you find lying around.  At least 8 varieties of cheese were presented to us, but not a single one encouraged trying.  OK, there was one.  You could smell it as soon as it was released from the kitchen.  Cervelle de Canut (which literally means the brain of the silk workers).  Fromage blanc mixed with shallots, vinegar, salt, pepper, herbs.  I'd bet money on garlic too.  It's pretty strong stuff – like tzaziki, but French, so naturally, far, far, far superior – at least in its own opinion.
Finalement dessert.  We took moelleux aux chocolat, moelleux aux marons (chestnuts) and Lyonnais tarte praline.  All just fine, thank you very much.  Honestly – it was enough food for a starving army.  I needed to walk home – like to Canada home – not our hotel home.
If you go to Lyon, don't miss out on a meal at a traditional Bouchon, like Café des Federations.  Also be sure to visit Les Halles de Lyon Paul Bocuse– a gorgeous permanent indoor market – we stopped in for breakfast , to stock up the traditional Lyonnais red pralines and to secure some 'supplies' for our train ride to Paris…..oh and a few frogs legs to get the day going in style….