Donuts are undergoing a renaissance of sorts these days – really what is better than a fresh doughnut?  Balthazar, the classic French Bakery, in trendy SoHo, makes banana walnut donuts at this time of year (yup – they have "seasonal" donuts).  It is fairly common these days to see "beignets" or "bomboloni" on dessert menus.   Thomas Keller started serving warm cinnamon donuts at the French Laundry in Napa when he opened in 1994.  Must have been a good year for donuts – it's also when Doughnut Plant first opened its doors.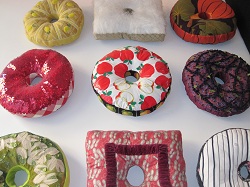 Every time I visit New York, I treat myself to one, ok call it three or so, Doughnut Plant donuts.  They are quite simply outstanding.   I have ranted about my love of Mark Isreal's treats in the past.  He comes from a long line of donut makers – and it shows.  This guy clearly knows what he is doing – yeasted or cake donuts – each one is more delicious than the next.
Until now, I had only stalked out Doughnut Plant donuts at various Dean and Deluca locations around Manhattan.  D&D have never let me down – but I have dreamed of viewing and per chance sampling the entire range.  Yesterday, I went straight to the source – in the heart of Chelsea.  Racks and racks of all of the flavours sit at the ready.  It's like a mini donut shrine – the entire décor scheme is beignet circa 2012.  One wall is adorned with 'donut' pillows – one for each of the unique flavours on offer.  There are a few donut inspired tables and chairs, donut tiles on the walls…..it's a happy place.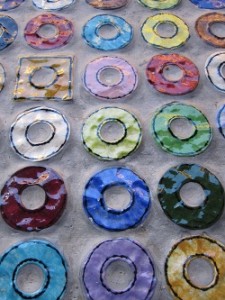 I was like a kid in a candy store. Cam just gave me one of his looks that says 'order whatever you want'…I really love that look.  It was a painful task, but I settled on the following for all of us to share:
See picture – clockwise from top left: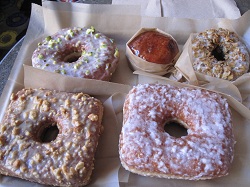 Pistachio – this is a solidly delicious yeasted donut topped with roasted pistachios.  Out there in the normal world this would be a KILLER donut, but here at Doughnut Plant, it's really good.
Crème Brulee – I kid you not.  I would not do that to you.  We're talking donuts here, people.  This is serious stuff.  Small, but mighty – it gets its own little paper collar to make it look even more regal.  The top is expertly brule'ed (that's a verb – right?)– a top like glass, all crunchy and crackly.  The vanilla yeasted donut is rich in flavour, light – yet chewy in texture.  And then……it is filled with crème custard complete with flecks of vanilla bean.  This gem is totally and completely outstanding.  We can't cut this one into fours, so I take the first, and…umm…second bite.  I do not want to share, but eventually I do.
Oatmeal – I know, it sounds healthy……but don't worry – I am sure it is not.  And if it is – Mark Israel deserves a Nobel Prize.  A cake doughnut with lots of oats, nuts and dried fruit – it's not overly sweet and has a super crunchy exterior and moist interior.  It is heavenly, plus you sorta feel a little virtuous for choosing oatmeal over say, chocolate…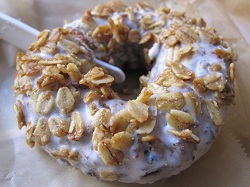 Coconut Crème – Sorry old friend.  You were my favourite for at least five years running.  But I have a new love now – Crème Brulee.  I admit to having a crush on Roasted Chestnut last winter, and Lavender one spring – but other than that I have been loyal.  I adore your signature square shape, the chewy doughnut and the creamy coconut custard.  You are a rock star, but it's just time for me to move on.  It's not you.  It's me.
Peanut Butter and Jelly – Classic.  The cake is so peanut-buttery and the house-made jam the perfect sweet/tart partner.  Genius.
We did go back for a second Oatmeal, but refrained from trying any other varieties like Valrhona Chocolate, Tres Leches, or the new Meyer Lemon…..we did have lunch planned at Momofuku after all…..
Check out Doughnut Plant donuts – you will love 'em – if you don't you might be certifiable.  No offense.