OK.  36 hours in San Francisco is not very long, but I think I'd take 36 hours over none at all.  I was on the west coast last week working on some very exciting developments that involve copious amounts of butter, chocolate and cream – that's all I can tell you – its top secret stuff.  Besides two full days of meetings and needing just a few hours of sleep – I did manage to soak up some of the SF food scene.  It's really all about having a plan….and a GPS that sort of works.
Foreign Cinema.  This busy Mission District restaurant has been around since 1999.  There is a fabulous tented courtyard, and they show old movies outside against the back wall.  The night I was there it was Breakfast at Tiffany's – not that I was watching, I was too busy enjoying my incredible meal – with so little time – one really must focus!  The menu posed a problem – every single item looked amazing.  This is what we decided on.  Fresh cold Dungeness crab with garlic aioli to start – such a treat.  It reminded me of a long ago unsuccessful adventure to Washington State to go Dungeness crabbing, only to find the season had closed the day before we arrived.  Instead we bought crabs from the local grocery store – tasty – just not as exciting as catching them yourself!  Next up was a wonderful salad of baby gem lettuce, beets, radishes and green goddess dressing (flash from the past – this dressing is making a come-back) – crisp, tasty, refreshing – perfectly dressed.  Acquerello (the finest Arborio rice) risotto cakes topped with fresh morels followed.  Morels, those treasures of early summer – they are difficult to pass up.  Last but not least, we tried the Poppyseed Fried Chicken, served over farro and spiced greens.  Likely brined, with a fabulous coating, this was some of the best chicken I have ever had.  Don't go looking for these exact items…then menu changes daily – you'll be faced with your own dilemma of what to choose – but I am certain you won't go wrong.  http://www.foreigncinema.com/home.html
Bi-Rite Creamery.  After a hard day working on new desserts for a client, I needed a little treat.  I had visited Bi-Rite Creamery in January, but the line-up was so long I did not have time to wait.  On this particular day, the line-up was a cinch.  There are two windows – one for soft serve, one for regular (if you can call this ice cream regular).  It took me quite a while to decide – soft serve is one of my all-time favourites – on this particular day they were offering vanilla and chocolate mint.  (There's a calendar on their site listing what flavours they offer each day)  Soft serve is undergoing a renaissance if you will – long shunned as a "secondary" ice cream, it is popping up everywhere.  In Chicago just the other week I enjoyed Toasted Cinnamon Soft Serve at the Purple Pig.  I went for the regular ice cream counter.  So many delectable choices, and friendly servers generous with samples; ready to make flavour combo suggestions.  Crème Fraiche paired with Balsamic Strawberry.  Roasted (yes – ROASTED) Banana alongside Toasted Coconut.  Ricanelas (cinnamon ice cream with pieces of snickerdoodle cookies) all by its' lonesome – it needed no partner. For my actual cone (I had to BUY something after they let me try all those flavours for free!)  I opted for Salted Caramel teamed with Malted Vanilla with chocolate chunks and peanut brittle pieces.  All I'm gonna say is that not waiting in line that day in January was a very, very poor decision on my part.  Never. Walking. Past. Bi-Rite Creamery. Again!  http://www.biritecreamery.com/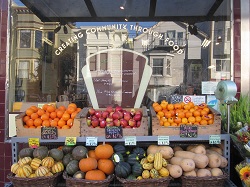 Bi-Rite Market.
 Almost across the street from the Creamery is the Market.  Small and overstuffed with yummy things, this place exudes good food times.  Exquisite produce, the finest cheeses, a large prepared meals counter…..and Poco Dolce chocolates.  This was my main reason for coming.  I had tried to visit the Poco Dolce store before my first morning meeting (trying to squeeze every last drop out of my brief visit) – I wanted to tell them personally about how I feel about their products.  I love them.  Really love them.  But alas, I had a bit of an altercation involving my faulty GPS, construction, and a San Fran cabbie, who while friendly, did not help me get to the birthplace of the Olive Oil and Sea Salt Chocolate Bar.  This is my most favourite chocolate bar…ever… so smooth and creamy from the fruity olive oil, so rich in flavour – with just the slightest hint of salt.  I loaded up on this, and their Burnt Caramel Toffee Squares, and tried a Five Spice bar for something new.  If it's good – Bi-Rite has it.  If it's chocolate you are after, try Poco Dolce – but don't ask me to share.  http://www.biritemarket.com/    http://www.pocodolce.com/
La Boulange.  My flight was not scheduled to take off until after 10:00pm (the beloved red-eye), affording me another dinner to be had in the city.  I was fortunate enough to be invited to La Boulange Bakery for a special evening.  With several locations in the Bay Area, La Boulange makes traditional French baked goods using all natural and organic ingredients.  Their breads are rustic, gorgeous and delicious.  Their croissants taste like Paris.  Their desserts are to die for.  Recently, La Boulange started bakery dinners once a month – 16 lucky guests enjoy three courses baked in the bread ovens, accompanied by fabulous wines.  It's "donate what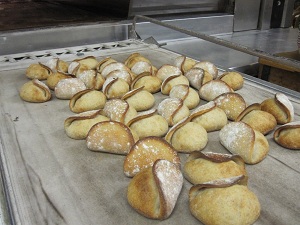 you like" with all proceeds going to a charity of the evening.  La Boulange matches donations up to $5000.00.  What could be better than good food, good company and helping a local charity?  We even got to make our own Epi bread.  This past week all donations went to La Cocina – "San Francisco's first incubator kitchen".   For a real taste of France in San Fran, head to a Boulange Bakery…try their chouquettes…magnifique!  http://laboulangebakery.com/
And so, doggy bag in hand, Poco Dolce provisions carefully secured, I headed off to catch my flight, pretty pleased with myself for squeezing so much deliciousness into a mere 36 hours.