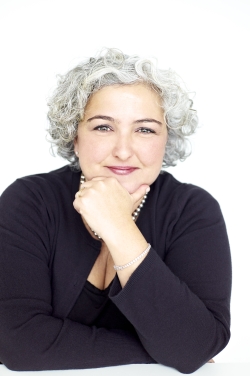 Elspeth Copeland has had a passion for all things culinary her entire life.  She probably couldn't help it really.  Growing up in Montreal, some of her earliest memories involve adventures to Chinatown to experience dim sum, drives to Maine for fresh lobster and excursions to delis in pursuit of the ultimate chopped liver.  This culinary curiosity and love of food has guided her to continually learn and seek out the authentic and the delicious.
After graduating from Queen's University in Kingston, Ontario, Canada, with a Bachelor of Arts in Political Studies, she moved to Toronto.  Just out of school, Elspeth experimented with several marketing jobs, including the prestigious role of handling the mascot for one of Canada's emerging restaurant chains.  She dabbled in finance – working on the trading floor at one of Canada's major banks – and even tried her hand at catering small events.  She was exploring the tastes of her new city, but her career goal was clear.  Inspired by popular early 1990 television commercials – Elspeth wanted to be a product developer – she wanted to travel the word in pursuit of the best new food products.  Elspeth wanted to create the next Decadent Chocolate Chip Cookie.
With sheer determination (involving the weekly creating and delivering product prototypes to the offices of her dream employer for over two months), Elspeth landed a spot on the product development team at one of Canada's largest retailers.  Over her 13 years on the internationally renowned development team, she honed her sensory skills and helped create over eight hundred private label food items, ranging from ice cream to baby food, gourmet sauces to French baguettes, chocolate bars to tortilla chips.  Her work took her across North America and throughout Europe, tasting, exploring, and learning from seasoned retailers, world class manufacturers, local chefs and food professionals.  Elspeth rose through the ranks of the development team and eventually helped to shape and refine the product development process.  Best of all, however, Elspeth had the opportunity to hire and train a new generation of aspiring product developers.
In 2006, Elspeth's employer tasked her with managing their under-performing fresh prepared meals department. The scope of this work was national – managing a business unit with sales in excess of 500 million dollars annually.  Responsibility for a full P&L was a completely different world to the test kitchens and plant floors of her past, but Elspeth applied herself to this new learning opportunity. She combined her love and knowledge of food, her passion for managing and coaching a team and her new found analytical skills to create a new go-to-market strategy for the department.  Her vision of a simplified offer focused on quality prepared food delivered sustainable sales growth and contribution across the chain that exceeded all financial targets.
In 2010, Elspeth took a long contemplated plunge and founded Elspeth Copeland Consulting Inc.  She was eager to apply her unique combination of product development expertise and business acumen to partner with manufacturers and their customers to create innovative products and processes to successfully grow their business.  EC Consulting Inc. provides a wide range of product development services – from concept to shelf – for manufacturers, retailers and foodservice distributors in Canada, United States, Italy, France and the UK.
Recently, Elspeth was appointed to the advisory board of CAPI, the Canadian Agri-Food Policy Institute, where she hopes to represent a unique perspective of product development on the panel.
Elspeth continues to feed her culinary curiosity instilled in her by her parents.  Everywhere she travels she seeks out where to eat, where the best markets can be found, and what the learning opportunities are – from touring a Parmigiano Reggiano producer in Parma, to visiting an olive oil producer in Provence.  In 2011 she graduated from the Cordon Bleu Paris/University of Reims with a Masters in French Gastronomy, and in 2013 she spent a week at a cooking school in Morocco learning the secrets of crafting a perfect tagine.  This year she has plans to visit Japan in hopes of learning how to master Ramen noodles….or at least eat a lot of them and learn as much about the food and culture in two weeks.  Follow her blog to see where she is and what she is learning, tasting and experiencing.
For Elspeth, EC Consulting is the perfect "recipe":  transforming culinary passion into outstanding business results!