This cookie…….
This cookie, is my favourite cookie.
Once its made.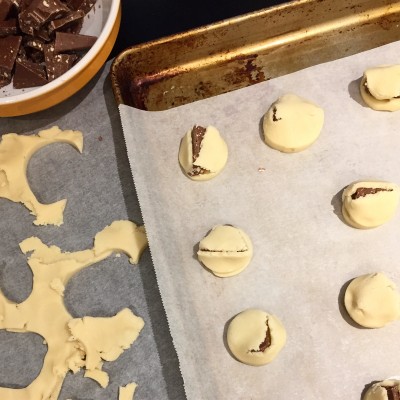 Making this cookie has over the years never been….umm…fun.  Never.  Its pretty much a shit show.  A co-worker shared this recipe with me ages ago and could never understand my struggles….for her they turned out perfectly.  But mine….
Every year I tell the kids to enjoy them because I am never ever making these bad boys again.
Then I have one.
And another.
And sneak downstairs when everyone is in bed for another.
And hide some away from the ravenous hordes….you know, in case of a cookie emergency.
And think……what is wrong with me that I can't make these without making a total mess of them?  How can I change the recipe…to be kinder, gentler…?
Each year I change the recipe a bit….change the method this way or that….sometimes with success but often with failure.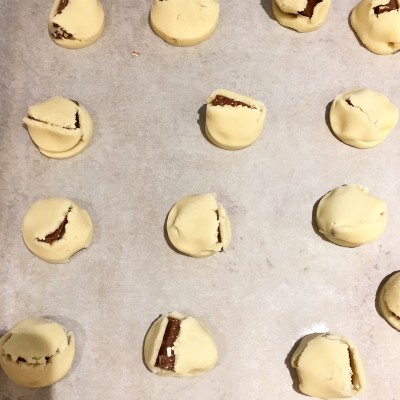 But this year…I nailed it.  I hope it wasn't a fluke.
So here it is.  I hope you nail it it too.
But if you don't….if it reduces you to a stressed out butter and flour covered monster…….just eat one.  And then swear to never make them again.  And don't call me.  I don't want to hear about it.
And if you do nail it, and this too becomes your favourite cookie – well make some for me!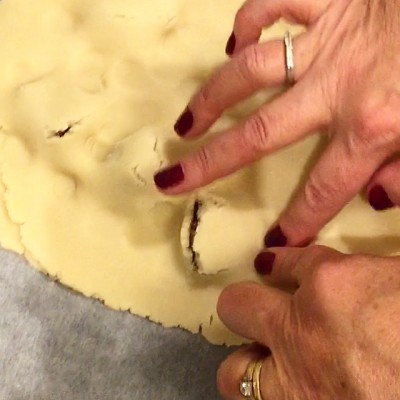 A few notes before you start.
You must have proper round cookie cutters – in various sizes.  Do not think you can use a glass, or a champagne flute.  You cannot.  Got it?
Measurements are in grams – I have found this to be the best way to ensure accuracy.
Don't worry about how crumbly the dough is…have faith. (Bahahahaha!)
Don't stress when the Toblerone shows through the top layer of dough.
Don't fret if the top dough layer doesn't sorta stick to the bottom layer….squish it together a bit.
Use a KitchenAid mixer.
Ready?
OK…here it goes: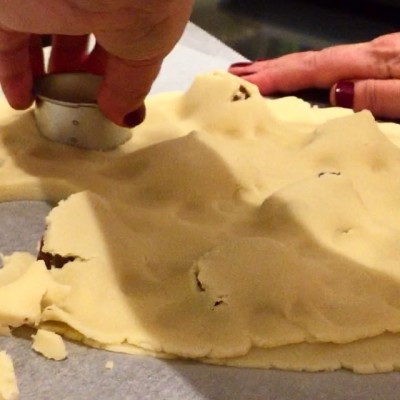 Toblerone Shortbread
Makes approx. 2 dozen
You'll need:
2 cookie sheets
Parchment Paper
Rolling pin
Round cookie cutters
A space in your fridge for slightly cooling dough.
Patience & Vodka
Toblerone bar (360g) – cut each triangle into approx. 3 chunks (You'll end up with a few more chunks than you need but this allows for an appropriate amount of tasting to ensure the Toblerone is up to your quality standards)
Unsalted butter – 200g – slightly softened
Granulated sugar – 40g
Icing sugar – 45g
Unbleached flour – 220g
Rice flour – 45g
Sea salt – 3/4 tsp
Preheat oven to 320F
In bowl of standing mixer, cream butter and both sugars – beating on medium high for 3-4 minutes.
In a separate bowl, mix together both flours and sea salt.
Add flour mixture to butter/sugar and mix on medium high for another 2-3 minutes – until the dough just starts to come together.
Take ½ dough and place on piece of parchment paper, cover with another piece of parchment the same size.
Roll dough until2-3mm thick.
Place in fridge.
Working quickly, you don't want the first dough in the fridge too long, repeat parchment/rolling process with remaining dough and place in fridge.
Remove first dough from fridge, peel off top layer of parchment.
Place chunks of Toblerone over dough, leaving approx. 2cm in between each chunk.
Remove second dough from fridge, peel off top layer of parchment.
Carefully turn dough over, lay dough over the chunks of Toblerone and peel off parchment paper.
With your fingers, press the dough gently around the chunks.  Cracks may appear in the dough, allowing the Toblerone to peak through – no worries.
Using your cookie cutter, cut out the chunks using the smallest cutter that will fit over the chocolate.
Place on a parchment lined cookie sheet – using your finger to gently nudge the shortbread out of the cookie cutter.
Place cookies on the cookie sheet approx. 3 cm apart – they do not spread very much in baking.
Bake for 18-20 minutes….cookies should only be very slightly browned.
Note: Be sure to use all the dough – take any leftovers from cutting cookies and re-roll – creating a second set of dough layers.