I was going to Verona on business, so decided to go via Bologna to research Bolognese sauce.  I mean, if you're going to make a great sauce – that's the one – right? (more on that adventure on another post)
A little research side trip if you will.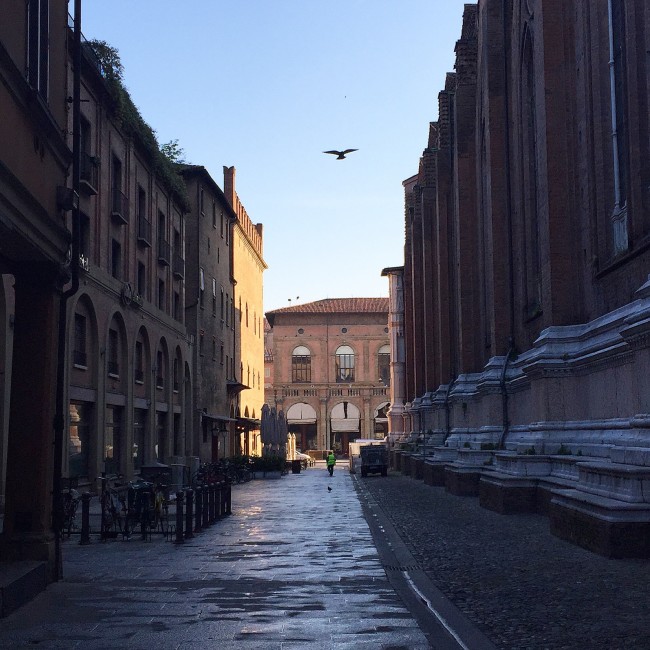 As Bologna is not that far from Parma, I asked my friend Davide if he was around and had any new food adventures up his sleeve.  We had discussed Lardo at length during our last visit, and I wondered if we couldn't go to Colonnata to learn about how its made.  Davide was game, and we made arrangements to meet in Parma – a side-side trip.
Colonnata – home of the best Lardo – is in the Province of Massa-Carrara, close to the sea.  It is where world famous Carrara marble comes from– which for centuries has been used for sculptures and bathroom tiles around the world.  Apparently, in Roman times, Carrara marble was harvested from the mountain, taken to the sea by donkeys and then by boat to Rome.  You have to wonder – who's idea was that?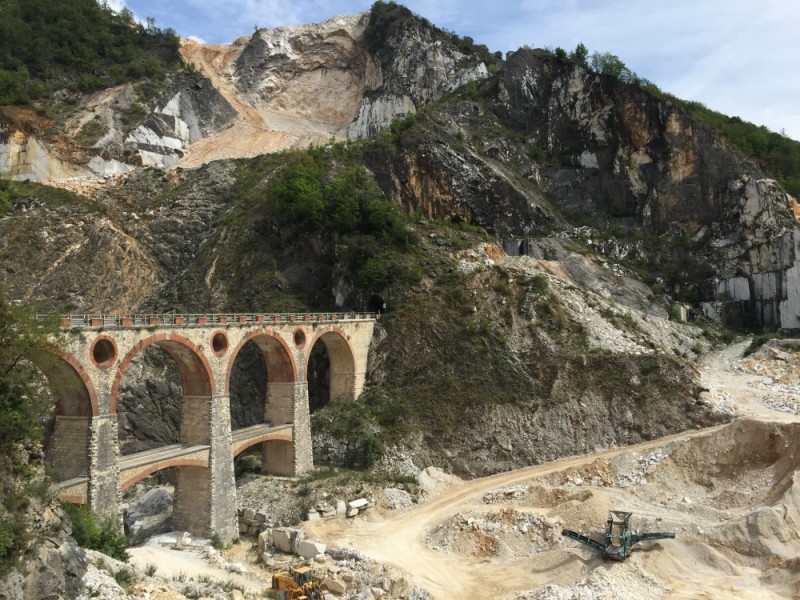 We headed south from Parma, over the Apennine mountains on towards Tuscany.  It was a glorious day – the sun was shining and the anticipation of cured pig fat hung in the air.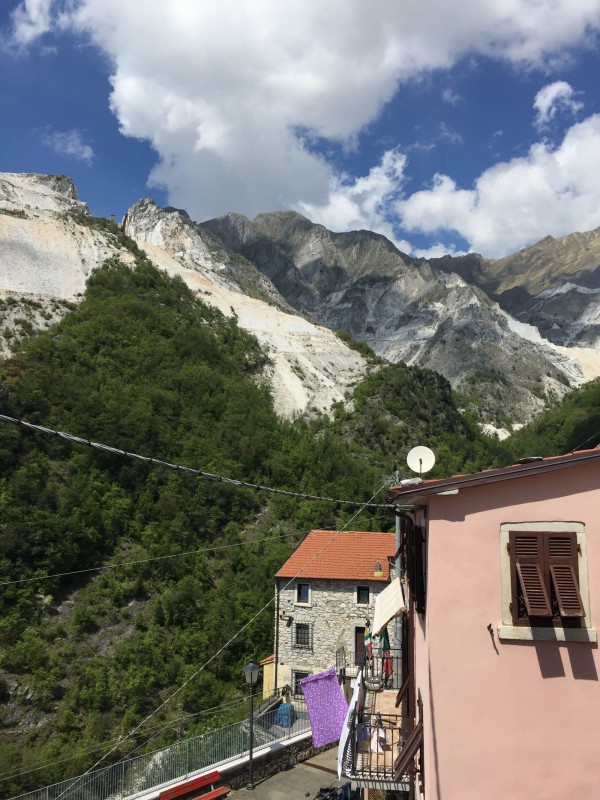 "Do you have your passport?" Davide asked.  "We are passing the butter border!  Goodbye to Emilia Romagna, where butter is king and on to Tuscany, land of olive oil."
Lardo is one of my favourite Italian specialities.  Pork back fat is cured with salt, rosemary, garlic and lemon in large marble "coffins".  Lardo Di Colonnata is the most famous – made in the tiny mountainside village since Roman times.  The marble workers essentially had no money – and would be sent off to do the most incredibly difficult and dangerous work of harvesting marble with bread, lardo and red wine as their sustenance.  Lardo is shaved thin – you can almost see through it – and draped over warm bread or Schiacciata – the warmth of the bread slightly melting the lardo into a pure delight.
Davide interrupted my pork fat dreams.
"Before Lardo – we have a stop."
Turns out, Davide had a side trip planned to complement my side trip-side trip.
We ventured off the main road and up into the hills to Podenzana.  This picturesque village of 2,000 people is in Tuscany, right on the border of Liguria and a few kilometers from Emilia Romagna – in a region called Lunigiana.
Davide explained that we were going to visit a restaurant that specializes in Panigacci.  Try as he might to explain to me what this was – I could not get my mind around it – but it seemed to be a sort of bread served with olive oil and cheese, and Davide has never steered me wrong, so I felt pretty certain deliciousness lay ahead.
Matteo greeted us outside his restaurant and told us he wanted to take us to meet the potter down the road.  As we passed ancient homes in the village he spoke about Panigacci.  I still couldn't quite figure out what this was but his enthusiasm was contagious and I tried desperately to understand all he was explaining in Italian.
The 6th (!!!) generation potter showed us how he made "testo's" from local clay – heavy shallow terra cotta dishes that can withstand temperatures of over 800 degrees. As he packed up some testos for us to take with us – he told me of his love for the Toronto Raptors and how he had visited the 6ix several times.  It's a small, small world friends.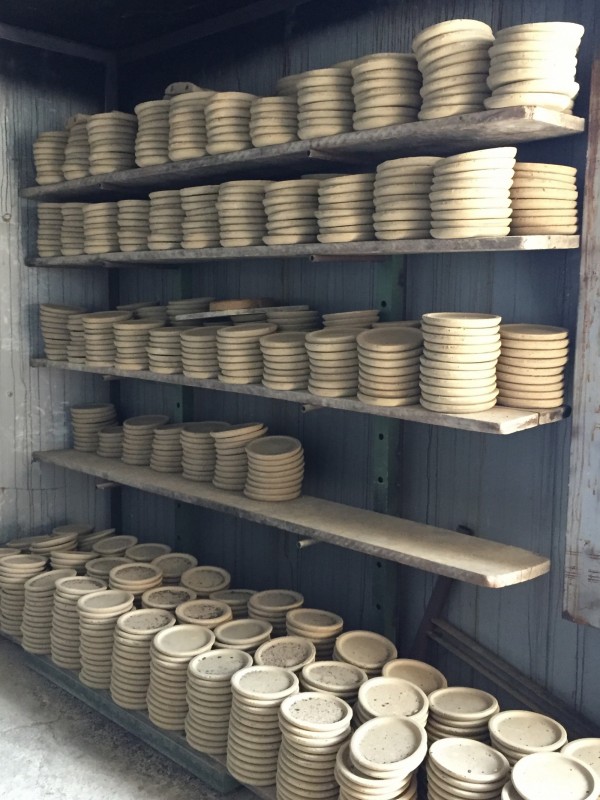 We walked back to Da Gambin, the restaurant Matteo runs with his brother and headed downstairs where a roaring chestnut fire was going.  Testos, like the potter had just shown us were everywhere.
Roberto placed the testos in the fire, and waited for them to get white hot.  As he pulled them out of the fire he listened to them – he can hear the cracking when they are the right temperature. As each testo was pulled from the fire, Roberto ladled a batter into the dish and then immediately covered it with another white hot testo.  He continued to layer until he had 7-10 plates stacked up.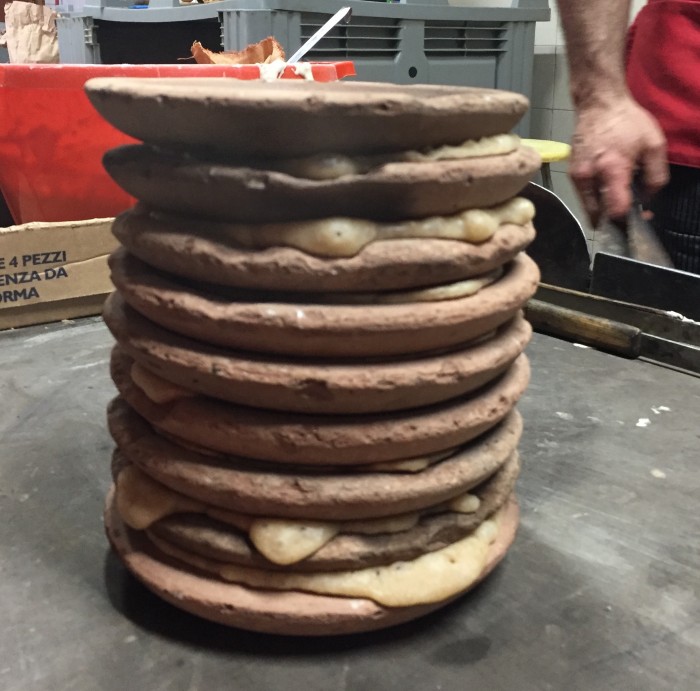 And then….
Then Roberto took his tower of testos apart and peeled off the batter from between the layers which had now turned into the crispiest, chewiest flatbread I had ever had.  Smoky from the fire – nutty, sweet, slightly acidic – locally milled flour, sea salt, water, terra cotta and fire had created magic.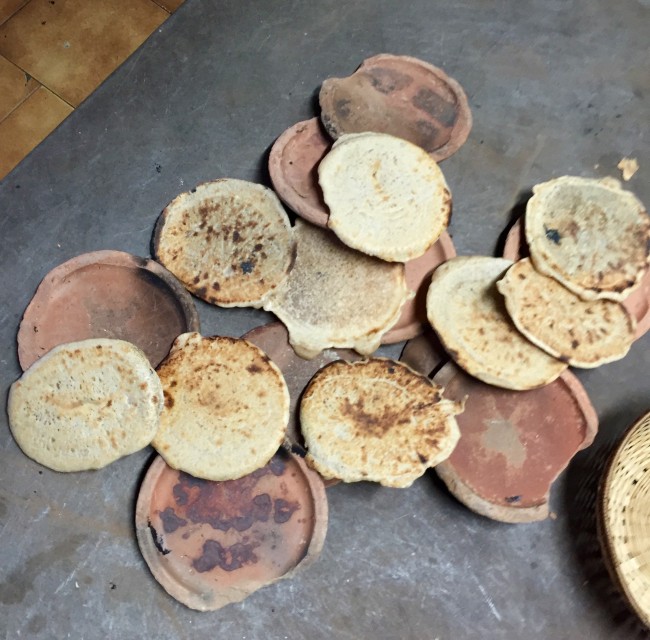 We watched him perform this trick a few more times.  Their grandfather was sitting in the corner supervising – likely wondering why on earth you'd take pictures of bread making.  Matteo ushered us back upstairs to the patio overlooking the valley.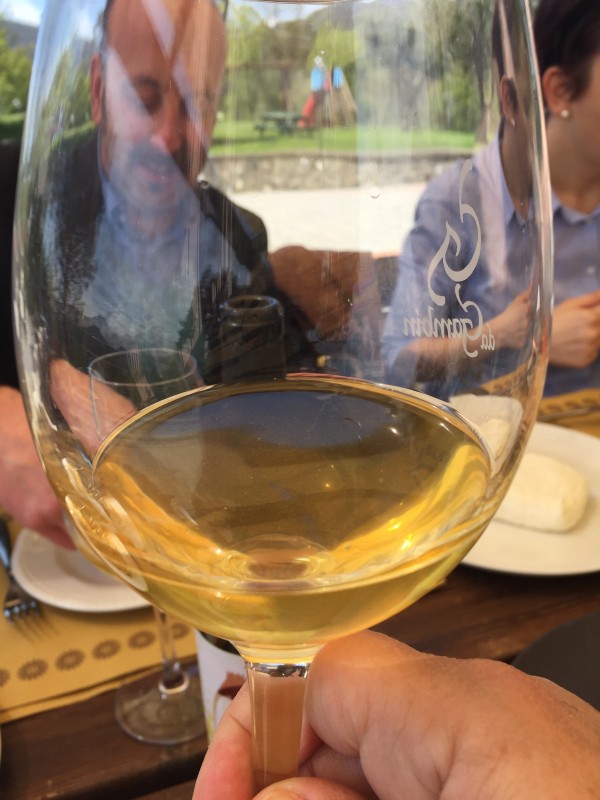 Local cow, goat and sheep's milk cheese cheeses and salumi and warm panigacci were our feast – Matteo constantly replenishing the basket to ensure the bread was warm.  We sipped a gorgeous chilled natural unfiltered Vermentino as we ate (and ate, and ate, and ate).  Matteo told us how he and his brother are trying to start a consortium for panigacci.  This ancient tradition of bread making dates back to 100-200 bc.  During WWII, the bridge connecting Podenzana to the rest of the area was destroyed by the Germans.  Villagers survived by only eating panigacci made from acorn and chestnut flour.  It's a unique culinary tradition that is at risk of being lost – unless Roberto and Matteo can help it.  Amazingly, they sometimes find it difficult to get locals to get onboard their consortium journey…but both are passionate about persevering to ensure the tradition for future generations.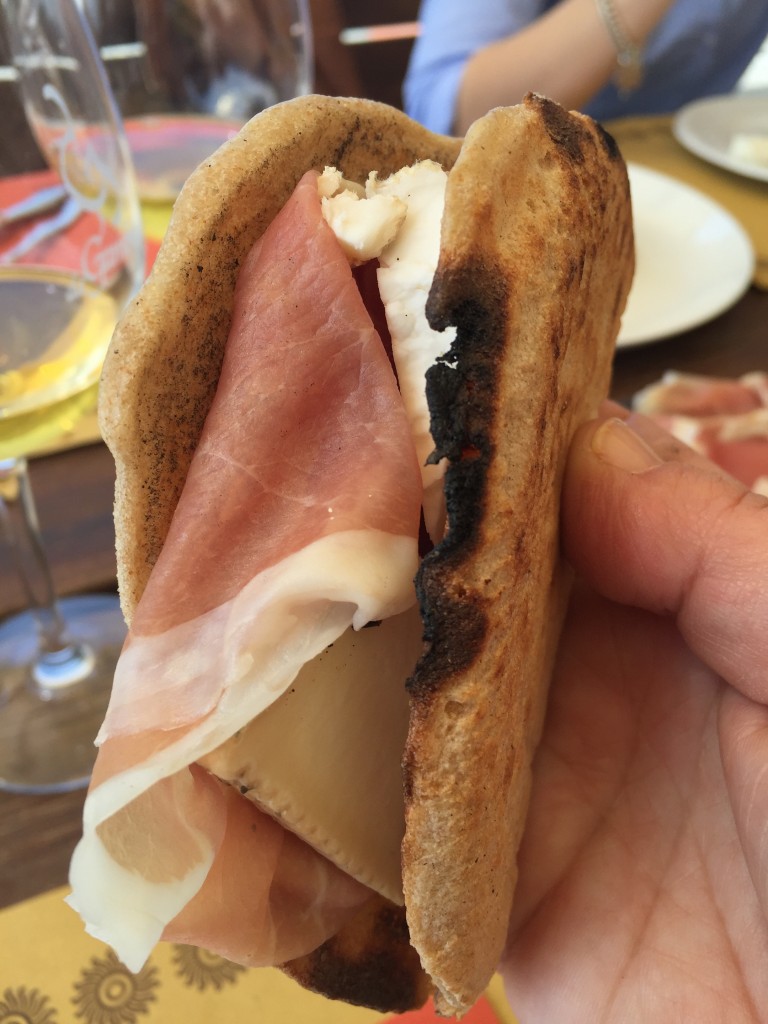 Just when I thought I couldn't eat any more – Matteo came back to the table with one last plate.  These panigacci had been cut into quarters after their stint in the terra cotta testos, boiled and then doused with pesto made from basil from the restaurant garden, olive oil pressed from the trees surrounding us and generous amounts of Parmigano Reggiano.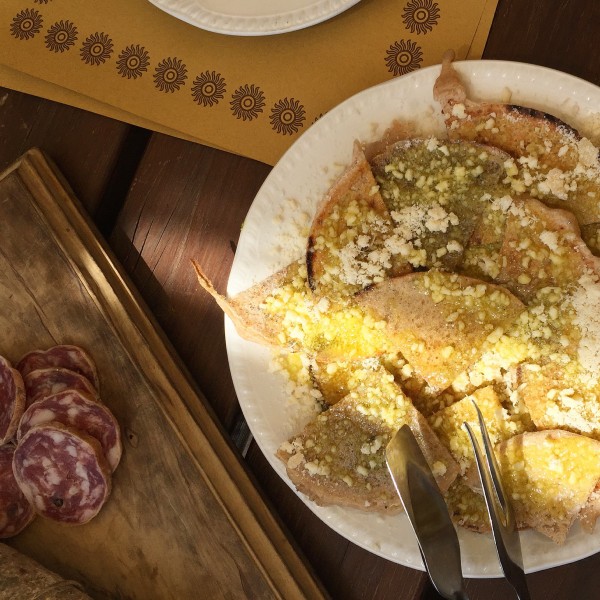 To finish, espresso and a shot of Antico Elixir China Clemanti – a local herbal digestif made since 1884.  Sitting on that terrace, eating an incredible meal, learning about a tradition at risk of being lost, on the brink of being saved by two incredible brothers……a stop that was essentially a side trip of a side trip of a side trip….I could not have been happier.
If you are anywhere near Parma, go see Matteo and Roberto in Podenzana – even if it's a side trip  – Davide will tell you – they are the best kinds of stops.
Restaurant Da Gambin http://www.ristorantedagambin.com
To plan your own food adventure with Davide, you can contact him at altrementi@alice.it