Ah…Sunday afternoon in Rome.
So delicious.
Filippo reserved a table at Perilli for us on the telephone as they barely have a website, and my phone Italian is simply not good enough to say, well….anything. To anyone.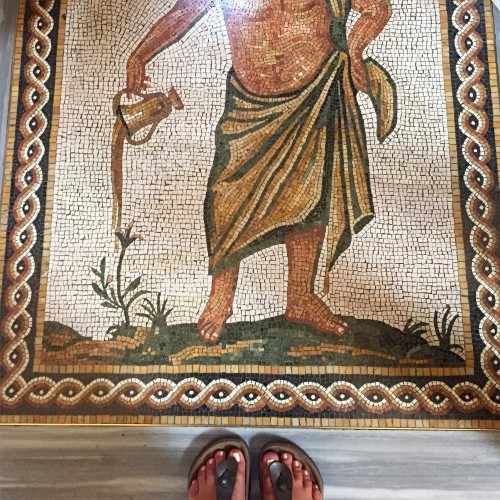 From a distance, the place looked closed. Deflated, I couldn't even open the door and thought our Sunday lunch was not to be.  Thankfully, "muscles" Paula stepped in and forced the door open, and there we were…we'd tumbled into 1975.
Wood paneling.
Frescoes of the ancient city.
Starched tablecloths and napkins.
Those crappy little wine glasses. You know the ones – my parents had them – short and small and thick and difficult to break.
Families gathered round.
At least 2 dogs.
Many (mostly quiet) children.
Waiters of an average age of 78. Pro waiters. Real waiters. The kind of waiters you'd like to have adopt all the errant Hipster waiters of North America and teach them what service really means.
Those guys. In white shirts, black bow ties and very, very high waisted pants.
And Mr. Perilli, bless him, presiding over all – circling the room like he and his family have since opening in 1911.
Perilli reeked of what I am forever searching…..the real deal. The kind of place that usually only exists in dreams. I was giddy with gluten anticipation.
We placed our order in broken Italian, but the sage waiter was patient and approving of our selections.
First up – tagliolini with porcini. We had just come from the Circo Massimo farmer's market and drooled over baskets of the first of the season. Here the porcini were in front of us – delicately but so exquisitely dressed with parsley, olive oil, a little butter.
Cacio e Pepe, my most favourite of all the pastas, was divine – creamy, sharp, peppery with perfectly tender fresh chitarra spaghetti.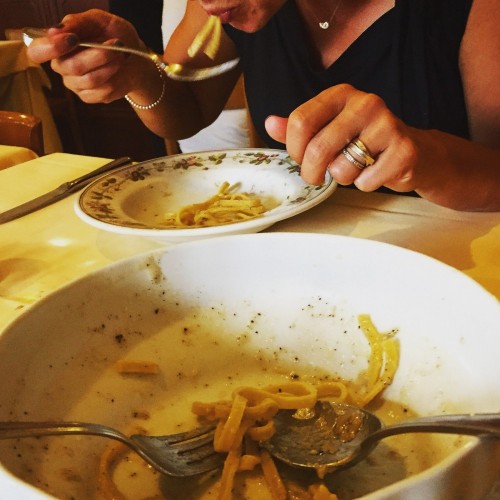 We then moved on to secondi – Vitello alla Cacciatora – chunks of braised veal blanketed in the most wonderful sauce seasoned with vinegar. We restrained (barely) from licking the plate. Cicoria – classic Roman dark greens sautéed with olive oil and garlic. And jumbo artichokes – plump and delicious.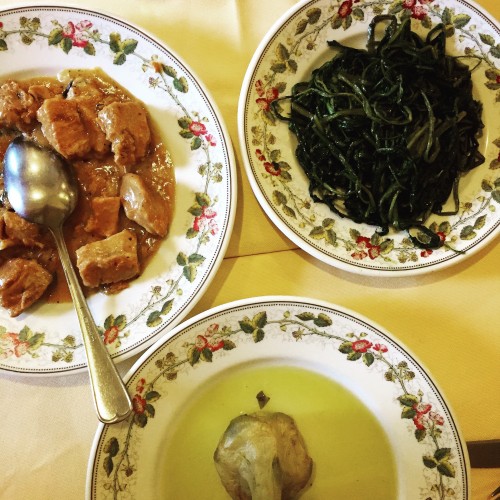 Our waiter friend approached, impressed at our ability to devour the feast.
"Dolce?" he asked and left us to review the menus.
We didn't even open the menu so I can't tell you a single thing about the dessert selection at Perilli.  I am sure it is fantastico.
Didi, Paula and I all knew what was going to happen next, but nobody wanted to say it out loud.
The waiter returned for our dessert order – beaming down at us – pencil and paper at the ready.
I looked up.
I smiled. I laughed my "uncomfortable laugh". I smiled some more.
I wasn't sure how this was going to go.
"Carbonara……?" I declared with the slightest lilt of a question mark at the end.
"Carbonara!!!!!! Si! Si! Si! Carbonara!!" Waiter was overjoyed.
I mean, really. We had been eating researching carbonara all weekend. I couldn't leave the restaurant of my dreams without tasting their version of my number two most favourite pasta. I would have had carbonara regret for the rest of my life. And who can live like that?
Friends, carbonara for dessert was a wise, wise decision. Bright yellow and rich with yolks, the perfect amount of guincale, and al dente like I'll never-in-my-life-master rigatoni. We used the serving spoon the scrape the bowl clean.
It was a carbonara for the history books.
Never ever have order regret, friends, it's the key to a happy life. Leave no carbonara behind.
Perilli Via Marmorata, 39, 00153 Roma +39 06 575 5100 www.trattoria-romana.it/da/perilli
Perilli was only one of the many great spots we enjoyed on our gluten-full weekend – here are a few other recco's:
Grom – best gelato and Sicilian lemon ice – many locations for frequent stops www.grom.it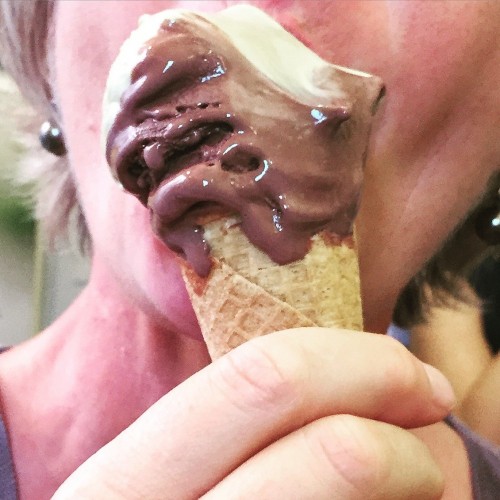 Angelina a Testacchio – we ate here on our first night – another spot that looks closed – but only because in good weather everyone is 3 floors up on the roof. This spot in a residential neighborhood was filled with locals who were settling in for a long evening of fun under the stars on the terrace. Excellent Carbonara, Alla Gricia (Cacio e Pepe with added Guincale) and steak from the woodburning oven. The dining room was literally empty the night we visited, but if the weather is bad (not sure it ever is in Rome?) the dining room looks fantastically welcoming.
Via Galvani, 24, 00153 Roma +39 06 5728 3840 www.ristoranteangelina.com
Campagna – reputed to be the oldest restaurant in Italy, the room is bright and un-charming – but the food is delicious. Zucchini blossoms stuffed with fresh buffalo mozzarella.  Artichokes that are cooked, then deep fried to just this side of burnt crispy nuttiness.  Out of this world rabbit stew.  Oxtail rigatoni.  And of course cicoria. The menu has many standards but daily features are handwritten in according to seasonality.
Vicolo della Campana, 18, 00186 Roma +39 06 687 5273 www.ristorantelacampana.com
Mercato Circo Massimo – we did not love the famed Campo di Fiori – maybe it was just our timing. We did love the pizza Bianca from the famed forno in the square. Instead – we loved the hustle of Mercato Circo Massimo on Sunday morning – no tourists – just lots of locals stocking up on sheep's milk cheeses, fresh veg and lining up for delizioso porchetta sandwiches.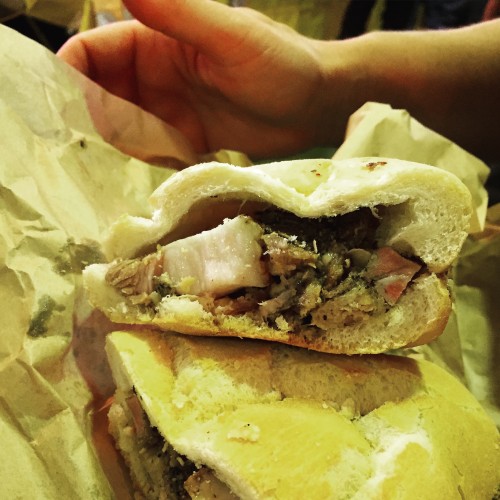 Caffe Sant'Eustachio– in between Piazza Navona and the Pantheon, this coffee shop with onsite wood burning roaster has been making perfect espressos since 1938. We loved this place so much we went four times in four days. A table outside will per tradition cost you a lot more – but the people watching is priceless. If you decide to go in, order and pay first then take your ticket to the counter to have your drink made. Note if you don't want sugar in your cappuccino you must let them know – but go on and try it – you're on holiday aren't you? Probably the most important tip I can give you is to go to Sant'Eustache in the heat of the afternoon when you've walked for miles, you're hot and tired. Order a Granita (not the small granitini), WITH the whipped cream. You will be rewarded with shaved ice and bitter, slightly sweet espresso under a small garnish of cream. As soon as you consume this, you will be refreshed, revived and ready to go find the perfect Pope bobble head souvenir.
Piazza di Sant'Eustachio, 82, Roma +39 06 6880 2048 www.santeustachioilcaffe.it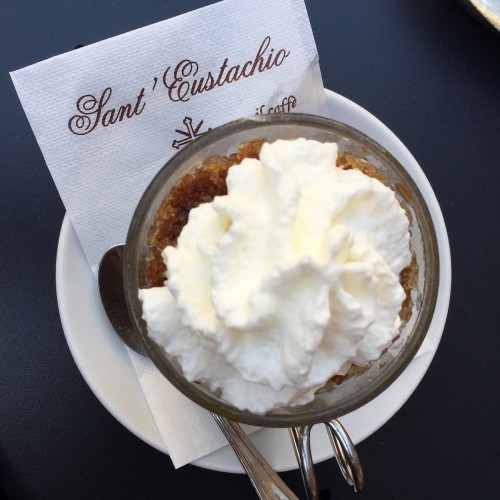 Bonci – if you go to see the Vatican, its museums, its exquisite floors, its history and majesty, you are more than likely going to finish your cultural intake at the Sistene Chapel. You and maybe 4,000 other people. With officials shushing all of you and yelling "Silenzio!" into the overhead system. (Who shushes 4,000 people?) And so, you are going to be hot like you've never been in your life, grumpy, hungry, and ready to do whatever (whatever) it takes for an ice cold beer. OK, maybe I am projecting, but that is certainly how I felt. Bonci to the rescue! Also known as Pizzarium – this shop is a 10 min walk from the chaos.  They sell Roman style pizza al taglio (by the slice)– at least 10 flavours available at any given time. Its pretty busy and chaotic in its own right but the line moves quickly and you will be rewarded with divine crust with exquisite classic and creative toppings and ice cold beer. A must. Simply a must.
Via della Meloria, 43, 00136 Roma +39 06 3974 5416
I can't find a website – but here's a great article from Lucky Peach about Pizzarium: http://luckypeach.com/inside-romes-pizzarium/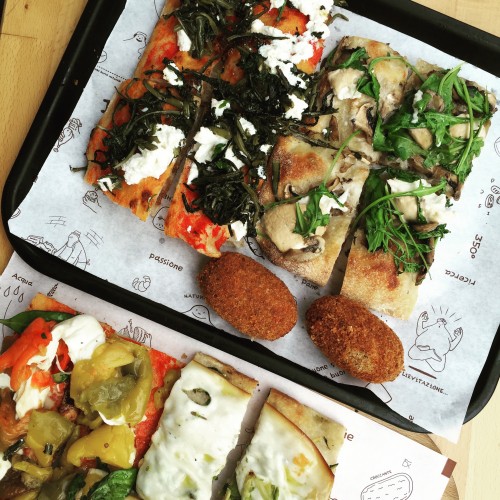 Finally – don't even think about going to Rome to eat without consulting Elizabeth Minicilli's website, or buying one of her books – Eating Rome was our bible – the gospel of deliciousness – Grazie Mille Elizabeth.