I had the most amazing dream.
I was in the hills of Calestano surrounding Parma. The sun was shining and the vistas were breathtaking every which way I looked.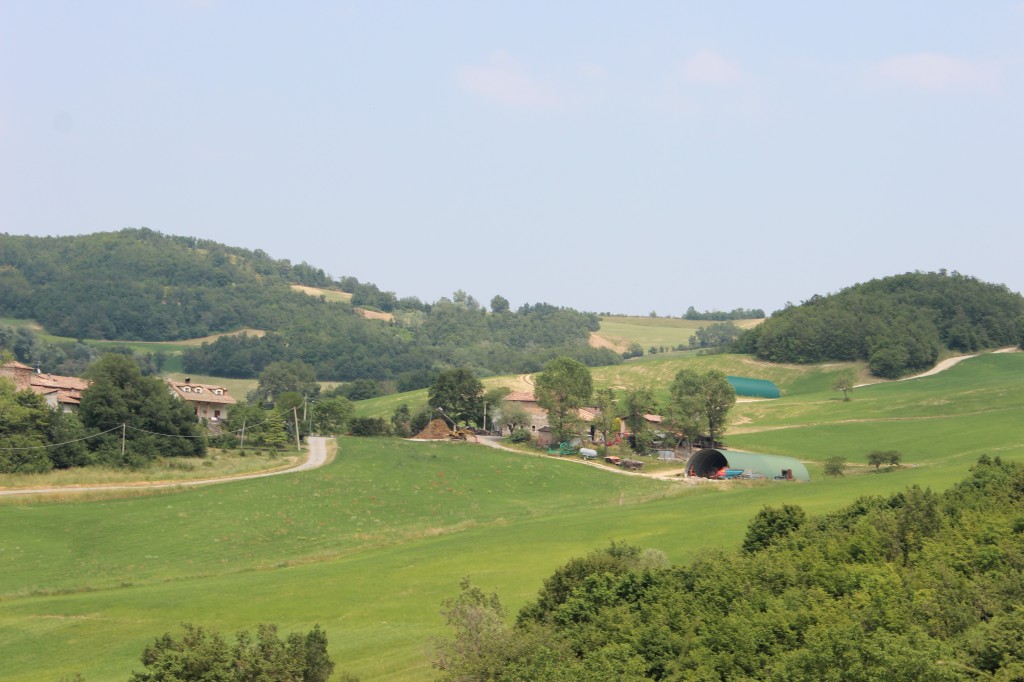 I donned beekeeper gear and conquered (sort of) my fear of bees.
I met a group of young men who decided to be a part of bringing back the wild black pigs of Parma.
I held a kilo of fresh black truffles in my hands.
Except.
It wasn't a dream. It was real. It was an exquisite-perfect-dream-like- real day.
I met Davide from Parmagolosa Tours in the parking lot of a grocery store on the edge of the Parma.  As he hopped into our car he exuberantly declared "Today! We are, how you say, PIONEERS!!!! This is a brand new tour – in development actually!"
Food pioneer? I am all in. 150%.
We headed southwest of Parma, through the Po River Valley and up into the hills.
First stop was Francesco – the truffle hunter.
Together with his mom he runs a tiny agriturismo way up in the hills. They grow most of their own produce, make their own pasta by hand and of course forage for truffles. Lea, a Lagotto Romagnollo tried her best to find us some fioroni (summer truffles) – but being June, they were not as pungeant as in the fall, which made her work very difficult. We traipsed about the hazlenut tree groves learning about the art and politics of truffle hunting.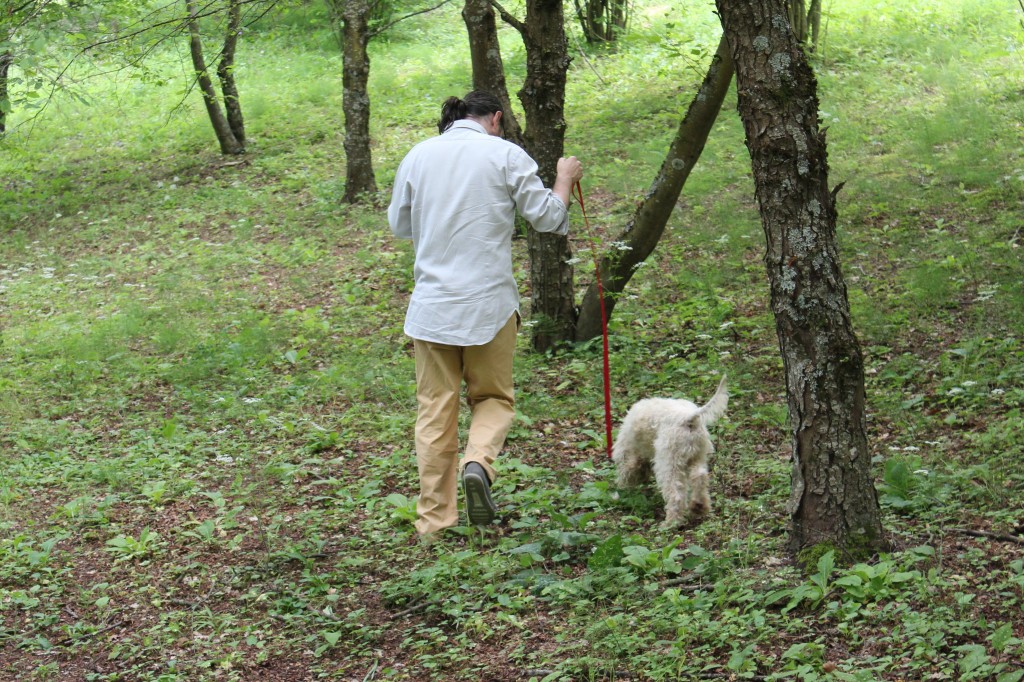 Don't hunt with pigs – they cannot be controlled!
You must always cover up the hole the truffle comes from to protect the mycelium.
There is a symbiotic relationship between parmigiano reggiano and black truffles – grate the two together and freeze for later use – when fresh are no longer available.
Never let your dogs run off where you can't see them – they destroy the forest!
Under no circumstances settle for anything less than pure truffle.
Always give the Canadian girl the largest helping of truffle pasta.
Francesco used to be in banking, but gave up his career for his passion – his mom told me that even as a young child, his favourite place to be was in the kitchen.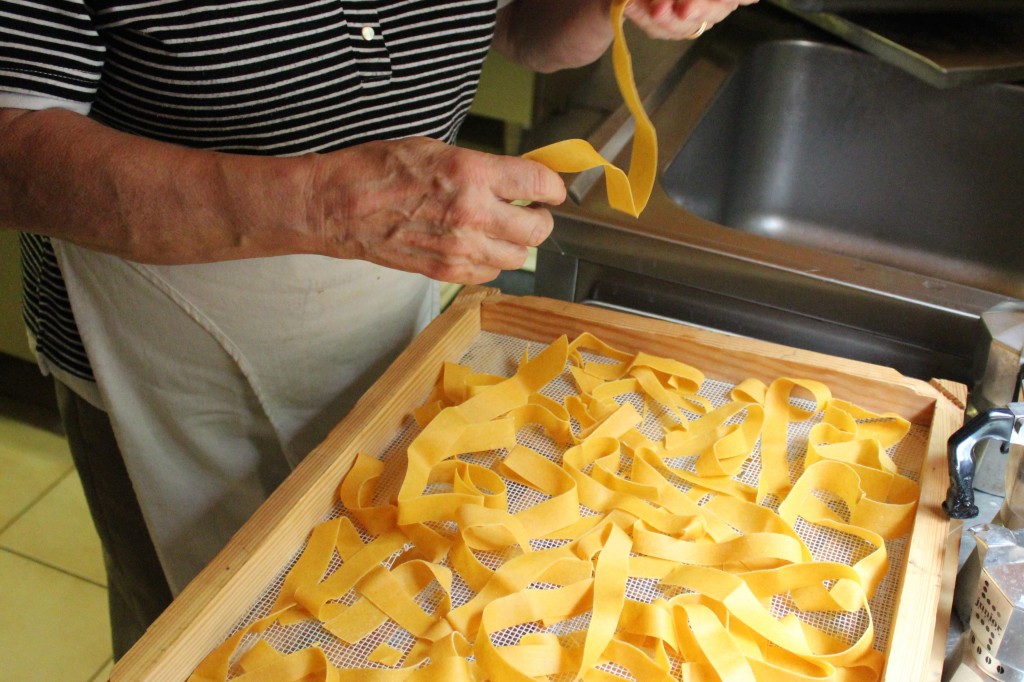 We sat down for lunch to a plate of tortelli…..bright yellow silky egg-rich pasta filled with ricotta and herbs, bathed in melted butter and topped with parmigiano reggiano of course.
I was full. And happy.
At the exact moment I was guiltily wishing there had been tartufo in our lunch, Francesco placed several large black truffles in the center of the table.
My eyes popped out of my head.
My heart skipped a beat.
"May I touch them?"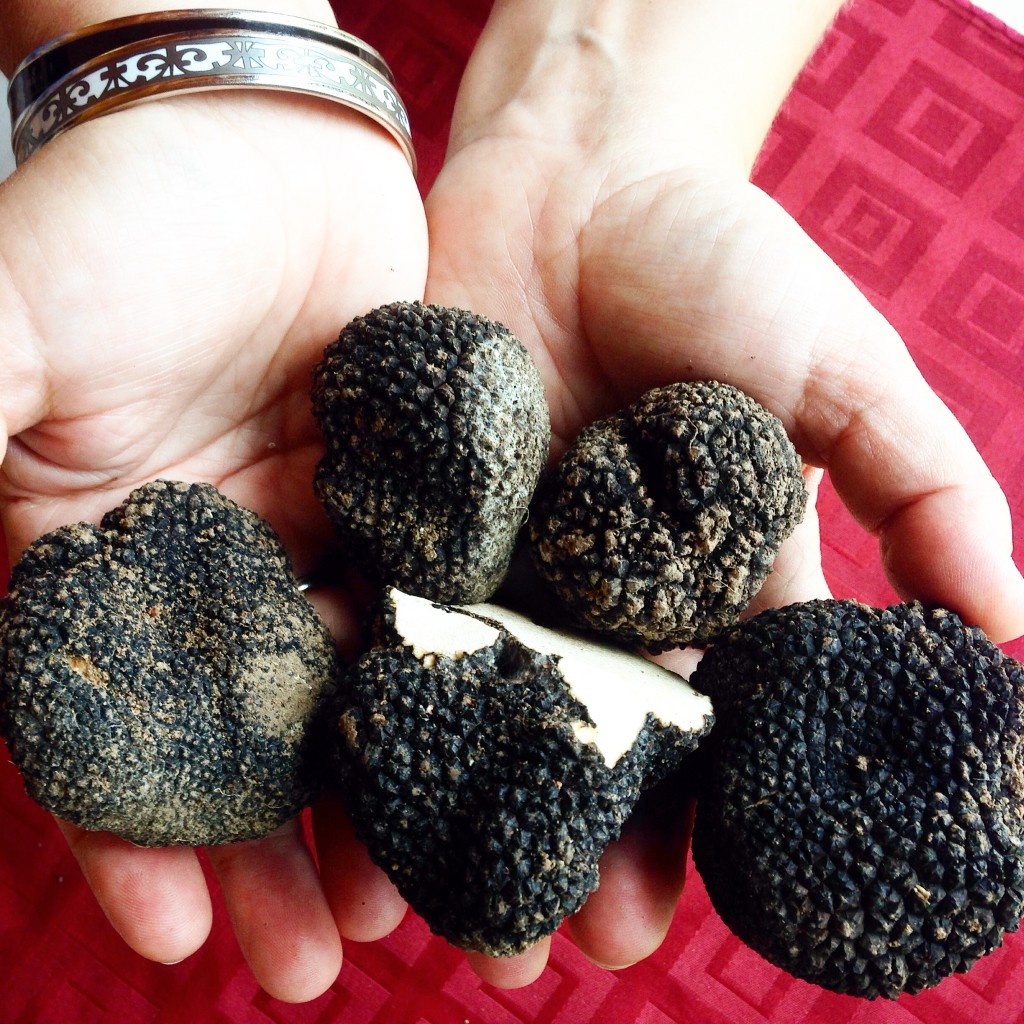 They were much heavier than I expected. And sturdy. And smelled delicately musty and nutty and delicious. Why is there not such thing as truffle scented perfume?
Francesco and his mom returned with ravioli stuffed with potato, bathed in butter and topped with parmigiano and black truffles. If I was dreaming, I never wanted to wake up.
Out came the cappeletti – tiny little coins of pasta filled with proscuitto, served in brodo (broth)…topped with more regianno. The last course was light as air gnocchi with roasted cherry tomatoes from the garden.
My heart is actually breaking remembering the absolute deliciousness of every bite.
A little gelato with honey from Francesco's hives and we rolled our over-stuffed selves back into the waiting car.
Back down the mountain we rode until we met up with Maurizio….who Davide introduced as "the bees lover". This larger than life young man asked us to get into the cab of his pick up truck as the terrain was too rugged for our driver's car – we were going "off of the roads".
This was the moment in my dream when I thought I may never be seen again. At least my last meal was probably the best of my life.
Maurizio pulled up to a clearing….a small field that ran alongside the forest. There, this gentle-tattoed-and-piercing-covered-giant had set up a table complete with table cloth, 2 chairs, honey meade, honey cake, and of course honey….as well as an easel and pointer with diagrams to teach us exactly honey is made.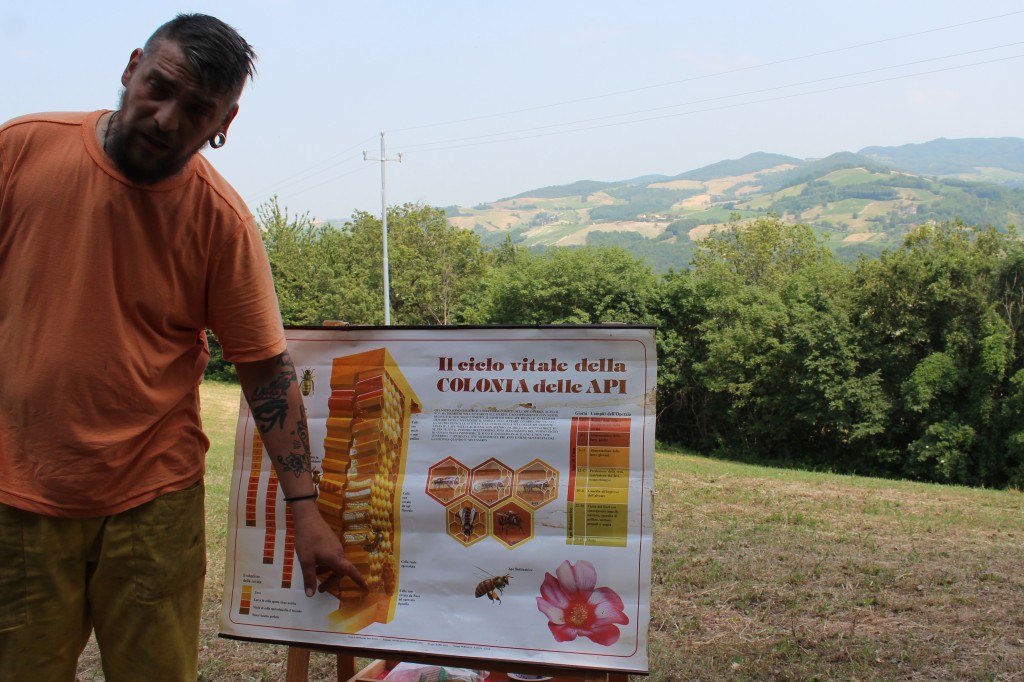 We sat in the shade and drank the strong (and somewhat calming) meade while we were schooled in the ways of making honey. I tried to concentrate on the lesson… but I could hear the taunting soft buzz of Maurizio's bees.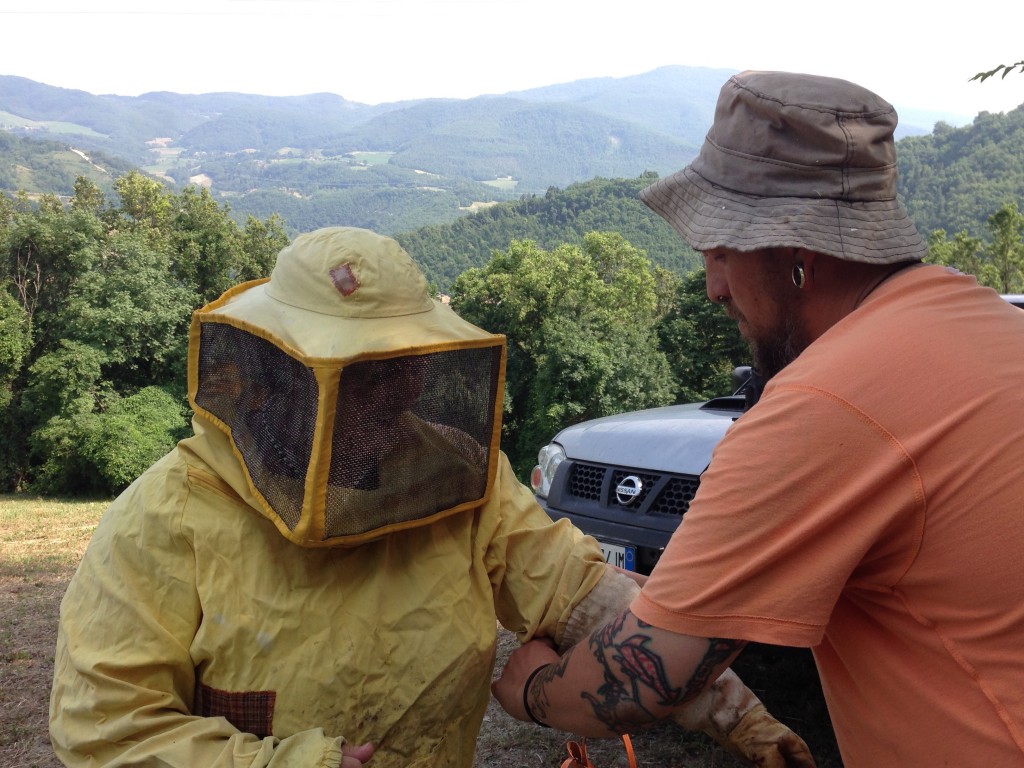 It was time to don the beekeeper gear and visit the hives – perspiration (half fear, half 40c temperatures) dripped down my back.
I was Ter.Ri.Fied.
"There's a bee around me!! There's a beeeeee!"
Maurizio pointed out there were thousands of bees around me, and that these were his "gentle" bees, so, really, I had nothing to worry about.
I tried to maintain composure. I think I did remarkably well. I don't think Davide and Maurizio felt the same way.
Maurizio is from Parma, and worked all over Europe before returning to settle in his native land. He asked his bee-keeper uncle to teach him how to make honey….but he was told that to really learn the craft he needed to go work for a large company. He found the factory honey business soulless, but he studied, all the while dreaming of being back in the fields with the hives. Now he makes his honey and sells it at local markets….and works to protect and care for his bees. This was his first lesson – he was an excellent teacher.
Our final stop was to visit Tommasso at La Langarola. After graduating university he and a few friends, like many in Italy, could not find work in their field of study. They didn't really relish the idea of working in an office anyway. Instead, they figured re-introducing the Nero di Parma would be a good adventure.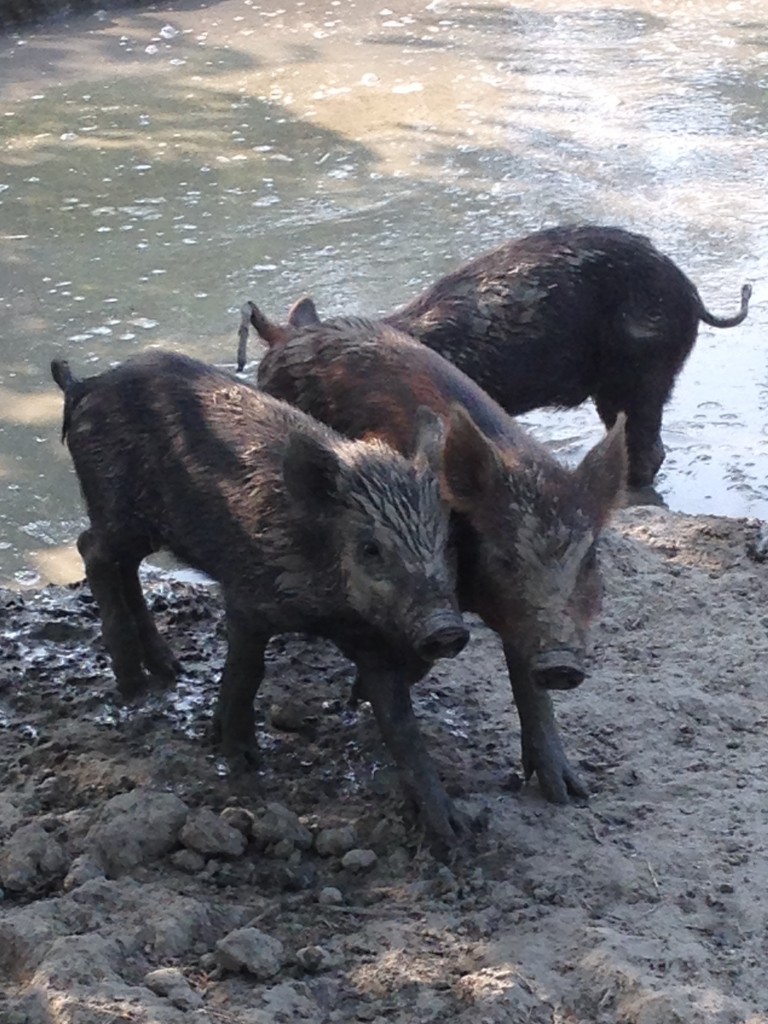 This native breed of the Po Valley had been bred out of livestock in favour of higher yielding white pigs…and the breed was on the verge of extinction until the early 1990's when a few dedicated farmers decided to bring it back. Since 2006 this ancient breed now has its own small consortium.
Young Tommasso toured us around the farm explaining the trials and tribulations of managing the pigs…..the wild boar keep breaking in and making little boar/Nero Parma half breeds, the demand for their product keeps increasing, price of feed keeps rising…..We shared delicious salumi at the farm's little restaurant – which now also hosts music nights, weddings and community events. They have plans to grow – more land, more pigs…..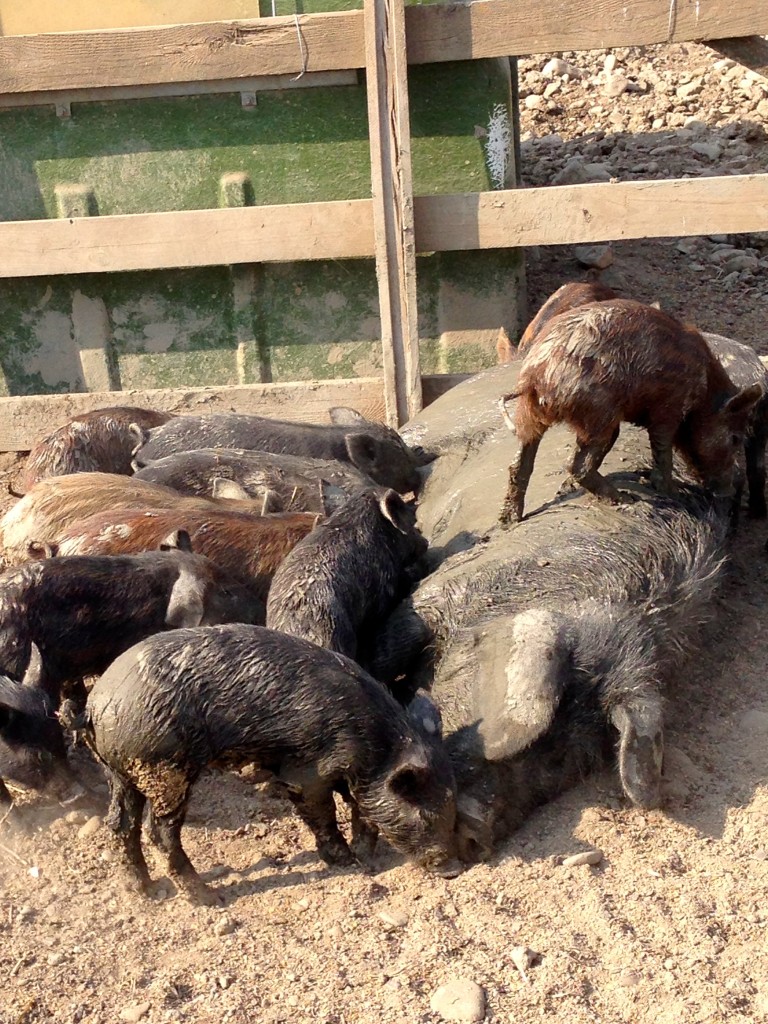 I woke up as the car pulled up to my hotel in Verona.
That was really the craziest most delicious dream yet.
As I reached into my bag for my room key my hand fell upon one of Francesco's summer truffles. A little parting gift from the kind banker turned truffle activist.
It wasn't a dream after all. I guess, we all make our own dreams – the trick is to try to turn as many of them into reality as we possibly can. Francesco's dream is to search the woods for truffles and to work with hunters in his area to preserve this special crop. Maurizio's is to care for his beloved bees and to share their honey and their magic with others. Tomasso and his friends had a dream to make a living without being trapped in an office – to really live and to be part of something bigger.
My dream is to taste, to learn and to experience everything I can about food….and to go back to Francesco's during truffle hunting season.  I am working at making my dreams my reality.
What's your dream?
Davide – "Ultimate Food Guide", Parmagolosa Tours http://www.parmagolosa.it
Francesco – "Truffle Hunter", Agriturismo Macchia Tonda www.lamacchiatonda.it
Maurizio – "Bees Lover", Le Api di Tiziana http://www.apiditiziana.altervista.org/www.apiditiziana.altervista.org/Benvenuto.html
Tommaso – "Black Pig Archeologist", La Longarola www.lalongarola.it