When I was planning a trip to Barcelona, I was overwhelmed with the number of restaurants.  So many tales of incredible food.  Tapas.  Pintxos.  Seafood.  Fine dining.  Where to eat?
It seems like everyone I know is going to Barcelona this year.  Not to worry.  I went.  I ate.  And ate.  And drank a little.  I did the research.  I am here to help.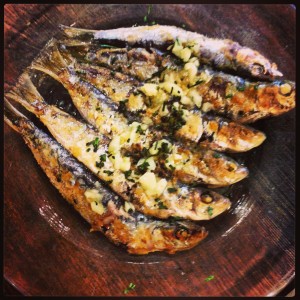 Here are the things you must taste when you are in Barcelona.  If you are there for a week – it'll be a cinch.  If you're there for an overnight – it's gonna be a challenge.  Saddle up.
*Note – none of these restaurants take reservations – with the exception of Bodega 1900. Restaurants have different hours/days of closure – so its best to check the day you want to go.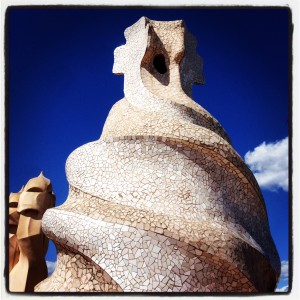 Quimet y Quimet – montadito with fresh cheese, smoked salmon and truffled honey.  You know you are near by when you see a crowd drinking cava on the street.  Don't be shy, squeeze in and get someone's attention – it's boisterous and the size of a walk in closet – get ready to get cozy with your fellow diners.  The folks who work here are magic…..I said to Michelle "We need forks.." and all of a sudden a girl behind the bar yells "tenedor!!!"  and passes them over.  When we accidentally dropped one she replaced it instantly.  She must be wearing a whisper 2000 'cause this place is loud.  They specialize in montaditos – little open-faced sandwiches on very crispy bread with endless toppings. Tuna with mushrooms and balsamic glaze was divine.  Wonderful selection of cheeses served with fruit paste and chestnuts.  Plates of gorgeous Jamon.  You really can't go wrong – this place is celebrating their 100th year in business so they must know what they are doing.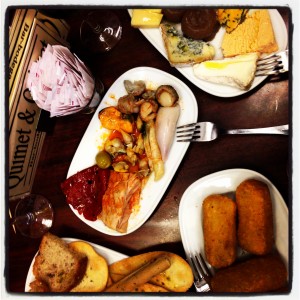 Carrer del Poeta Cabanyes, 25, 08004 Barcelona, Spain
+34 934 42 31 42
El Xampanyet ("champanyet")– potatoes stuffed with chorizo and manchego cheese.  House-made cava served up in grand volumes at a super price – nothing wrong with that.  Like Quimet y Quimet, the place is tiny and packed so tight people overflow onto the street drinking cava.  There are a few small tables, and the kitchen serves several hot dishes. We asked our waitress to bring us what she thought – and we were delighted.  Anchovies, olives, little peppers stuffed with soft cheese, escargot…..and to finish puff pastry filled with custardy cream and….a little…..more….cava.  Be sure to take some Advil before bed – that stuff goes down pretty easy.
Carrer de Montcada, 22, 08003 Barcelona, Spain
+34 933 19 70 03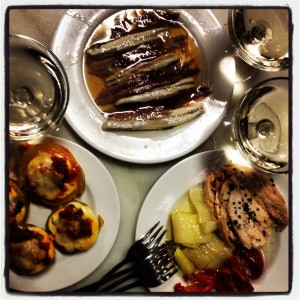 Lolita Taperia – crispy fried artichokes stuffed with Jamon.  Just down the road from Albert Adria's Tickets you'll find this totally happening spot.  The music is loud, the crowd is hip, and the sidewalk has a few tables for watching the comings and goings while devouring traditional tapas with a twist. Fresh grilled sardines, soft poached egg on foie gras with truffle shavings, pan con tamate on bread as thin as paper.  The night we were there, the festivities went long into the night – long after Tickets had turned off its lights and gone home.
08015 Barcelona, Spain
+34 934 24 52 31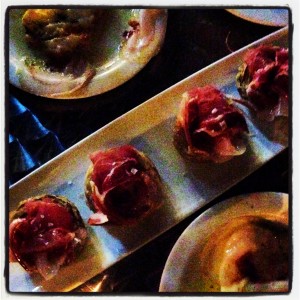 L'Ostia – pan con tomate made with love.  You'll absolutely have to get yourself down to Barceloneta for a walk along the boardwalk or the sandy beach.  There's plenty of touristy restaurants you'll want to avoid – but we were fortunate enough to find this hidden gem.  L'Ostia serves traditional tapas and a few of their own creations.  84 year old Pepa is behind the bar making every serving of pan con tomate like she has since 1958.  Everyone knows her, and all the employees stop to give her a kiss when they start or finish their shift.  She works 10 hours a day, cutting bread, toasting it, rubbing it with garlic and tomato, dousing it in exquisite oil and ensuring it has the perfect sprinkling of salt.  She invented the Barceloneta Bomba you'll see in other restaurants in Barcelona – a lovely little ball of mashed potato with a heart of ground beef and sofrito.  Try the salt cod fried "a la lluana" with white beans.  Grilled sardines were to die for.
Plaça de la Barceloneta, 1, 08003 Barcelona, Spain
+34 932 21 47 58
http://www.lostiabarceloneta.com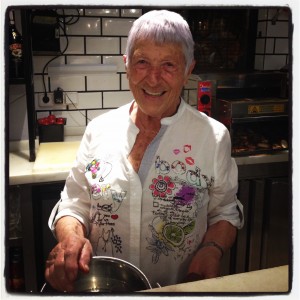 Tapas 24 – traditional Jamon croquettas.  Touted on many lists – one my favourite features about this place was its proximity to the Casa Batllo (Gaudi House) and La Pedrera – a great place to stop for sustenance when checking out these must see landmarks.  The day I visited I had fresh raw marinated mackerel with pickled onions on crispy flatbread and a lovely Bomba di Barceloneta.  The Patatas Bravas looked amazing.
Carrer de la Diputació, 269, 08007 Barcelona, Spain
+34 934 88 09 77
http://www.carlesabellan.es/restaurantes-tapas-24/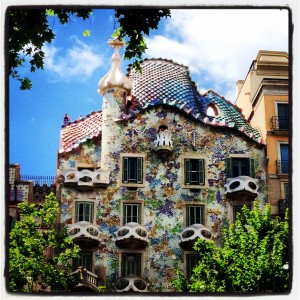 Bodega 1900 – Rubia Gallega Carpaccio.  You can read lots of details about our amazing meal here.  Let them bring you tapas until you cant take it any more – but be sure they bring you this carpaccio from the Rubia Gallega breed in northern Spain – as the name implies – its ruby red and riddled with creamy delicious fat.  You are encouraged to eat with your hands and the folks at ferran's table all tilted their heads back and dropped the slices of raw meat in – very bacchanalian feast-ish and divine.
Carrer de Tamarit, 91, 08015 Barcelona, Spain
+34 933 25 26 59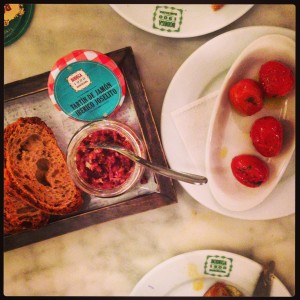 Cal Pep – baby clams with Jamon.  This is a seafood extravaganza.  I don't think they have a menu.  Ask what's fresh and just go with it.  Razor clams.  Langousitines.  Fresh fish.  We also had phenomenal steak and potatoes all cooked on the flat top with loads of olive oil.  They have it all – fried baby artichokes, pardon peppers, tortilla.  If I lived near Cal Pep I would eat there every day – just like a we suspect the lady two down the bar from us at lunch did – she had a big bowl of what looked like hickory sticks (remember those?)  but were teeny tiny fried fish topped with a very soft poached egg…..this is the real deal.
Plaça de les Olles, 8, 08003 Barcelona, Spain
+34 933 10 79 61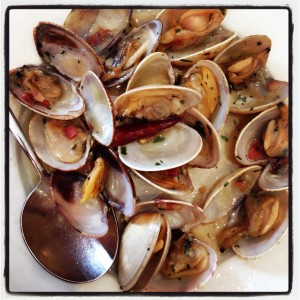 Of course you are going to go to the Boqueria.  It feels like the whole world is at the Boqueria.  Just off the Ramblas – its one of the most exciting markets I have ever been to.  Looking at all that food is going to induce extreme hunger.  You're in luck.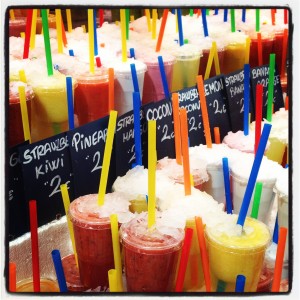 Bar Pinotxo – garbanzos morcilla – chick peas with blood sausage.  If you have a bowl of this and a glass of cava for breakfast – I guarantee you'll have an awesome day.  If you are afraid of blood sausage, you're weird.  No, if you're afraid of blood sausage not to worry they have lots of lovely dishes – tiny fried lamb chops, langoustines, clams, tripe stew – all made amongst to total chaos of the Boqueria.
La Rambla, 89, 08002 Barcelona, Spain
+34 933 17 17 31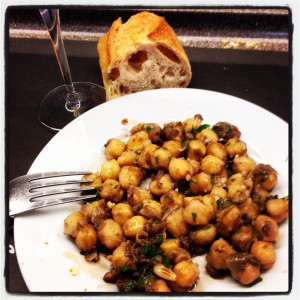 Bar Central – extra large red Gambots – "the expensive ones".  There are these shrimp in Barcelona called Gambots – they are very red (even when raw), are quite expensive (I only know because when you order them people will say "Gambots – very good. Very expensive.") and supercalifragilisticexpialidocious-ly delicious.  And please suck the delicious creamy brains out of the head – don't let it go to waste.
Rambla 91, Mercat de la Boqueria, Parada 494-498, 08001, Barcelona
+34 933 01 10 98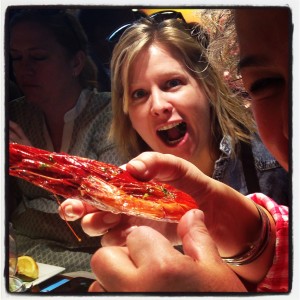 After walking all over this city in between eating – you may need a new pair of shoes…..and if you do you'll have to visit Kokua.  Ballerina flats in every colour of the rainbow, and then some.  I think between the 4 of us we bought 12 pairs – so be warned.  Oh, and shoe shopping makes you very hungry.
‪Calle Boqueria 30/34, Barcelona, Spain