So, I was riding my bike along a country road, taking in the scenery, burning calories, like a girl like myself should.  Except all I could think about for some strange reason was donuts.
"Man, I'd really like to try my hand at making homemade donuts."  I thought as I huffed and puffed up a huge hill into a headwind.
Donut daydreams.  While exercising.  I know.  Hopeless.  If you know me, you know I should be thinking about my next workout, instead of my next meal.
I pulled over to the side of the road.  My friend (unbeknownst to her, about to become The Donut Apprentice) was coming to visit. When at the cottage, I hate going into town unless I absolutely have to (like if I am out of Chardonnay), and so texted her a list of things I thought we would need to make my donut dreams come true. The last two items were icing sugar (lots) and 2 jugs of canola oil.  "We are going to make donuts.  For serious."  The Donut Apprentice is always up for anything.  I love that about her.
When I got home from my ride I started my research.  There's some sort of weirdness going on with the internet out there because when I Googled donut recipes, most of the searches returned results for 'healthy' donuts.  Who wants healthy donuts?  I mean, if that's what you're into, dude – make a bran muffin.
It kind of reminded me of how my Facebook feed is always sending me these sponsored posts about how to lose 30lbs in 30 days, or how some mom in North Bay dropped 40lbs by only eating bananas, or how to trim inches off my waistline with some sort of fat melting pants.  What's with that?  Maybe Facebook is judging me – "This girl has way too many pictures of food and way too many check-ins at restaurants – she needs these fat burning pants – urgently – keep posting to her news feed until she gets the hint and clicks on the link!"
I decided on cake donuts.  I discovered that yeasted donuts need a good 2 hour resting time and another 45 minute proof.  I don't have the patience for that.  I wanted to hop out of bed – whip up some donuts, make an extra-large pot of coffee, be smug about my frying prowess and get on with the rest of my day.  I had a dock I had to sit on and a lake that needed swimming in.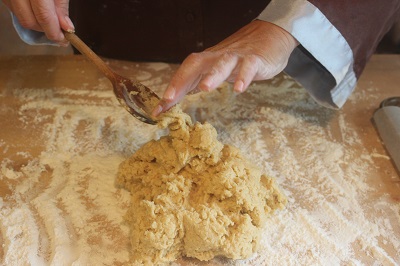 On donut making eve, I was feeling a little anxious and so asked my friend (and donut Guru and Deli Master) Zane Caplansky for some advice.  "If you have clean hands and a pure heart, your donut will be a beautiful manifestation of your eternal soul."  Wowzers.  I wasn't just making breakfast; this was a higher calling.  I had to listen to my daydreams and act on them.
Early the next morning before anyone else got up, The Donut Apprentice and I went to work measuring and mixing, and creaming, and heating up oil to dangerous crackling temperatures.  Paisley came into the kitchen, rubbing her eyes in disbelief.  "You two are really making donuts?!?…..Can I help??"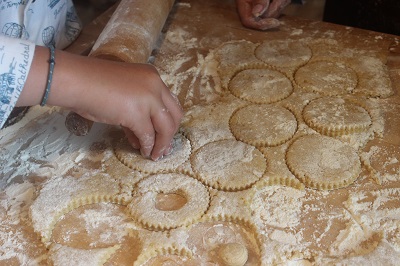 We cut and rolled and fried and drained and rolled again in cinnamon sugar.  The smell was heavenly.  We were giddy on the fumes of hot canola oil.  Not so tricky, not so bad…..we did not burn down the cottage, and we had a whole plate of actual real live homemade donuts on our hands.
They were pretty.  They were yummy.  They were gone in a flash.  But The Donut Apprentice and I knew we could do better.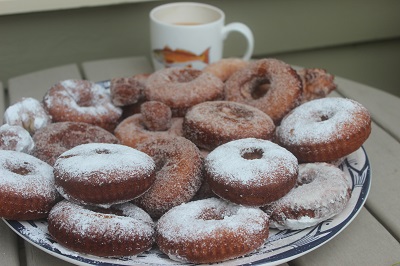 On my next bike ride it came to me.  I caught up to The Donut Apprentice (she's a much faster rider than me – she probably focuses on her speed and technique vs. fried foods she's always dreamed of making at home)
"Ricotta Donut Holes!" I gasped.
Without a break in her stride, "Bring it on."
Ashley Jacot De Boinod's Lemon Ricotta donut holes with olive oil glaze.  Ashley owns Glory Hole on Queen West – her buttered toast donut is a thing of beauty (yeasted – aka beyond me) – but her lemon ricotta donut holes are divine (cake donuts – therefore in my realm of patience). I found the recipe online, and the cottage pantry gods smiled on us as we had all the ingredients required.
Sure they were not as cute and real-round-with-a-hole-donut-y as our cinnamon sugar donuts, and yes, they may have looked a little like dumplings…..but they were off the charts amaze-balls, and once again we did not burn down the cottage with freakishly hot oil, so it was a successful effort.
Make homemade donuts…..Done.  Daydream complete.
Today while I was out for my ride, I couldn't stop thinking about Chocolate Pots de Crème.  Maybe…….I would be thinner if I exercised less?…….Maybe I should click that link for the fat burning pants….and wear them while making donuts.
Here is a link to Glory Hole, and the Globe and Mail article with Ashley's lovely recipe.
http://www.gloryholedoughnuts.com/
http://www.theglobeandmail.com/life/food-and-wine/recipes/lemon-ricotta-doughnut-holes/article10356375/
And if you've never been to Zane's deli for a smoked meat sandwich, knish or his maple bacon donuts, you really should be ashamed.  Here's the link: