Once upon a time, there was a Canadian princess named Shelley who wanted desperately to go to Iceland (we don't know why).  She tempted Anna and Elspeth with "You know what would be so fun?"  
"You must be prepared for wind and snow and rain and volcanoes….." Shelley warned.
So Anna and Elspeth spent all their money (and time) buying gear at Mountain Equipment Co-op, and then thought better of it and returned it all, and got their money back (but not their time, they'll never get that back).
Shelley had big plans for the weekend in Iceland.  "We are going to see volcanoes and waterfalls and hike glaciers and snorkel and look for puffins!"  She declared exuberantly.
Anna and Elspeth just wanted to eat hot dogs at midnight with the sun still shining.
And so they set off on their adventure to the north Atlantic, in an airplane that reminded them of Ikea in the sky.
The hotel Shelley chose was lovely, except for the vicious trolls who worked the front desk.  "Leave it to me!" said Shelley as she charmed the trolls with her super powers.  Shelley scored free breakfasts, and a mere two hours later they had their rooms, complete with heavy drapes for keeping out the ever-present daylight, mysterious lighting systems and a magical bar fridge that doubled as a safe.  So convenient – iced passports and secured beers.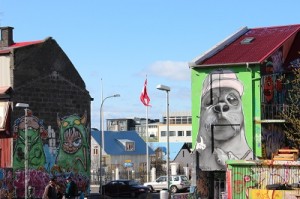 Off the adventurers went to see the sights of Reykjavic – the Harpa concert centre, the Hallgrimskirkja church, the harbor, the 10,000 Icelandic sweater stores (they went into 9,978 of them) and the penis museum.  "A penis museum is a very bad idea." Said Shelley.  And they all agreed.
That night, despite the daylight, they slept very well – their tummies full of fresh Icelandic fish and chips and beer.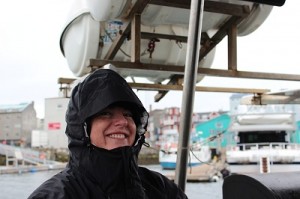 Early(too) the next morning they arose to go see puffins.  "I've always wanted to see a real live puffin….."  Shelley said wistfully as the boat pulled out of the harbour.  Anna and Elspeth decided they would buy her a pair of puffins for Christmas –either that or her very own Viking.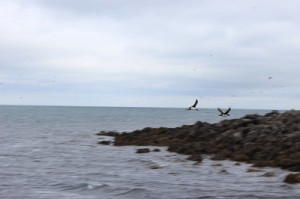 The puffins were perfect – petite and plentiful, but there were still a few Icelandic sweater shops they had not been in yet, so they needed to visit a few more.  Not buying Icelandic sweaters was very thirsty work, so they stopped for Icelandic beer and breakfast.
Although it was cold and rainy, and an afternoon nap seemed like the right thing to do, the friends set off on a snorkeling trip.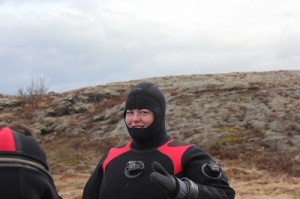 "I'm feeling a little apprehensive." declared Shelley as the friends squished their amazing bodies into dry suits to protect them from the 2C water.  The waters of the glacial lake were crystal clear, and the friends floated through the divide of the North American and European tectonic plates, contemplating how the earth is formed how warm and cozy those Icelandic sweaters must be.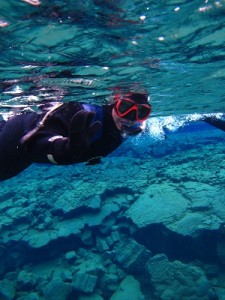 The following day the friends toured around the island in a jeep with a Viking named Vidar.  He could drive through water in his jeep!  This was very exciting for (some) people.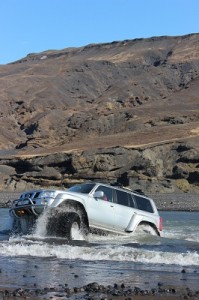 Vidar took the friends to see the natural wonders of his native Iceland – volcanoes and waterfalls and breathtaking scenery.  He drove them to the beach to see the fabulous black volcanic sand, to dip their toes in the freezing cold north Atlantic, and to witness mountain guides swimming in the ocean to demonstrate how strong and manly and Viking they were.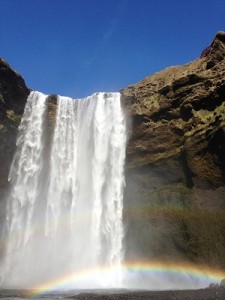 During the hike on the glacier, Shelley lost her balance and went crashing down onto the ice.  Vidar rescued her, picked her up, dusted her off and wiped away a single tear.  "I think I am in love with a Viking!" announced Shelley.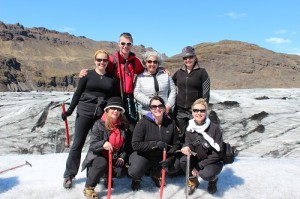 That night they celebrated their adventurousness with hot dogs at midnight.  In the rain, alongside all the cabbies of Reykjavic – they devoured the best hot dogs of their life – complete with crunchy onions and mustard sauce.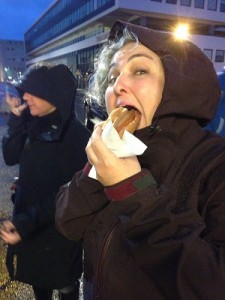 One last adventure was required before boarding the Ikea plane back to Toronto – a stop at the geothermal pools of the Blue Lagoon.  The friends covered their faces in silica, soaked up the magical warm waters, and drank their last Icelandic beers while being pelleted with freezing rain.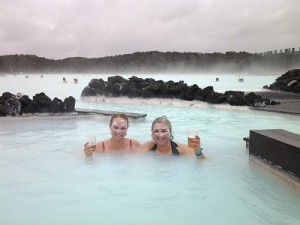 "That was the best trip ever!"  said the three friends.
And they lived happily ever after. 
The end.  (Well…….until the next time one of them says:  "You know what would be fun……?")
Here are some details in case you are thinking of your very own fairytale weekend in Iceland.
The food in Reykjavic was outstanding.  I think Iceland must have the best bread outside of France – all multigrain-ish kind of things, so you feel virtuous eating them with Icelandic butter.  Delicious Skyr can be had everywhere – a thick cultured milk – low in fat and loaded with flavor.  The seafood was incredibly fresh – plaice, cod, ling cod and Icelandic lobster.   Lamb is very popular – nice and mild – but not too mild – popular in soup.  The beer in Iceland is fantastic – I generally am not a huge beer fan but everywhere you go there's a selection of microbrews on tap.  We did not eat any putrid shark (umm…putrid is in the name – right?) or puffin (too cute!).
Kolabrautin – inside the gorgeous Harpa Centre is a lovely spot for dinner – overlooking the harbor – the food is excellent – like many places in Reykjavic – strong focus on local and seasonal foods.  http://www.kolabrautin.is/en/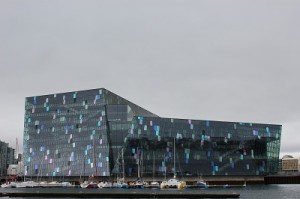 Icelandic Fish and Chips – Next to the harbor where you catch whale watching and puffin boat tours.  The Icelandic seem to love their barley – here three types of fish caught that day all battered with an impossibly light crisp coating made of barley and spelt.  Paired with some onion rings, a selection of dips made from Skyr and great local beers – this was a wonderful meal .  http://www.fishandchips.is/
Café Paris – We did not eat here – but – they have a great outdoor patio to sit and have a couple of drinks and people watch if the weather is warm (ie – over 10c)  http://en.cafeparis.is/
The Laundromat  Café– Full of locals, this place does actually have a laundromat downstairs – but it's unlike any I have ever seen.  Bread served with house-made chocolate butter.  Seriously.  Fantastic "dirty breakfast" and house made baked cookies. http://www.thelaundromatcafe.com/en
Bӕjarins Beztu Pylsur  –   I have no idea how you say that – but it translates to "best hot dog in town".  They've been making dogs since 1937and have served them to Bill Clinton, Anthony Bourdain, Metallica and now Shelley, Anna and I.  Made with pork, beef and lamb – these dogs have a snap like dogs should.  Classic topping combo is the works with ketchup, mustard sauce, remoulade, raw and crunchy fried onions.  Delish – go hang out with the cabbies and the locals late at night and have a dog or two…. they are open until 4:30 in the morning!   http://bbp.is/en/
Kex –  I had read about Kex and heard amazing things.  When we pulled up, it looked like an abandoned building.  This place is far from abandoned – it has to be the coolest place in town.  It's a hostel with a few hotel rooms and a bar that serves out of this world food.  Do not go to Reykjavik without a stop here.  Trust me.  http://www.kexhostel.is/
Other details:
Icelandair is the only airline that flies to Iceland – they also own hotels and offer 4 day package deals.  They even have offers to stop in Reykjavic on your way to or from Europe.  http://www.icelandair.ca/
We stayed at Hotel Natura.  The rooms are sparse but very clean.  Not so organized on the front desk – but the pool was lovely and the breakfast was excellent.  Note – this hotel is not downtown – need to take the bus or cab in.   http://www.icelandairhotels.com/en/hotels/natura
Our snorkeling adventure was booked through Dive Is.  Great group and a fabulous experience – especially the hot chocolate for when you get out of the water!  http://www.dive.is/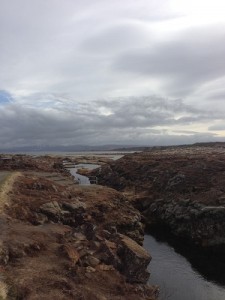 We perused puffins with Elding Whale Watching – our guide was really knowledgeable. http://elding.is/
The day long jeep tour that included the volcano, waterfalls, glacier hike and visit to the beach was with Icelandic Mountain Guides – at least that's where Vader said he worked – but I can't seem to find him in their list of guides – maybe he quit his job and is here in Toronto looking for Shelley. http://www.mountainguides.is/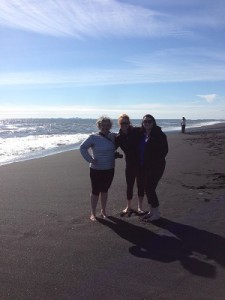 Here you can find info about the Blue Lagoon:  http://www.bluelagoon.com/   Bring your patience – it's a bit of a gong show when the buses deposit a crew at the entrance – but you will be rewarded with a wonderful experience.