Couple of weeks ago I was in San Francisco for the annual Fancy Food Show.  This used to be a show strictly for small producers serving the specialty retail trade, but more and more over the years the show attracts bigger manufacturers, and large retailers combing the aisles looking for ideas and trends.
Popcorn is the trend that won't die.  In fact popcorn so won't go away that is like some sort of anti-trend.  I just made that up – anti-trend.  It's like sundried tomatoes twenty years ago – enough already!
Seriously.  How many popcorn companies can there be? 
Answer:  Apparently a lot.  (I did not taste a single one – I snubbed the whole category.)
It seems to me that a lot of what's going on in the restaurant world is taking while to translate into retail products.  Take for example the ramen extravaganza that is going on in cities across the continent at the moment.  A couple of years ago people weren't debating where the best bowl was, which dashi is better and whether or not shoulder or belly is the pork of choice.  Think I could find a single ramen related product at the show?  Nope.  Not even ramen flavoured popcorn.
While food trucks, tapas restaurants and gourmet tacos are everywhere – none of these trends made a mark at the show.  And don't get me started on donuts -out in restaurant land donuts are battling it out trying their best to knock cupcakes off their cute little pedestals, but at the fancy food show – two products!  The brownie chip was everywhere – wouldn't thank you for one – but donuts – a no show! Why is this?  Why the gap?
If you figure it out, let me know.  In the meantime here are my five favourites…
Grace and I Fruit Presses
Most beautiful dried fruit ever.   And spectacularly delicious.  Perfect for an exquisite cheese platter.  Everyone is doing fruit for cheese – but nobody is doing it like this – except maybe Martha Stewart – I bet this is how she does fruit with cheese at her house. http://graceandi.com/Product.aspx?CategoryId=5
City Bakery Hot Chocolate
I am a huge City Bakery fan.  Have been since I bought my first lunch box tin full of homemade marshmallows at their original location in NYC back in the early 90's.  These guys know their stuff – and are the inventors of the illustrious croissant pretzel.  They are probably most famous for their impeccable hot chocolate – some of the best you'll ever have.  (February is hot chocolate festival month – with a new flavor every day)  But NOW…..you can get their hot chocolate in a cute little tetra pac – milk or dark….so you can have this treat at a moment's notice.  I need some of this hot chocolate. Right. Now.  http://www.thecitybakery.com/
Happy Goat Handmade Goat Milk Caramels
Caramel was a big trend.  Loads of different producers.  In the name of research (my job is tough) I tried them all.  The verdict – happy goats make the best caramel.  Presumably, grumpy goats make terrible caramel, and don't even get me started on sullen cows.  But the Goat Milk Vanilla Bean Caramels and Scotch Caramel Sauce made me very, very happy.  http://www.happygoatcaramel.com/home.html
Brad's Raw Foods
Kale is Kool.  I tell my kids this all the time.  They cannot comprehend, but I persist.  I love kale, and kale loves me.  It's so good for you, so versatile and so damn tasty.  Brad has seen the light, abandoned the fatty-diet life and chose the path of raw enlightenment.  He makes a very fine kale chip – several in fact – and even has a retreat for juicing, cleansing and yoga.  I may not be retreat material but an ice cold beer and some Brad's Raw Kale Chips – that my friend – is a well-balanced good time.  He also makes vegan, gluten-free, raw kale dog biscuits in case your dog is into that.  My dog is into eating whatever he finds on the ground in the park.  To each his own.  http://www.bradsrawchips.com/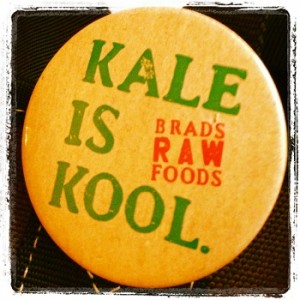 Boat Street Pickles
I love the jar.  I love the label.  I adore what's inside.  They are called pickles – but to me they are more like savoury jams:  Apricots with toasted curry.  Raisins with cider vinegar and thyme.  French Plums with coriander and orange peel.  Black mission figs with balsamic vinegar and rosemary.  Each one more delicious than the next.  Pickle curator Renee has been making these gems for her Seattle Boat Street Café since 1998, and launched her retail products a couple of years ago.  I stocked up at Bi-Rite Market – I plan on making a little chicken liver pate this weekend and serving it warm brioche and Boat Street Pickled Raisins!  http://boatstreetpickles.com/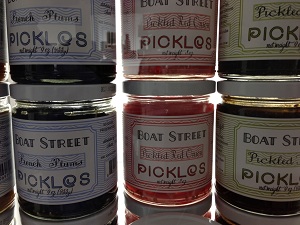 The summer fancy food show returns to New York this summer after a two year stint in Washington – click here for more info.  But steer clear of the popcorn – in the words of Sweet Brown – "Ain't nobody got time for that."