Like many, I have made a new year's resolution.  After all, it's the time of year for reflection, for thinking forward…Unlike most of you, however, it does not involve a gym.  Or yoga.  Or (yikes) detoxing.
I resolve in 2013 to eat at the 10 tastiest spots in Scarborough – or at least the 10 tastiest according to Chris Nuttall-Smith.
In June last year, I read an article Chris wrote for the Globe and Mail about Scarborough's "unambiguously exceptional" restaurants.  I was at the cottage at the time, a long way away from the  Middle Eastern Shawarma joints , Tamil mutton curry purveyors and Hakka tiger prawn take-outs he described.  Chip trucks I had a plenty – but anything with coriander, saffron or fish balls – not a hope.  The most exotic food within a 25km radius of our cabin was the featured muffin at the new Tim Horton's in town.  I salivated at the thought of CNS on a veritable food quest around Toronto's multi-cultural suburbia.  The article embodied what I love about this great city of ours – every nation, and every cuisine available right here at home for those yearning for adventure.  What could be better?
I had driven through the neighborhoods described so many times – passing hundreds of restaurants – and wondering which ones contained the real deal.  Here it all was for me – on a silver platter – the key to unlocking the secret of Sri Lankan take away and Kuala Lumpur noodles.  I (gasp!) printed the article and mapquested and printed all the locations.  I highlighted my clients within a 20km radius of any of the restaurants.  I kept the tattered list on my desk – it taunted me every time I came across it.  I had good intentions of visiting these spots, but never sealed the deal…..until today….I do afterall have a resolution to uphold.
Today I unexpectedly found myself in the wilds of Scarborough and it was lunch time.
First stop was Patisserie Royale – merely a stone's throw from one of my favourite spots – ARZ bakery.  Patisserie Royal is nothing like the grand ARZ – it is small with a vast assortment of Middle Eastern goodies.  In my opinion, Middle Eastern baklava trumps the Greek version without a doubt.  Crisp, tender phyllo and feshly ground pistachios – sweet but not overly so – they are the perfect bite.  I stocked up on a box and headed two plazas over to Shawarma Empire.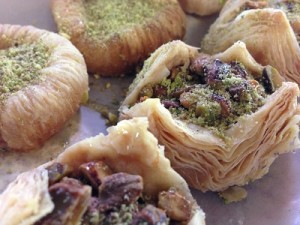 I could barely squeeze in the place was so jammed.  A guy in line must have seen the look of distress on my face.  "Ever been here?"  I shook my head.  "Don't even think about getting out of line.  They move fast and it's the best sandwich of your life."  Another lady a few ahead chimed in "And don't over-think it, don't be all like hold the pickles – just ask for everything – and hot sauce – its homemade."  You order the shawarmas in pairs – and I did as I was told – asked for everything – lettuce, parsley, onions, cucumbers, pickles, pickled turnip, tomatoes, tahini and garlic sauce all nestled into a warmed little soft pita.  These sandwiches are made with care – they slice off a little of the pita, open it into a pocket, then put homemade hot sauce and chicken (even some crispy skin bits) in the bottom – add all the fixin's, more chicken, more hot sauce, and amazingness ensues.  Best $5.99I have spent in a while.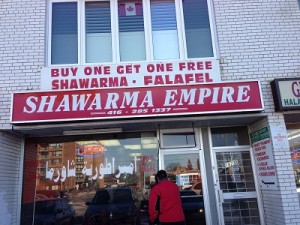 A couple of doors down (and not on CNS's list) was Samara's roasted nuts.  Ever had Iranian Lemon Salted Pistachios?  They are nothing like the red pistachios my mom used buy from Steinburg's when I was a kid – when she was having a really fancy do – you know – fancy enough to break out the cream cheese/paprika topped celery sticks, devilled eggs and red pistachios.  No.  These are pure delight – try them.  Resolve to.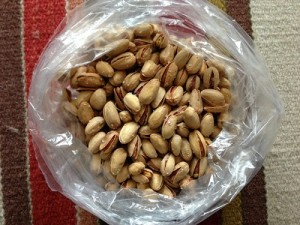 And so, the year is only 2.7% over and I have already completed 20% of my new year's resolution.  It's all about setting meaningful, achievable goals.  Let me know if you want to join me for any of the other 8 spots – the more the merrier.
Have a happy new year – I think it's going to be a delicious one.
Shawarma Empire –1823 Lawrence Ave East
Samara Roasted Nuts –  1823 Lawrence Ave East
Patisserie Royale – 1801 Lawrence Ave East
Chris Nuttall-Smith's article –  http://www.theglobeandmail.com/life/food-and-wine/restaurant-reviews/eating-through-torontos-east-end-the-10-tastiest-spots-in-scarborough/article4365223/?page=all