I was a farmer for a day last week.
Now I am just back to being me.
It was hard work. And I wasn't very good at it.
But I loved it.
I hope they'll let me go back.
I spent the day at Black Creek Community Farm. 8 acres right at Jane and Finch. And it's amazing. A working organic farm in the heart of the city. I've been buying their produce for a few months at Wychwood Barns Farmer's Market…I was drawn to their stall by the gorgeous display, the impeccable quality and the fun variety of products….watermelon radishes, callaloo (amaranth), purple kohlrabi, fresh soy beans. Plus normal stuff like spinach, lettuce, carrots, onions, sweet potatoes…When I found out this bounty came from a farm accessible by TTC, I was intrigued. What the heck is going on up there? I had to see it for myself.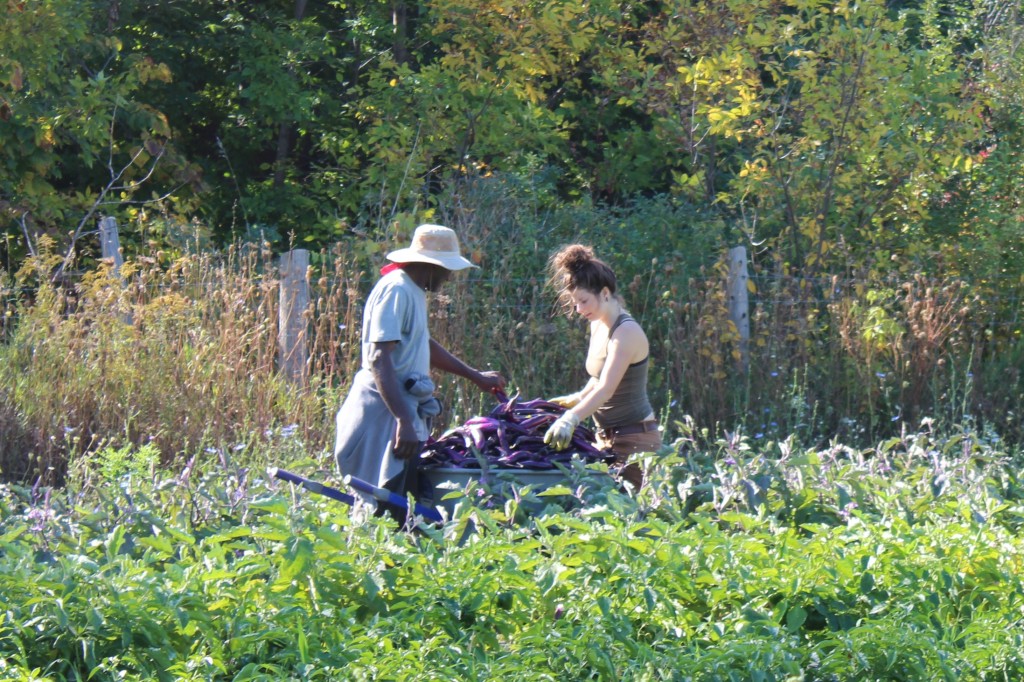 Black Creek is a community farm. Its a charity who's goal is to not only be a teaching farm – but to engage the community and support and celebrate its diversity.  Residents of the neighborhood volunteer, help choose what is grown, buy produce. When we were there, the number of folks who just happened to stop in to have a look, shop at the farm store or have a chat, was remarkable.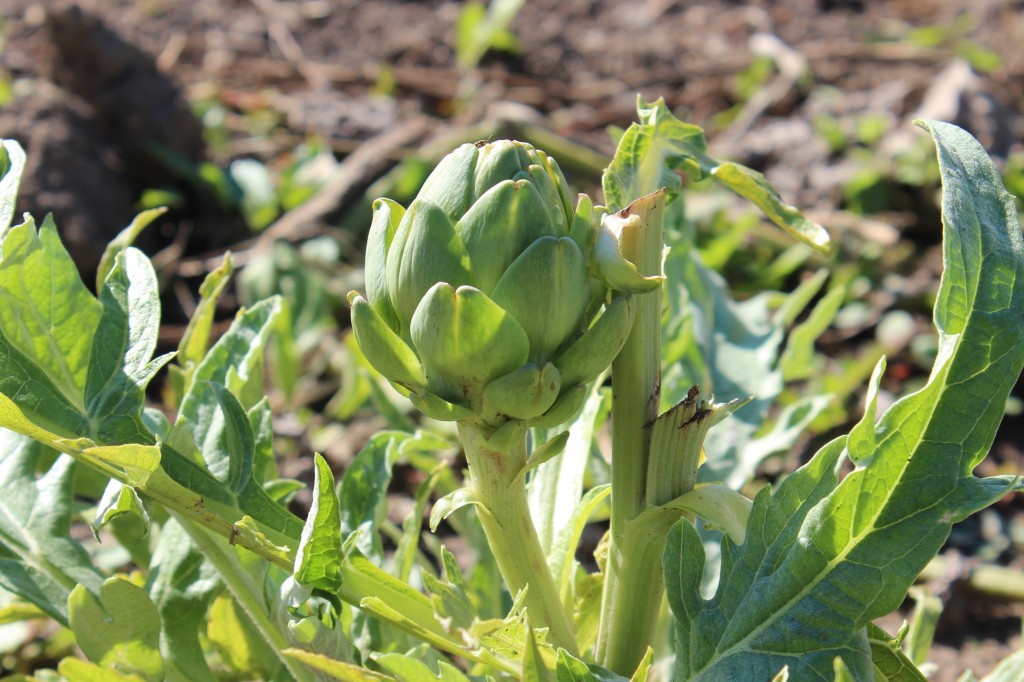 USC organized the day – offering the Twitterverse a chance to volunteer and learn more about Black Creek and seed saving. Did you know that in Canada all seeds for vegetables come from outside our own country? Despite all the crops we grow, without an external seed source to get the whole process going, we could not feed ourselves. USC and a number of other organizations are working to change that. We need our own secure seed supply! Become a seed saver – learn more here.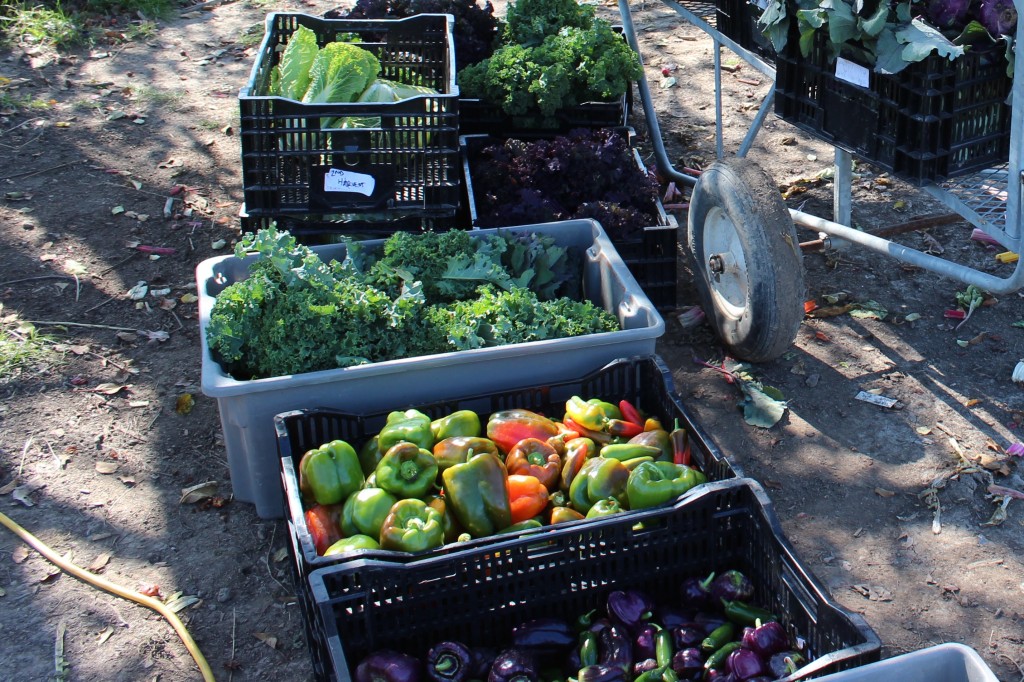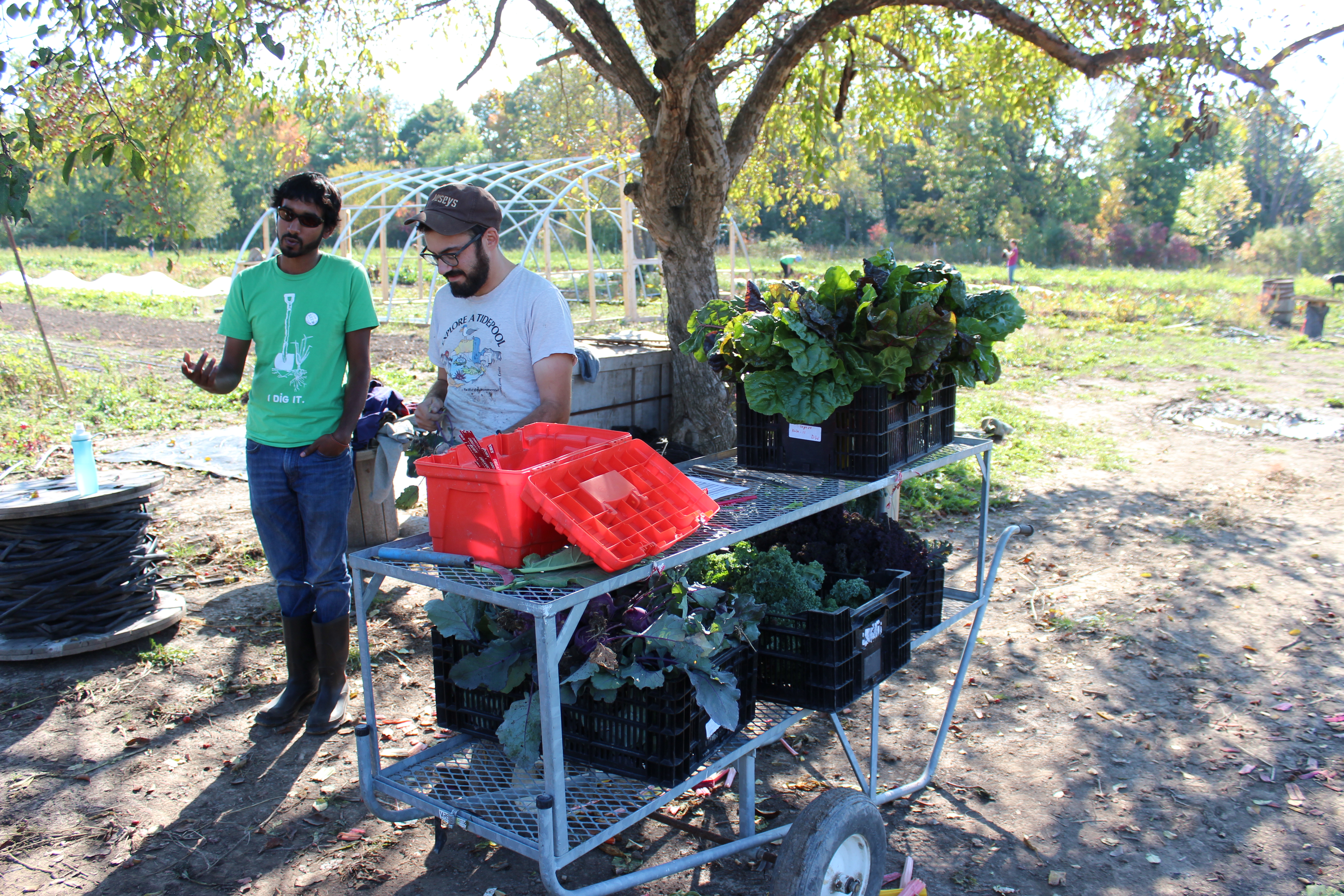 We were quite the gaggle of skill-less but keen wanna be farmers. A pHd student recently arrived from Brazil. A few York and U of T students. A professor of agriculture who just moved here from India. A bartender. A restaurant owner. And me.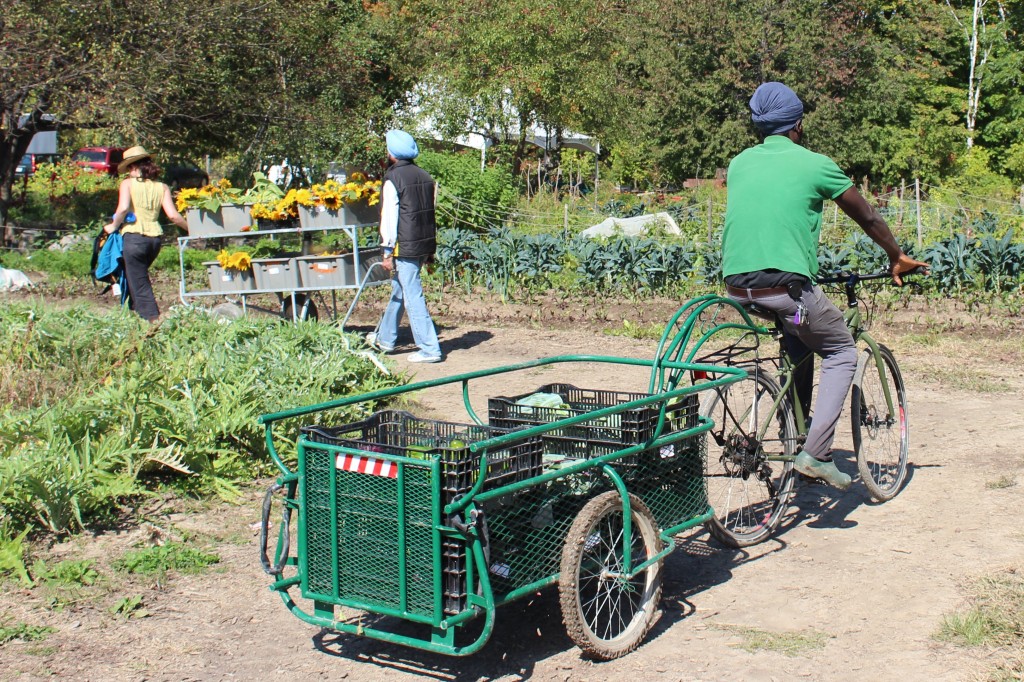 After a little instruction, we toiled in the sun, the sky a dream-like shade of blue.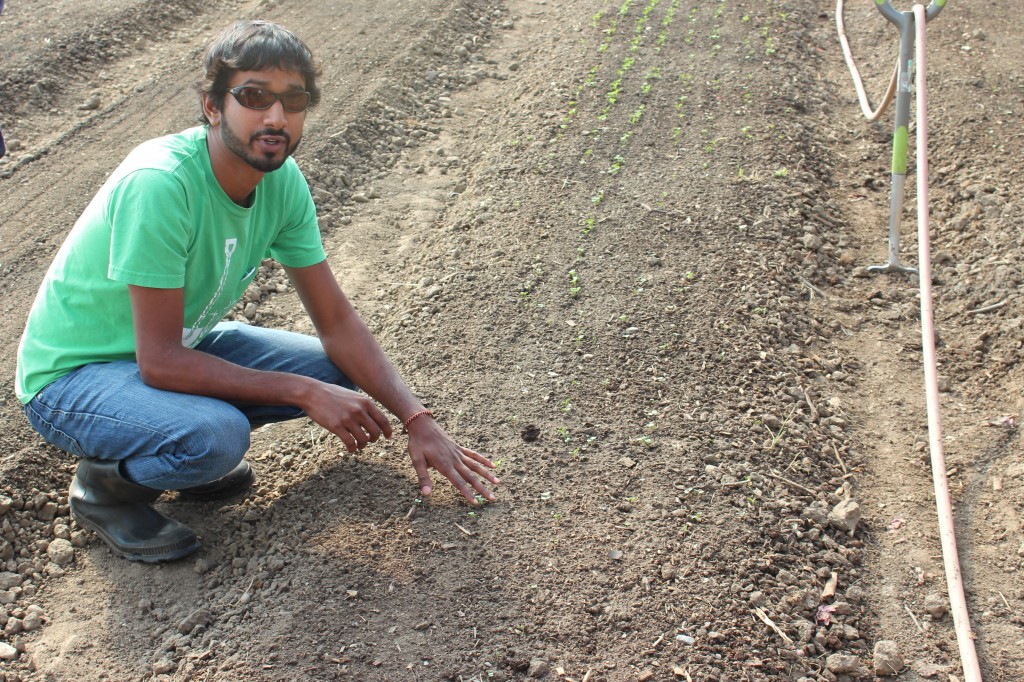 Alvis showed us which peppers to pick.
We cut sunflowers. I did it wrong. Natch. A lovely gentle lady who travels by TTC from Scarborough 3 days a week to volunteer here showed me how I had to HACK them vigourously. Its miraculous I did not cut off my finger.
I washed sweet potatoes and Michelle polished many,many eggplants.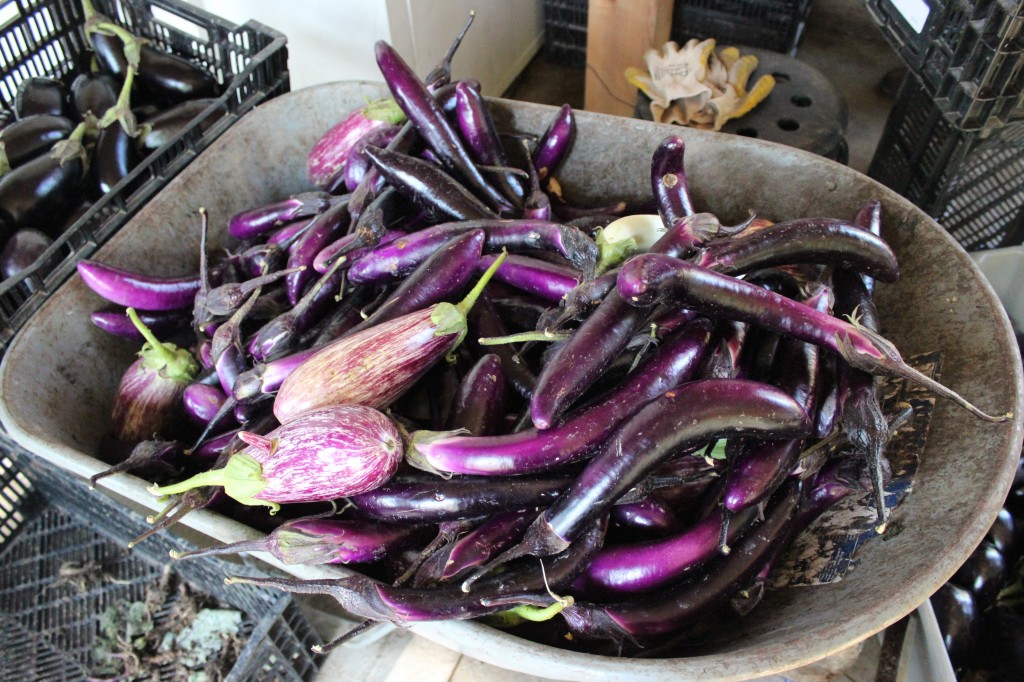 Alex taught Simon and I how to make salad mix with a gazillion types of perfect delicate lettuces topped up with a little "party" of baby bok choy and gai lan. (Apparently the hipsters at the Junction market go wild for this mix.)
We picked all sorts of varieties of heirloom tomatoes in a small greenhouse – the sweet smell in there was intoxicating.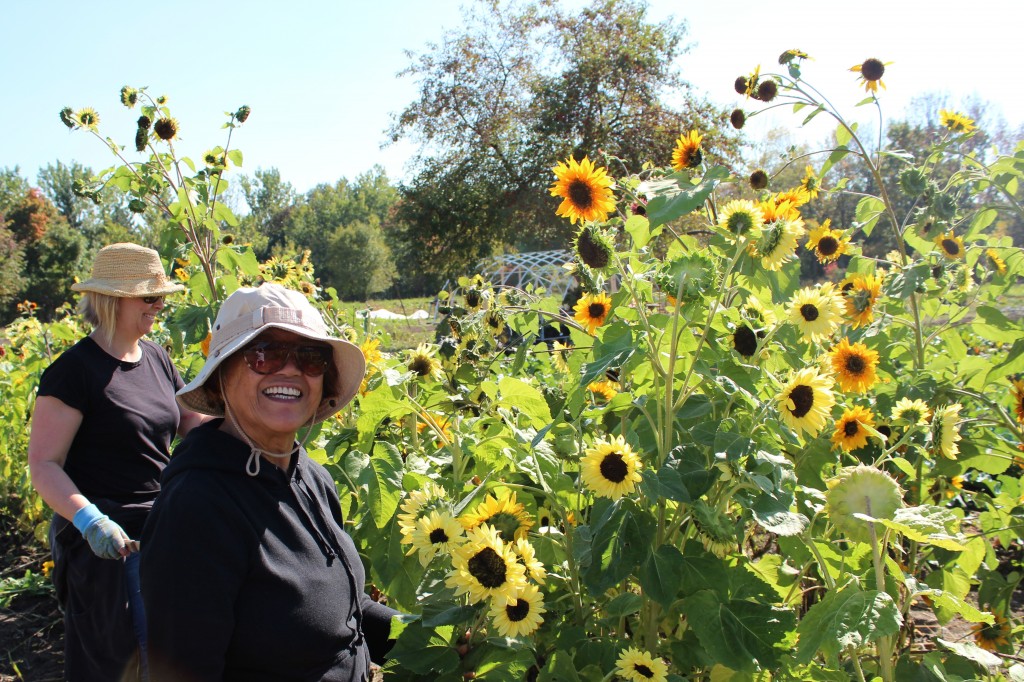 The final job of the day was harvesting and bunching green onions.
Do you have any idea what goes into a bunch of green onions….I mean after the seeds have been sown and the crop cared for weeks?
First you dig them up gently with a pitchfork – being careful not to ruin any onions in the process. Not. Easy.
Dis-entagle-ment ensues – prying roots and dirt and onions apart .
Carefully you clean dirt off each delicate one and take away any dried bits.
Trim the ends – removing any that have gone yellow.
Group together in a bunch of 8-10 beauties and tie tightly so they can make their journey safely.
Finally give the roots a little hair-cut trim so they are all even.
It was my favourite. If (I am sure it won't happen) I ever find myself stressed, I will mentally relocate myself to sitting in that field, under the sun, bunching green onions. Bliss.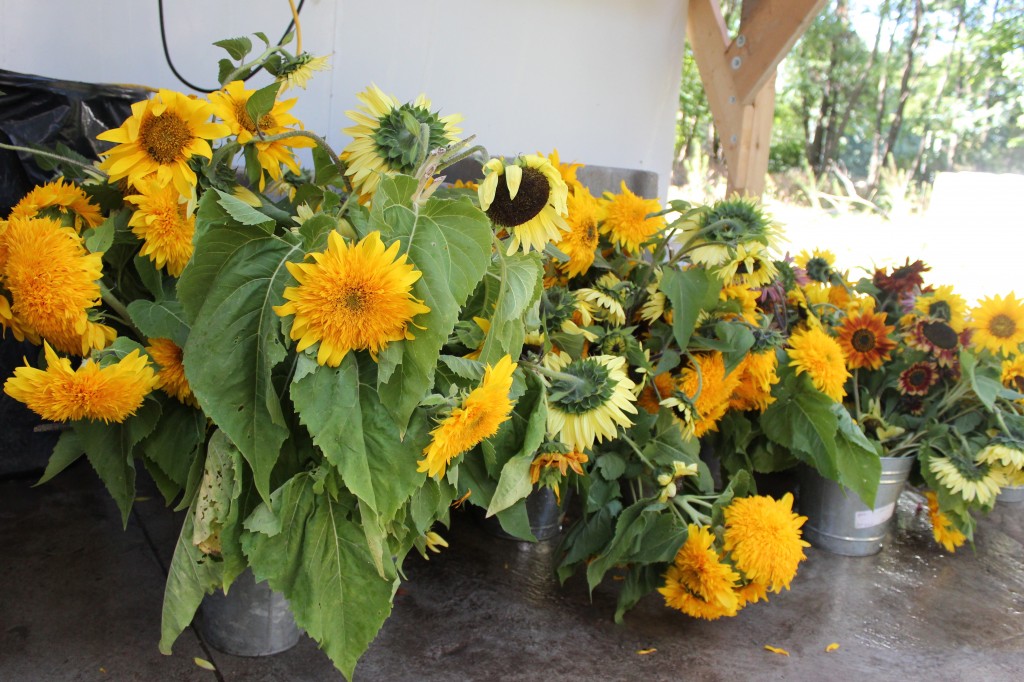 The next day, I stopped by the Black Creek booth at Wychwood Barns. There was Alvis – smiling as always. He told the husband I did a great job on the farm. See what a super nice guy he is? I filled my basket with goodies. "I bunched these!" I beamed. My sunflower bouquet was a little sunnier. My lettuce mix more miraculous. My tomatoes just a little sweeter.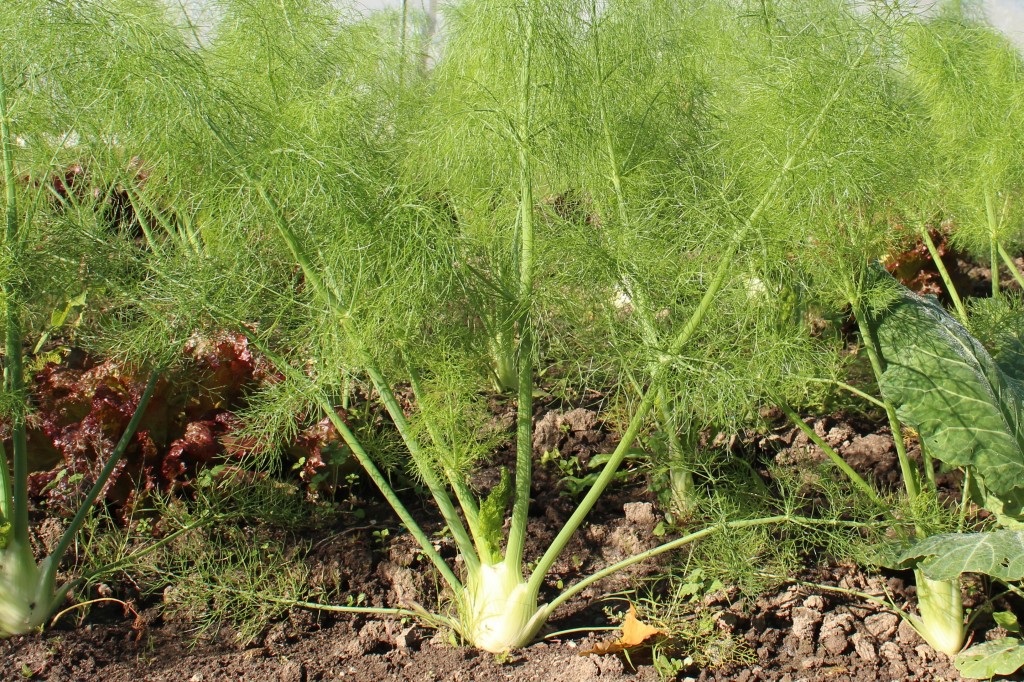 I had made a connection – farm to table – and all right here in glorious Toronto. Soil, sun, work (lots), spiffying up for market. Filling my basket, meeting my farmer, and eventually serving a delicious meal.
You should try it.
I hope they let me go back. I am sure I will get better at bunching those onions.
You can get Black Creek Community Farm produce at Brickworks, Wychwood and Junction Farmer's Markets – or even better – get on a TTC bus and shop right at the farm.