I am just back from three phenomenal food-filled days in New York City – it was perfect weather for walking miles and miles covering tonnes of must visit places – even spotted a few stars….sort of…Visited some of my tried and true favourites (umm….like I'd ever visit NYC without a stop at Doughnut Plant…hello?), some that have been on my list forever and finally got a visit (Laboratorio di Gelato, Black Dog New York), and as always – some lovely surprises…..I've compiled a list of my favs….
But first – a regret.  I share this so you won't make the same mistakes I do….I am here for you people!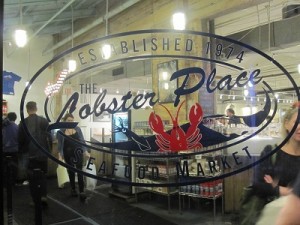 Lobster Place – Chelsea Market  Chelsea Market is a converted Nabisco Factory – architecturally it's awesome – old meets new….food wise – it's yummy.  Home to an eclectic mix of stores – most food related, with Food Network offices upstairs – it's a must see.  Shame on me – I have been several times – always post-lunch, and always have regret when I visit The Lobster Place – one of the best seafood shops I have ever encountered.  The variety and quality is awe inspiring – and all wild caught or sustainably farmed.  You can grab impeccable sushi or even better chow down on a fresh Maine lobster in the market seating – food court steamed lobster??? Sign me up!  http://www.lobsterplace.com/  Don't miss out, plan on having lunch at Chelsea Market – then go walk it off on the Highline – it's completely magical.  More info on the must-see Highline: http://www.thehighline.org/
Another note before we get started – I finally met City Bakery's Croissant Pretzel.  Last September I met a woman at a charity fundraiser in San Francisco, she worked for Google and had just moved from NYC to San Fran. "….sometimes I miss City Bakery's Croissant Pretzel so much I could cry…" she bemoaned.  That's a pretty bold statement.  I am a huge fan of City Bakery, but had never tasted the pretzel croissant.  This time we went specifically to try it.  It's good.  It's different.  It's a salty version of a buttery French croissant.  I would not cry about it.  I would not even detour 5 blocks for it.  But City Bakery – it's completely awesome – fantastic baked goods and the freshest by the weight salad bar around– it's a great stop before visiting the Union Square Farmer's Market – and let me know your view on the pretzel croissant.  http://www.thecitybakery.com/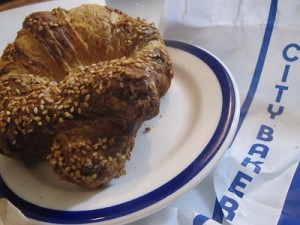 Here's my top ten tastes of this trip:
10.  Dogmatic  In between City Bakery and the Farmer's Market, we wandered  into Dogmatic.  I know, my job is super-gruelling.  Grilled grass fed, all natural free range sausages, stuffed to order into REAL artisan baguettes by Pain D'Avignon (we're talking amazing Paris quality baguette), hollowed out and heated until crispy.  Add your choice of sauces – including Truffle Gruyere and a home-made soda – and you have 2012's quintessential 'new' fast food – gourmet+value+local+artisan, in one portable scrumptious surprise.  I stumbled upon it – you don't have to….   http://eatdogmatic.com/food.php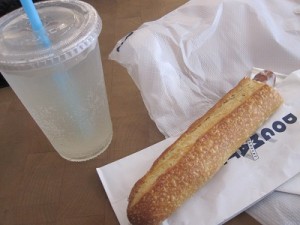 9.  Scallops at Empellon   Perfect margaritas.  Divine guacamole with pistachios (trust me – I am never making guac without pistachios again) and a parade of delicious dishes.  But Maine diver scallops with fresh spring peas and chilaquiles (fried tortillas that are dipped into tomatillo salsa and most commonly served in Mexico for breakfast) were our absolute fav.  http://empellon.com/cocina/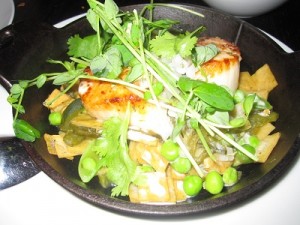 8.  Cereal Milk Milkshake  It's no secret that I am a huge fan of MilkBar.  Paisley and I have made practically everything out of Christina Tosi's cookbook.  I greatly admire how she is turning bakery on its head – opting for Fruit Loops and marshmallows over artisan/high end/fussy ingredients – constantly looking to recreate and reinterpret childhood favourites.  She is creative, whimsical and a master of sweet salty balance.  Imagine my delight in having a tour of the commissary kitchen in Williamsburg – I was a bit giddy – seeing the home of crack pie up close.  After watching mammoth batches of corn flake crunch, candy bar pie, and compost cookies being prepared, I headed back to the store and had a cereal milk milkshake – made from soft serve ice cream made with milk steeped in cornflakes.  It was a cool, frothy, cereal bowl dream – and I felt like I was 10 years old drinking up the milk from the bottom of my breakfast bowl.  http://milkbarstore.com/
7.  Chicken Liver Toasts @ Spotted Pig  There's no reservations at April Bloomfield's Spotted Pig, but the two hour wait for a table did not scare us away.  Besides, we passed the time enjoying a marvelous bottle of Rose Prosecco and some bar snacks.  The chicken liver toast is outstanding – creamy with the acidity and sweetness of Madeira….of course the burger with shoe string fries, crispy pig's ear salad, ricotta gnudi…are all outstanding – otherwise after over eight years in business why would there be such a wait every single night? http://thespottedpig.com/index.php
6. Yuzu Palmer Soju Slushie @ Momofuku Noodle Bar OK.  This one needs some 'splaining.  An Arnold Palmer is half lemonade, half iced tea.  Yuzu is a Japanese citrus fruit, Soju is a Korean rice based alcohol.  I don't need to explain what a slushie is – do I?  Phew, I was worried about you for a moment.  Yuzu 'lemonade'+brewed tea+Soju+Slushie = EXTREME HAPPINESS on a hot day, especially when consumed with Momofuku pork buns and ginger scallion noodles.  http://www.momofuku.com/restaurants/noodle-bar/
 5. Shake Shack Burger, crinkle cut fries and a black and white shake.  Our morning at Eataly across the way conjured up a fierce hunger.  45 minutes in line, made pleasant by both sunshine and phenomenal people watching, rewarded us with a damn fine burger.  Cooked to perfection, juices a-plenty – that Danny Meyer (ultimate NYC restaurateur) and Pat Lafrieda (butcher to the stars) are one fierce combination.  And kudos to bringing back the crinkle cut fry – you don't see these guys very often anymore.  http://shakeshack.com/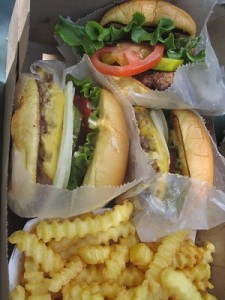 4.  Duck Confit Hash @ Egg  My first trip to Brooklyn did not disappoint – I loved every minute – so many wonderful spots, yet nary a 'dreaded hipster' in site.  We started our day at Egg – a tiny spot specializing in breakfast.  Michelle's duck confit hash was outstanding – served with two easy over eggs.  Mine was pretty delish – brioche toad-in-the-hole with house made sausage and kale, but hers was a rock star and I took bites whenever she was not looking, which, sadly, was not often enough.  http://www.pigandegg.com/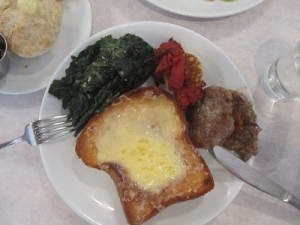 3.  Cookie sandwich at Mast Bros  There's lots to tell about Mast Bros – but that's a whole other forthcoming post.  In addition to their amazing bars, there is a small, yet finely curated pastry/confection selection that includes cookies, brownies and caramels.  The mini chocolate chip sandwich cookies sandwich together with decadent Mast Brothers ganache is simply divine – chocolate chip cookies for grownups….  http://mastbrothers.com/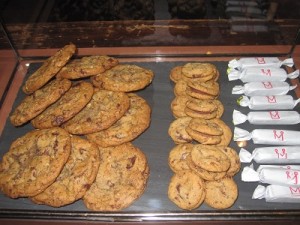 2.  Icebox Cake @ the original Magnolia Bakery  Magnolia Bakery has long since expanded past it's humble beginnings in the West Village, but the original closet-sized location on Bleeker remains as wonderful as the day the girls of Sex and the City discovered it.  We slipped in late one night, the last customers as the doors were locked behind us.  A few unlucky latecomers looked longingly into the famous bakery.  As we debated over what to have, friendly staff let us try a bunch of their favourites.  We fell for uber-retro icebox cake – chocolate wafers layered between whipped cream.  They boxed up a generous slice, gave us some plastic forks for the road and sent us off into the night in search of Carrie Bradshaw's apartment around the corner on Perry Street.  Scrumptious.  http://www.magnoliabakery.com/home.php
1.  Wagyu 'Prime Rib' @ Torrisi  With barely 20 seats and reviews calling high praise, we settled for a 9:45 reservation at Torrisi Italian Specialties.  I was a little nervous.  We all know how these super-hyped places can end up being in reality.  But Torrisi was amazing – super-friendly, unpretentious service in a cosy boite decorated mostly with shelves of American dry goods used in the kitchen.  Although the cooking is Italian inspired, it's 100% the American version thereof – all ingredients are from the USA – and the technique is pure New York ingenuity.  Each night is a new menu, with no choices.  Don't worry though – we loved every single thing – from the warm house pulled pasta filata with garlic bread, to the roasted octopus salad with onion, garlic, celery, dehydrated olives and tiny fingerling chips.  From the linguini with clams and Tobasco to the fried spring onions with smoked sour cream.  But the crowning glory was the Wagyu 'Prime Rib', which was an additional option for two this night.  It actually was a short rib cooked whole – sous-vide.  The meat was then cut off the bone in a single piece and grilled.  It was presented to us sliced, using the bone as a platter of sorts.  It was the tastiest piece of meat I may have ever encountered (another Pat LaFrieda gem…), and the taste of it has lingered in my mind's eye ever since.  Wagyu  'Prime Rib' will we ever meat again?  http://www.torrisinyc.com/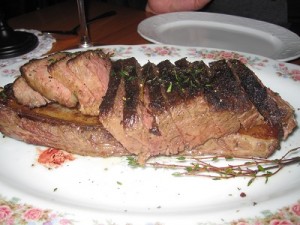 There you have it…..a lot of tastiness in three days…..excuse me while I get back to my juice detox program.