When you find something really amazing, I mean really amazing, you want to tell everyone about it and yet tell nobody about it at the same time – for fear of spoiling it.  I've debated, and I am going to tell you about Jersey.  It's just too awesome not to share.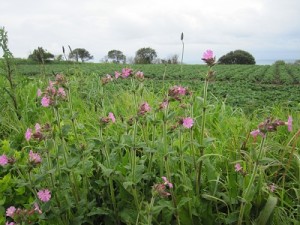 A wind tossed spec on the map, accessible by air or by ferry when the notoriously vicious English Channel allows for crossing; Jersey has scenery that will simply take your breath away.  This 8km by 14km isle, home to 100,000 people, is criss-crossed with impossibly narrow winding lanes and encircled by incredible beaches and cliff sides.  They say the area of Jersey doubles when the tide goes out – exposing incredible rock formations and caves – leaving some areas to look like the surface of the moon – excellent for crabbing, anemone hunting and shelling adventures.  You could easily visit a different beach every day – and most have wonderful cafes serving excellent local seafood. 
Just off the Normandy coast of France, an independent nation with its own currency, yet somehow part of the British Isles in a way I don't really understand, Jersey is a magical combination of Anglo and French, and well, Jersey culture.  (Read – you can have pork pies, fish n chips, AND Jersey creme fraiche and crispy baguettes – can you imagine anything better?)  All the road names and cottage names (every house has a name) is French or Jerriais, but pretty much everyone speaks English.  In the northern wilds of St Ouen parish, some folks still speak Jerriais – a French dialect that dates back centuries.   During World War II the Channel Islands were occupied by the Germans, a piece of history recently made more well known by the bestselling book The Guernsey Literary and Potato Peel Society. 
Between ancient castles, splendid beaches, loads of WWII historical sites, the world famous Durrell Wildlife Sanctuary and walking on the footpaths and cliffs that run all along the coast, there is no shortage of things to do.  But let's be honest.  It's the incredible food I want to tell you about.  You are not surprised are you?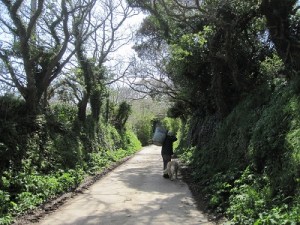 When we were visiting, the Jersey Royals were just being harvested – the first and crowning jewel of the new potatoes.  The locals only eat ultra-fresh Royals.  If you want some for your supper, you buy them that day and cook immediately – fresh from the earth.  Jamie Oliver graced this little island a couple of years back, to film a spot for Sainsbury's specially selected Jersey Royals.  Shame for those poor sods in England, by the time those potatoes made their way across the Channel, they were at least 24 hours old….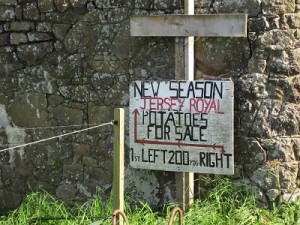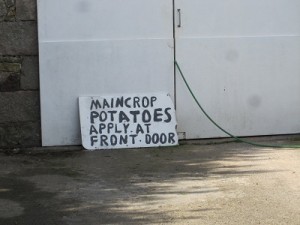 These lovely new potatoes are covered in rich black soil.  I am always suspicious of potatoes that don't have any dirt on them – what's up with that?  The Jersey Royal flesh is slightly sweet, rich and creamy.  Apparently in times gone by, these potatoes were even better (if that's possible), when traditionally the farmers would drive their horses and then tractors to the sea to collect 'vraic' – seaweed washed up on shore, to fertilize the soil. The 'vraic' would infuse flavour and a slight saltiness to the Royals.  Although this Norman tradition is now very limited – the Royals we had with a healthy dollop of Jersey butter and some sea salt from Normandy (it's just 22km away after all) were divine.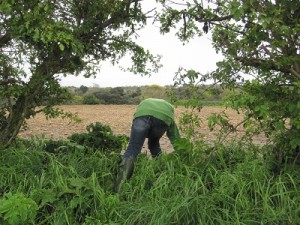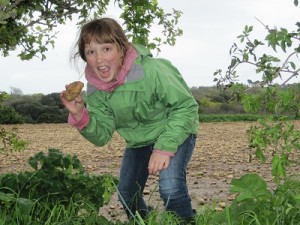 At every turn, there were signs at the end of a drive or a lane calling out Royals for sale.  It's an honour system – choose your potatoes (and loads of other assorted home grown produce, plants, and sometimes if you're lucky cakes and jams), leave your money in the box, and drive away with your fresh from the farm treasures.  Rhubarb, a myriad of potatoes, and leeks were common last week – the first signs spring – and I was happy to be cooking!  Eggs are often available on the honour system too – and the eggs here taste like nowhere else.  Maybe it's the wind and the sea, and the sunshine that showed itself a few times during our visit – but the yolks are enormous, and not yellow – but orange….and the eggs, are just so downright eggy.  I ate one every single day for breakfast, and I am not ashamed to admit it.  You would have too.  I know it.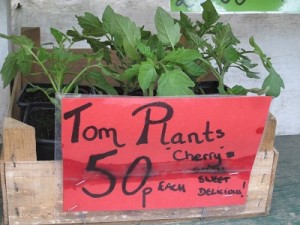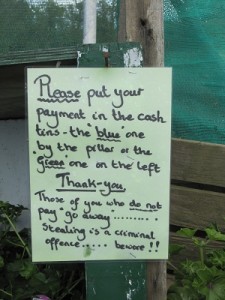 Lovely Jersey cattle are everywhere, and we have these golden brown ladies to thank for incredible world renowned dairy products.  The Jersey cattle were bred from Norman cattle in the 1700's, and are recognised the world over for their excellent milk, that is a rich golden colour and especially high in butterfat.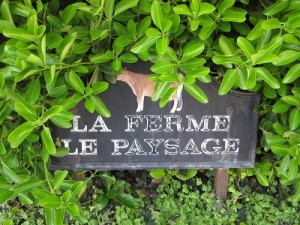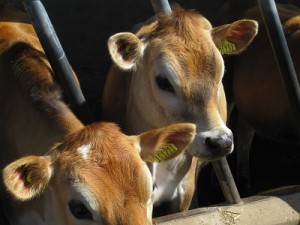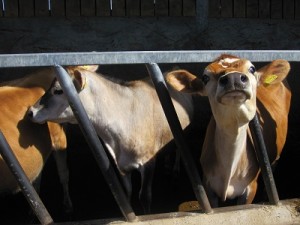 Rich yellow butter.  Unctuous cream.  Cream that made me understand why the good folks of the British Isles pour generous amounts of cream on all their 'puddings' – because it tastes so damn good!  The best glass of milk of your life.  Rich and creamy yogurt.  And don't get me started on the ice cream.  But since you asked…..the best cone comes from the ice cream vans marked 'Real Jersey Ice Cream'.  Almost yellow, soft serve, and topped off with the traditional Cadbury Flake – heaven.  I am not even sure if they put any vanilla in the ice cream – it does not need it – the flavour is pure Jersey Cream.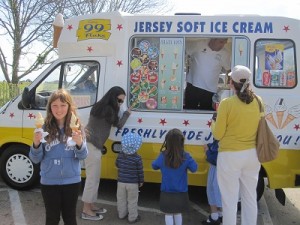 Of course, as an island in the sea, the seafood is abundant and fresh.  Jersey lobsters.  Fresh scallops – roe intact – why do we in North America remove the roe?  The bright orange bit is so pretty and decadently delicious.  Moules.  Local pollack.  Yes, pollack – mild with a lovely texture.  Cuttlefish and Ormers (abalone).  Local crab.  And oysters.  Jerseys.  Fairly large, briny – just pulled from the sea.  This may be an urban legend (although not much of Jersey could qualify as urban), but I was told the French in Cancale (the oyster capital of France!!!) import Jerseys at Christmas, as they are regarded to be better than their very own.  Rumours like that could start a war, or at least a food fight.  In Jersey, the fishmongers are happy to fillet, skin and shuck your purchases for you – or you can simply order a 'fruit de mer' a day in advance and pick up a cooked platter of assorted seafood happiness – all that's left to do once you get it home is open the Chablis.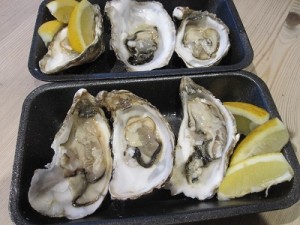 Jersey.  A simply magical, delicious place.  World class local produce, dairy and seafood.  Gourmet beachside cafes.  Michelin starred restaurants.  But don't take my word for it.  Go check it out for yourself – it's only a 40 minute flight from London – I wouldn't take the ferry if I were you – I hear the tempestuous English Channel can be a bit 'lumpy'. 
Jersey Tourism  http://www.jersey.com/English/Pages/default.aspx
Be sure to visit the Hungry Man in Rozel for a bacon butty.