I really have been remiss.  Over the course of this past year, I have been fortunate enough to visit Chicago on many occasions, and other than Hot Doug's Sausage Superstore, I have not shared any of my dining experiences from the windy city.  There are so many choices when it comes to restaurants in Chicago, it can be overwhelming.  There are the classics, like Gene & Georgetti, Alinea, Topolobampo….but there is a new breed of restaurants emerging that are casual, loud, and fun – serving exquisite food that's usually designed for sharing. 
Girl and the Goat
Probably one of the most talked about places is Girl and the Goat run by Top Chef Superstar and Chicago native Stephanie Izzard.  To be honest, I've been holding off writing about Chicago dining until I could figure out a way to get a seat there.  You see, you need to book your table at least four months in advance for a weeknight reservation that is not at 5:00 (I am not 70 years old!) or 10:45pm (neither, sigh, am I 20 years old any longer).  Insane – no?  A few weeks ago I did secure a 10:15 reservation on a Monday night.  The plan was to visit after having a preliminary meal elsewhere (in the name of research), but alas, surprise, surprise, I was too tired, and too full, and cancelled.  I bet they had no problem filling the table.
Last week, my friend Blair and I were feeling like lady luck was on our side.  We decided to take a chance on securing a walk-in table at the Goat.  I overheard Blair on the phone to a friend "Yeah…we are headed to the Goat – but we are only going to focus on the good dishes."  Only the good dishes?  According to the reviews and the demand for tables, I was expecting even the napkins to taste good.  "There are three flavour notes there," he sagely advised.  "Vinegar, spice and SALT."  Maybe Blair was a little jaded – he does eat out an awful lot, and knows his stuff.  He then confessed he had never dined there completely sober.  I was not quite sure what to expect.
Upon arrival we were told to expect a minimum 1 ½ hour wait, but we could be seated at the bar where they serve the full menu.  Score!  I obediently followed Blair's lead and we focused on the good dishes, and took our chances on a few new ones as well.  Homemade bread with peanut butter butter was pretty delicious.  I loved the whimsy of peanut butter butter – tasted like when you butter your warm toast before slathering with pb – so that the two melt together in perfect harmony. (Is there any other way to eat PB toast?)  Smoked goat rillette empanadas with marinated goat cheese, romesco and hummus (with the unusual addition of coarse mustard seeds) were absolutely amazing.  Eascargot ravioli were just fine.  Ham frites tasted like a crispy greasy salt lick probably tastes.  Ham is baked and dried and ground into a seasoning for the frites.  Super cool idea but salt beyond belief.  My ankles are swelling just remembering it.  Roasted cauliflower with pickled peppers and pine nuts – delicious if not super salty once again.  Crispy pig face with shoestring frites and perfectly fried egg was a delight.  Don't worry – it's not scary – it does not stare up at you – it's hiding underneath a blanket of fried egg.  You need to chop the whole thing up till it looks like a real mess – and then inhale.  Roasted broccoli was burnt.  As in black.  Charred.  My Aunt Hilda says "When it's brown, it's done.  When it's black, it's buggered."  Blair took one bite and declared: "You can't serve burnt food – no matter how cool you think you are."  He's a tough customer.  Our server was a super star – he whisked it away, and removed it from our bill.  Dessert was spectacular.  It was a bowl of pure yumminess – dense chocolate cake, bruleed fluff, peanut butter something something, chocolate chili gelato from Black Dog, warm sauce made from stout.  I really hated to share this.  Really.  I wanted one just for me.  No offense Blair.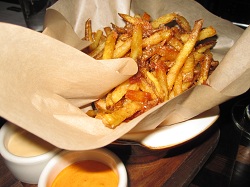 Net net, Girl and the Goat is a great spot.  Some things they knock out of the park.  Others miss, and execution is not quite perfect.  But the concepts are great, and incredibly creative.  The thing is; this is the kind of food you enjoy at the bar with a few beers and a dear friend, not the kind of food you plan an entire trip to a city around.  I think it's a case of hype surpassing experience – which is kind of sad – because without all the hype, without a four month wait for a table, you'd probably rate it a pretty damn excellent meal. 
So, if you don't schedule your meals weeks and weeks in advance – not to worry – here are a few of my favourites that require significantly less long term planning. 
Purple Pig
In the heart of the city, on the famed Magnificent Mile, Purple Pig was named one of Bon Appetit's best new restaurants of 2010.  A strict no reservations policy does not deter the crowds.  The hostess runs a tight ship, and will seat you as soon as possible, but be prepared to indulge in a cocktail or two while waiting.  Every single dish we had (and we had a lot of them) was outstanding.  Don't miss the marrow bones, in fact, order two portions, they are decadently divine.  Just do it.  The now omnipresent herb salad with crispy pig's ear – was a duet of fresh and healthy greens meeting up with crispy greasy porky goodness.  Deep fried turkey leg was a Fred Flintstone sized portion of tender meat – great for sharing.  The cinnamon toast soft serve ice cream, and the Panino Con Nutella – a dessert panini with nutella, marshmallow and roasted banana were pretty over the top, so be sure to save room for dessert.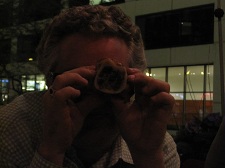 Publican
Tucked away in Fulton Market meat packing district, this cavernous hopping spot is a real gem.  Ask for a booth, where they "close" you in – almost like a cattle stall, or sit at the large communal tables and make some new pork loving friends.  From the owners of Bluebird and avec, Publican's is about "pristine product, simply prepared".  The staff are incredibly knowledgeable and patient – answering a myriad of questions with a smile.  I am a sucker for side dishes, and fell for the roasted turnips with maple and sage.  Try the ham tasting – the night we visited it featured Spanish Serrano, country ham from Tennesse and La Quercia Rosa from Iowa.  Even the chicken, yes, someone in our group (you know who you are…..) actually ordered the chicken instead of the lamb neck, but it really was amazing.  Don't miss the Louie Fries……perfect plump chips topped with two fried eggs, the yolk begging to be dipped in. 
Longman & Eagle
Go on a Monday – Old Milwaukee night – beers for a buck – served ice cold in the can – perfect to wash down 1 star Michelin nosh.  Only in Chicago.  I'd call Longman & Eagle a gastro-bar, serving up a whole lot of whisky (their motto is "whisky for your mouth, not our shelf") and seriously "crafted" cocktails.  It's also an inn, and they serve some pretty decent food.  Above all, it's a fun place to be.  Highlights were Pretzel with Welsh Rarebit (a completely under-menu'ed item in my opinion), warm cheese gougere, Slagel Family Meatball on Polenta and, of course, roasted marrow bones.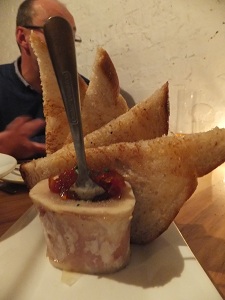 GT Oyster
Take a little vacation from pork and try this awesome seafood spot in River North – added bonus – GT Oyster actually takes reservations.  Brought to you by the Boka Restaurant Group – the folks who own Girl and the Goat – Kevin Boehm and Rob Katz seem to have the golden touch when it comes to restaurants.  Italian born Giuseppe Tentori works magic in the kitchen.  Of course there is a fantastic fresh oyster selection – with creative sauces like Ponzu Mignonette – but don't stop there – every single dish we had was absolutely delicious.  The Lobster roll took me back to Cape Cod summers, the Oyster Po-Boy Slider with Kimchee and peanuts was a brilliant fusion of flavours, and Baja Shrimp Bruschetta with grapefruit and Pistachios was divine.  I could go on and on…. 
Don't worry if you don't have a tattoo, or a handlebar moustache – these places are totally hip but welcoming to all.  They are all pretty loud, so either dine with people with good hearing, or those you are not particularly interested in talking to…..it's all about the food (not the hype) anyway…..