All the stars may have been in Yorkville enjoying the Toronto International Film Festival, but we were in sunny Kensington Market last Saturday afternoon soaking up an international lunch with the kids.
Kensington Market, home to green grocers, second hand clothing shops and an eclectic collection of international food stores, has recently become a hot spot for food adventures.  Don't get me wrong – it's always been a culinary landmark, but these days it seems like there's always something new.
We started at Miss Cora's Kitchen with red velvet cupcakes.  Dessert first, what's wrong with that?  Don't judge!  O.K, it was right by the bank machine, and we did not want to double back – it would be inefficient, and nobody wants that….A lovely table set out in the sunshine, heavy with baked treats and smiling Cora there to serve them up.  Her cupcakes are by far the best I have had in the city.  Moist without being under baked, sweet without being over the top and icing that does not make your teeth hurt.  Rumor has it her vegan chocolate version is impeccable.  Miss Cora's Kitchen, 69 Kensington Ave  416 593 2672
Next stop, spicy Jamaican beef patties.  Read said he had never had a patty before, so we had to rectify that, post haste.  There was a guy outside Patty King playing some tunes on a drum and singing, so we stood outside enjoying the music and sharing a couple of patties.  You have to eat patties quickly, preferably drunk, but this was a family affair.  You can't really think about what's in them or how long they've been hanging around, you just gotta chill, relax and enjoy the patty for what it is.  Some people swear by the doubles and the patty sandwich, but we had to pace ourselves – there was a lot to see and eat yet.  Patty King, 187 Baldwin St 416 977 3191
We decided not to linger at the Hot Box Café – "Toronto's only pot positive café.  We promote the normalization of marijuana."  Check out their website.  It does not include an address – were they too high to remember to include it or are they trying to stay underground?  Just so you know, Thursday is Comedy night – not sure if there is an actual act or if you just get all hot boxed up and sit around and laugh.  I am purposefully not providing an address, but here is their site.  http://hotboxcafe.ca/HotBoxHome.htm
On to Agave Y Aguacate.  I had been on a mission tocheck this guy out earlier this summer but sadly he had been closed.  Everyone is talking about this place – Now Magazine rated it 5/5 stars.  He serves up the freshest Mexican food this town has.  Seriously.  The FRESHEST.  For each order, he cuts the avocado, dices and seeds the chillies, mixes it with mortar and pestle, fries up the tortillas only once you've ordered….right in front of you – like you are standing in his kitchen, which, I guess, you are.  I am not kidding.  Not only that, but after he mixes each sauce, or dip, he meticulously tastes what he has made and adjusts the seasoning accordingly.  It is quite the sight to behold.  His food is absolutely fantastic.  Trained at the Stratford Chef School, Fransico Alejandri is preparing Mexican food unlike any other in this city. Do not miss the green tostada: fried tortilla topped with made-before-your-eyes-guacamole, tomato, queso fresco and crema.  Tinga Tostada was our favourite; topped with a chicken and smoky chorizo stew, more avocado and onions pickled with freshly squeezed lime juice.  He too, does not provide an address on his site – but here it is, I don't think he's hiding out like the fine folks from the Hot Box Café.  http://agaveyaguacate.blogspot.com/  214 Augusta @ Baldwin
The kids were only fascinated by watching their lunch being made for so long, and were soon off ordering other things in this quasi food court.  OK, maybe food court is overstating it – but once you find 214 Augusta St and venture in there are several vendors making wonderful food…..Paisley ordered Columbian empanadas…..which like all the food at Agave Y Aguacate are made to order – the beaming proprietor forming each empanada, then placing them in the tiny fryer as you order.  This time we skipped the fabulous Venezuelan Arepas, but if you go don't make the same mistake – they are wonderful.  Read grabbed us some Mexican juices to share: one watermelon, one tasting of ripe cantaloupe melon  and our favourite, horchata, made with rice milk, vanilla and cinnamon.  Fantastic.
We reconvened at a table out back to share all our treats.  Lucky for us, there was a Zeitgeist music festival going on and we were entertained with live music and dancers while we munched away, swatting at 1000 wasps.  As we walked back through 214 Augusta, Paisley could not resist a stall with the fresh made churros at the front – when the guy at the counter asked her if she wanted hers filled with dulce de leche – she wondered who on earth would say no to that.  She managed to eat all of it before her brother even noticed she had made a purchase.
Read was still hungry, so we stopped in at The Grilled Cheese on Nassau St.  Actually, Read is 13, so he is always hungry.  As the name implies, this spot only serves grilled cheese sandwiches.  I love places like this.  Imagine the owners telling their parents and friends "So, yeah, we've decided to open a restaurant that ONLY serves grilled cheese sandwiches – what do you think?"  Read thought it a brilliant idea, and ordered one with cheddar and mushrooms.  Turns out – it was a good call, even if it took over 20 minutes to get his snack as the place was so swamped.  You really can't rush a good grilled cheese – I watched the guy operating the panini check each and every sandwich to ensure melted gooeyness  – that's commitment to quality. 66 ½ Nassau Street 647 347 7062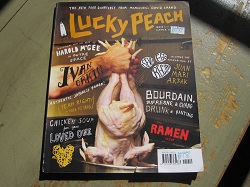 We were (finally) done eating, but we still needed to stop at one of my favourite shops in Toronto.  Good Egg – is a "shop dedicated to those who like to eat" and I think, who have a sense of humour.  You can always find something interesting here – peanut shaped erasers, wild tea towels, the best food books, some specially selected cookware….and best of all, the crowning glory to a wonderful afternoon, they had a copy of David Chang's new magazine Lucky Peach.  I asked the girl at the counter if she had read it –  "cover to cover, every word" was her answer.  I had spent at least an hour online trying to pre-order this issue in the summer – and here it was at Good Egg.  Bliss (it's worth a whole other post)  I bet you a Tinga Tostada that if you ever need a gift for someone who loves food – you will find it here.  Don't miss Good Egg, it's a real treasure.  http://www.goodegg.ca/  267 Augusta 416 593 4663
There you have it.  A Jamaican, Mexican, Columbian and truly Torontonian culinary adventure all within 4 blocks.  And this is just the tip of the iceburg in Kensington.  We didn't even go to Big Fat Burrito, Jumbo Empanada or Perola's for pupusas……Best of all, our kids just lapped it up, unaware of the magic of having so many cultures converge not only in one city, but a in single neighbourhood.  I simply adore Toronto.