I want a chicken for my birthday.  The kind that will lay me a fresh egg every day.  There are websites dedicated to the cause of the urban chicken.  It really does not look so difficult.  But alas – my family flatly refuses – Read walks away whenever I mention it – maybe he thinks it would be embarrassing to have his friends over, and while playing hockey in the yard have to avoid Clara, the chicken.  He's in luck because currently it is illegal in Toronto to have a chicken in your yard.  As a note – the bylaw states you are allowed pigeons and rabbits (no more than 6), but you are not allowed chickens, sheep, pigs, alligators or chimpanzees – in case you were wondering.  Vancouver and Brampton are backyard chicken friendly.  Doubt we will get Rob Ford on board with this whole idea – he's more excited about giant ferris wheels at the waterfront.  He's probably never had a fresh egg in his life. Check out this site for lots of great urban chicken info http://torontochickens.com/Toronto_Chickens/About_Me.html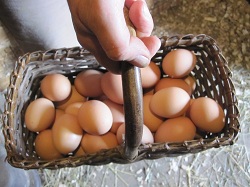 I really love farm fresh eggs.  There's nothing like 'em.  They just taste so eggy and are downright delicious.  The eggs in Wales are my favourite – maybe because my Aunt fries them up for me with a little bread in the pan.  The yolk is enormous and almost orange, and I have to beg her to cook it so the white is not runny – that's how she likes them. I am always on the lookout for farm eggs.  I have a friend in Caledon who often brings some to me in the big smoke.  There's a small shop in town that sometimes will have a few dozen.  I am a fresh egg stalker so to speak.  It's not pretty, scrounging around for fresh eggs.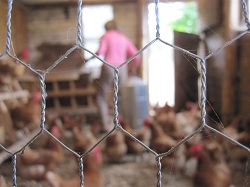 The other day at the side of the road I saw a sign that read BACON & SAUSAGES.  I begged my friend who was driving to come to a screeching halt.  We pulled into the driveway, and went up to the farmhouse – this reeked of potential.  Soon enough we had 5 pounds of bacon and sausages in the trunk, and I had placed an order for two chickens – they had just been sent to slaughter that morning.  I was super pleased.  Rockhill farms – only 6km past my driveway at the cottage – how did it take me so long to find them?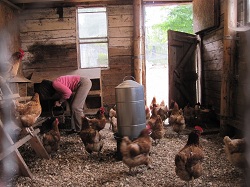 I went back to the farm yesterday to pick up my chickens – but got much more than I had bargained for.  The poultry looks gorgeous, I am waiting for a cool crisp day to roast them.  I also picked up cherry tomatoes and heirloom tomatoes – sweet as could be, tasting of sunshine.  Betty was running low on eggs – the hens are moulting – but she kindly let Paisley and our friends tag along as she went to the henhouse to collect the morning's treasures.  Betty and Henry have three miniature horses, a donkey, 2 goats, and laying hens.  They also raise pigs.  Henry works nights in the winter for the Ministry of Transportation, which leaves the barn chores for Betty.  Until last winter when they got water hooked up in the barn – she had to drag water by sleigh to water the pigs at night.  That's dedication.  Last winter they had no heat in the coop, and so could not have laying hens.  Despite stockpiling in advance, they ran out of eggs and had to (gasp) buy them at the supermarket.  "Never again!" she told Henry.  This winter they are prepared and the coop will be warm – ready for a new set of laying hens.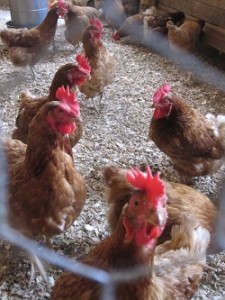 After our tour, and watching Betty collect the eggs, she caved and offered to sell us a dozen.  Maybe she felt sorry for us city folk, forced to buy factory eggs.  Maybe she was charmed by the little girls in awe of her gorgeous red shaver hens, and how fascinated they were to see where eggs "actually" come from.  "They aren't washed – you'll have to wash them as soon as you get home, in a little warm water."  Not a problem.  The eggs were warm to the touch.  So fresh they were actually still warm.  I could not wait to get home.
I was barely through the door and set about washing the warm dozen.  Paisley and I fried a couple up, slid them onto some whole grain toast, garnished with a little cracked pepper and malden salt.  Heaven.  We indulged in one more each, popping the fresh cherry tomatoes like candy as we cooked.  The boys were soon in on the action, all of us raving about the freshest eggs we've ever had.  The only problem was, before we knew it we only had 4 eggs left.
I guess it's back to stalking out fresh eggs, until Betty and Henry get their new batch of red shavers in a couple of weeks.  Anyone know where I could get a really good egg?