Nothing says summer like hot dogs.  I think I only eat 'em during the months of July and August.  But alas, I do not live in Chicago, where the ketchup-less dog reigns supreme year round.  Please, NEVER ask for ketchup on your Red Hot while in Chicago.  You may start a violent revolution, right on the spot, when all you want to do is enjoy a dog.
I have been doing some work in Chicago lately, and have been instructed by many to check out Hot Doug's Sausage Superstore.  I had to ask the name of the place over and over.  Hot Dog's?  Hot DOUG's?  Is the guy, Doug, hot?  As in super attractive???  Is the Sausage Superstore the way YOU describe it?  The official name is:  Hot Doug's:  The Sausage Superstore and Encased Meat Emporium.  That's quite the mouthful.
My cab driver has heard of it.  He knows the way from downtown – no problem.  On the way, I ask him if he'll wait for me while I go in.  He looks shocked.  "I think you better call for take-out.  Last week, I took someone there and the line-up was around the block."   But it's only 10:45am – who eats dogs then – except for the curious with a perverse love of food and some time to kill before a meeting?  Besides, I can't get takeout – I have no clue what I am going to order – I need to peruse/discuss/ensure the correct choices are made.
Good news.  There is a 'tiny' line-up as we pull up – including 3 of Chicago's finest men in blue – the cops.  "I'll be about half an hour…" I smile at the cabbie.  "Want me to bring you a dog?"  He rolls his eyes at me and says he'll be right here, waiting.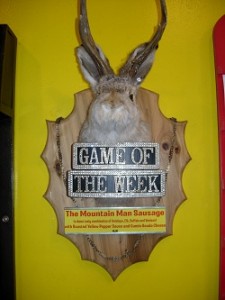 The choice is quite something.  11 varieties on the standard menu, plus 11 daily specials, plus the "Game of the Week Sausage" displayed on its own very, very special menu board.  What to choose, what to choose…I am glad of the 10 minute wait to narrow down my choices.  The staff t-shirts read "There are no two finer words in the English language than 'encased meats' my friend."  These folks take their sausages seriously.  Seriously.
On the advice of 'Hot Doug' (HD), or whoever is running the cash, here's the three I land on and how they fare (and by the way, you're SUPPOSED to order multiple dogs):
The Dog:  Chicago-style hot dog with all the trimmings – 'nuff said $2.00.  My encased meat coach 'HD' at the order desk reminds me that this one is their raison d'etre – I just have to try it.  Super squishy poppy seed bun meets all beef frank with classic Chicago toppings – NO Ketchup – check this out:  plain yellow mustard, chopped white onions, sliced tomatoes, the most unnatural-greenest-glow-in-the-dark relish you have ever seen in your entire life, all crowned with a big juicy pickle spear.  I am telling you right now – you'd never find a dog like that in Canada.  Verdict:  Glad to check off my list having a real Chicago dog.  It's a lot of toppings to handle.  I am going to reserve judgment on the whole Chicago-style Red Hot thing until I have the chance to get to Gene and Jude's – I'll keep you posted.  I am just not convinced about the tomato slices, the crazy relish, and, well, to be honest, the lack of ketchup…
Foie Gras and Sauternes Duck Sausage with Truffle Aioli, Foie Gras Mousse and Fleur de Sel $9.00.  Believe me; I could not make that up.   I have a personal philosophy to always order things that combine foie gras and truffle – I cannot break the rules.  'HD' smiles knowingly when I choose this one.  The sausage is juicy and flavourful.  The truffle aioli delightful and earthy.  The mousse is as decadent as hoped.  Fleur de sel – the perfect garnish.  The white ultra-squishy, trashy bun, the perfect carrier – not one to interfere with the gourmet treat he is carrying.  Verdict:  This thing is crazy rich.  But if it's on the special board when you go – don't miss your chance to experience this gastronome-meets-trailer-park treat.
Thai Chicken Sausage with Sriracha Mustard, Sesame Seaweed Salad and Duck Cracklings $7.50.  'H. Doug' talks me into this one; disturbingly easily.  I had been contemplating the corn dog, but this one rounds out my 'flight' of wieners quite nicely.  Old friend squishy white is once again the carrier, topped with an awesome chicken sausage flavoured with chillies, garlic and ginger.  The seaweed salad is the perfect complement, the mustard piercingly hot  and the crackling the quintessential crunchy garnish.  Verdict:  This is my most fav.  I'd go back just for this.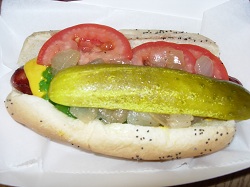 As I exit, the line-up is building, the summer sun is shining, and my cabbie is right where he'd said he'd be.  I am pleased with myself that I made it to Hot Doug's and will definitely return.  You've got to check out this landmark if you find yourself in the windy city.  Meanwhile, I will continue my research on Chicago Red Hots until I find "the one" – I'll be sure to let you know when I do.