"This could be the night I turn into a vegetarian…" Michelle quips as we walk into Cowbell on Queen West.  This nose to tail bistro would not exactly be a good place for a vegetarian.  We are arriving as omnivores, but who knows what could happen by the end of the night.
A group of us are here for a butchery demo – Chef Mark Cutrara will be breaking down a lamb in front of the class….while we sip on Sauvignon Blanc.  Cowbell offers these classes once a month – in May they demo'd a deer.  I know very little about butchery, and am here to learn, not change my dining preferences.  All of a sudden I am a little nervous.  I really like eating meat…….
Our group descends into the basement prep kitchen.  We start with a fascinating knife sharpening demo by Queen West's Knife owner Eugene Ong.  He walks us through how to sharpen our knives Japanese style on several different stones, each one finer than the next.  Eugene tells us about learning from old guys on the streets of Japan, the wrecked knives he sees, and the perils of having your knives sharpened by the old guys who drive around your neighbourhood ringing a bell and calling for your knives.  He is clearly passionate about his craft, and the knife he sharpens before us is a thing to behold.  Everyone in the class grabs one of his business cards….we've learned a lot but there's no way any of us will attempt this at home – I think there's a visit to Eugene's in my near future.  http://knifetoronto.com/
Now, it's showtime.  Out comes the lamb.  It's neither gruesome, nor scary.  Actually it is a beautiful specimen of an animal – head, eyeballs, lungs, heart and all.  Mark tells us about how the animal was raised and the farmer he has been working with since he opened five years ago.  The lamb was pasture raised, and would only have been fed antibiotics if sick.  The manner in which Mark handles the carcass is so gentle, so respectful.  He is soft spoken and works meticulously; sawing, cutting, explaining the cuts, and drawing parallels to what the cuts would look like from a cow.  For his restaurant he breaks down one pig a week, and a quarter side of beef lasts him three weeks.  Mark's newly sharpened knife cuts the meat like butter; he make it all look so easy.
Mark explains that he must carefully plan his menu to utilize the whole carcasses of the animals he buys.  Instead of serving whole lamb shanks, he will make a ravioli with shank.  Instead of a whole ribeye – only a few portions in a quarter cow, he may pair a small piece of meat served medum rare, alongside a braised piece portion of meat.  "Before Cowbell, I used to order beef tenderloin by the case – now I realize how many cows that would decimate."  The restaurant makes its own sausages, stocks, pates, bacons, anything required to use everything that is usable.
Here's the thing.  I learned a lot more last night than simply where cuts of meat come from and how they are best prepared.  I learned respect.  For animals, for butchers, and for chefs like Mark who are reminding us through nose to tail dining experiences, that meat is a privilege.
Of the many stories he shared with us through the course of the evening – one will stay with me forever.  He told of going to visit a sheep farmer during his studies at The Stratford Chef School.  A boy from the 'burbs', he'd never been to a farm before.  He marvelled at the animals, the farmer, the sheer hard labour of raising livestock.  The farmer told the students: "I raise these sheep, but the only valuable part is the rack…," Mark recounted, holding up the tiny rack of lamb he had just butchered before our eyes, while all the other cuts lay on the butcher block table.  "…the rest gets sold for pennies a pound for dog food."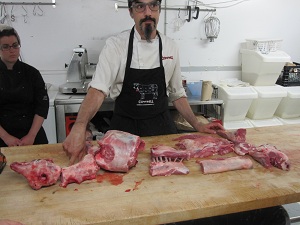 To see the lamb before me.  To see the beauty of it.  To see all the cuts and to hear of all the wonderful dishes that could be made from them.  To see the teeny tiny rack – enough to maybe serve four people, and to think of the rest essentially going to waste, struck me hard.  How selfish have we become?  Meat does not magically grow in styrofoam trays in the back of the supermarket – it takes a lot of work, passion and care to get meat on your plate.
We head back to the dining room, for a plate of house made charcuterie, homemade pickles, and bread and butter made on site.  I don't shy away from the meat, I dig in.  I have not turned vegetarian, I have gained a newfound respect.  Go check out Cowbell and see the great work that is going on there.  Have some kidney, some liver, a little beef cheek, you'll love it and feel good about it.  http://www.cowbellrestaurant.ca/